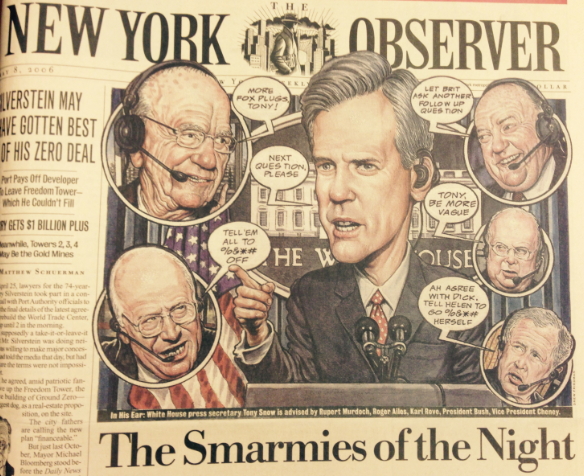 At even the best parties, there is the moment of anxiety before things take off. Just after 9 p.m. on April 29, Ross Douthat, Reihan Salam and Bridge Colby stood around their dining-room table wondering if the 50 Evite RSVP's they had received had been forgotten in the excitement surrounding the White House Correspondents' Association dinner.
The three men, all 26 years old, had hosted successful gatherings before in the house, a rented three-bedroom rowhouse on Ontario Place, off a rollicking strip in Adams Morgan. It is the preferred party house for some of Washington, D.C.'s brightest young conservatives: rising government stars, journalists, intellectuals and other overachievers.
The table featured chocolate-chip cookies, two flavors of Wheat Thins, white and orange bricks of cheese and a massive bowl of salsa, from which a single tortilla chip protruded like a shark's fin. Wires dangled overhead in place of a missing ceiling light fixture.
Into the anxious moment walked a guest: Lauren Zucker, a woman with a charming manner, long brown hair worn straight and loose sky- blue pants tucked into tall brown boots.
"I'm just stopping by," Ms. Zucker said.
Mr. Douthat, the conservative author and Atlantic Monthly journalist, was wearing a striped shirt and a short beard. He cracked a joke about the meager turnout and offered her a drink: wine, beer, liquor? Ms. Zucker asked for a glass of water.
The young men's faces fell. "Blame Congress," Ms. Zucker said. A bill was being presented on Monday, she explained, so she had to work all weekend and couldn't afford a late night.
Brian Smith, Mr. Douthat's roommate from Harvard and a reliable early arrival, asked if Ms. Zucker worked for Congress. She said no. Mr. Smith asked what she did do.
"I work for the federal government," she said, with a vagueness endemic to Washington. "The executive branch."
The refrigerator in the kitchen chilled dozens of Miller Lite and Yuengling beer cans. In the back yard, rows of candles flickered light onto empty benches.
More guests began to arrive. One of them told Mr. Douthat that his party was being called the "neoconservative answer to Jenny 8"– referring to the famed networking extravaganzas hosted by New York Times reporter Jennifer 8. Lee when she was in the D.C. bureau a few years back.
"But I'm not even a neocon," Mr. Douthat said. "Bridge would kill me if he heard that."
Mr. Colby was too busy talking to Ms. Zucker to notice. His hair was the color of corn silk, and he wore a beige corduroy jacket with suede elbows. Using a strong jaw and authoritative voice, he too dodged questions about what exactly he did in Washington: "I work in government–foreign affairs." A few guests whispered that he worked for John Negroponte, the director of national intelligence.
What makes a party? Mr. Colby noted the "well-furbished house," the "neat neighborhood" and the "good backyard." Debauchery, he explained, was unlikely. "Politics and government are inherently less flashy," Mr. Colby said.
Most of the evening's flash came care of Mr. Salam, a National Review contributor and a former assistant to Times columnist David Brooks. Dark, compact and with a clean-shaven head, he shot down the stairs with the speed and purpose of a torpedo.
"Does anyone have any blank CD's?" Mr. Salam screamed. His usual party mixes, he said, had gone missing. He launched into a learned diatribe about calypso, hip-hop and rock 'n' roll.
Mr. Smith, meanwhile, was talking to a woman in the corner of the dining room. She leaned on a bookcase that held Allan Bloom's Love and Friendship, a biography of Alexander Hamilton, works by David Brooks and multiple copies of Mr. Douthat's Privilege: Harvard and the Education of the Ruling Class.
"I work in the Department of Defense," said Mr. Smith, who wore a dark blazer and jeans. One of his shiny black shoes tapped nervously on the floor. "DoD has been exciting, definitely not as cool as– I'm definitely going to try and get into the Special Forces. Try and learn some Arabic."
It turned out that the woman, a State Department employee named Jessica, had been assigned to a post in Cairo and was taking language lessons herself.
"Who are you doing it through, Berlitz?" Mr. Smith asked.
Mr. Salam burst back into the dining room. "Michael's just been awarded a Fulbright scholarship to Turkey," he announced, "so I think we should all give him a round of applause!"
In the living room, couples sat decorously on two couches–one red, one blue. Plastic cups, beer cans and half-eaten cookies began accumulating on a glass coffee table. Under the glass, remote controls lay on an edition of The New York Review of Books. The shelves held Live Well, Die Holy, America's Inadvertent Empire, and DVD's including Gods and Generals and Airplane!
A more fashionable contingent showed up from Baltimore, where Mr. Douthat's girlfriend is a writer for The Sun. "Conservatives and liberals can party together in D.C.," a government intelligence worker named Preston announced. The music finally came on, playing on a little boom box.
"Over here is like the conversation party, and over here is like the dance party," pronounced Mr. Salam. He danced vigorously, and alone, in the living room to Ghostface Killah, the Libertines, the Clash, the New Pornographers. In the conversation room, a tipsy blonde tried to get a straight answer out of Ms. Zucker. "D.H.S.? C.I.A.? Federal? Your job is obviously classified," the woman said. "Can I fix your hair?" She picked a bit of lint from Ms. Zucker's temple.
"You ask people what they do and they're like, 'I work for the government.' O.K., but what? And they say, 'Management.' And? And they say, 'I manage operating systems.' They'll go a long way. Without saying something to you, they try to convey that what they do is important," said the blond woman. She works for Prince George's County and would only give her name as Kaitlin: "You can't get far in Washington if you give your last name."
Ms. Zucker, good to her word, left early ("I have to work on a port-security bill"), but the party continued to heat up. Mr. Colby shed his blazer and hung it in a closet. The little boom box was all but muted by the din of conversation. ("How did you do last night?" "My friend is moving on to the Pentagon–policy stuff." "The ratio is good.") Men in tuxedos and women in gowns started arriving from the correspondents' dinner.
One of those arrivals, Chloe Schama, wore a red-and-white zebra- print frock. Ms. Schama, 22, writes for The New Republic. She went to Harvard. She resembles Claire Danes but is prettier. Her father is someone (the historian Simon Schama), as is her boyfriend, a dapper fellow in a tuxedo with slicked blond hair who clerks for a U.S. Court of Appeals judge for the D.C. Circuit.
"They have a fantastic house," said Ms. Schama, who was drinking wine out of an actual wineglass, the only person at the party to do so. "It reminds me of one in a sitcom, like the Full House house. I keep thinking D.J. Tanner is coming down the staircase."
Instead, down the staircase came more blondes, having left their coats in Mr. Douthat's bedroom, which is decorated with a baseball poster hanging above a turtle aquarium and a copy of Caravaggio's Deposition from the Cross hanging above an armoire. So far, no one had established any reverse traffic up to the bedrooms.
That was not for a lack of trying. Out on the porch, Matthew Continetti, a reporter for The Weekly Standard and author of The K Street Gang, about Washington's unscrupulous lobbying culture, had come from the correspondents' dinner. He unbuttoned his tuxedo shirt, exposed his chest and praised President Bush's comedic performance. He spoke to one of the Baltimore girls, an endodontist in very tight camouflage pants. She was impressed that he had written a book and led him into the house.
"Guys," he said, "I'll be right back."
As 2 a.m. approached, Mr. Salam offered fist-pound goodbyes on the stoop while Mr. Douthat proudly declared in the dining room that the corkscrew had been broken from use. A visibly exhausted Mr. Smith talked to a girl who perhaps had too much to drink: "Where did you get your conservative streak, a nice girl like you from Baltimore?"
Mr. Douthat contemplated all the half-full cups around the quiet house. Empty bottles of Veuve Clicquot and Foxhorn wine stood on the table. The now-soggy tortilla chip sank into the uneaten salsa.
"We have a good house for parties," said Mr. Douthat.