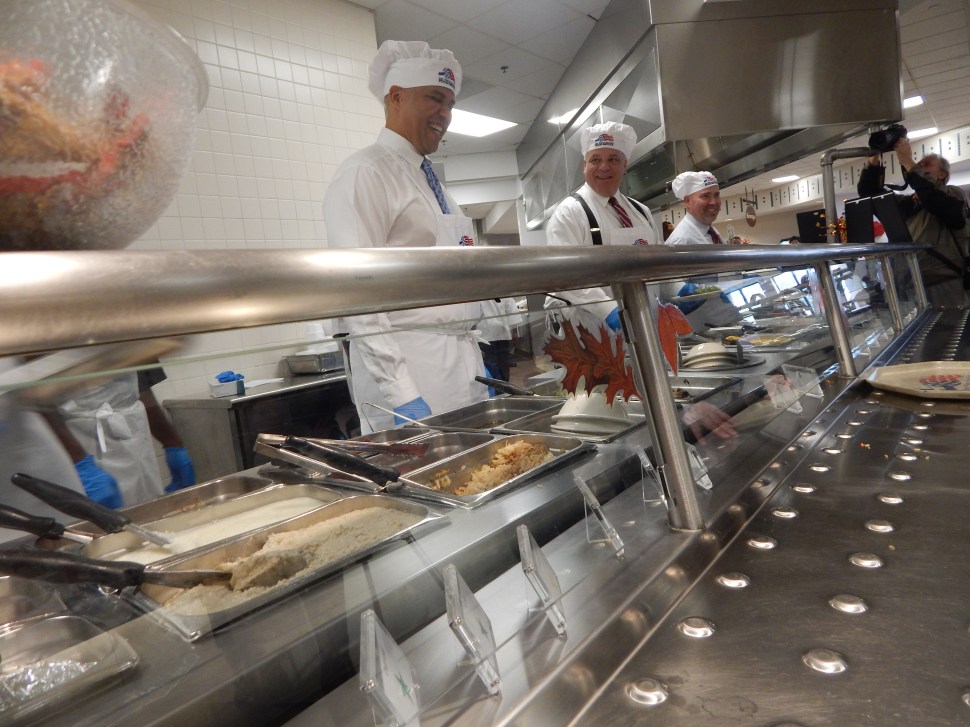 It was a once-in-a-lifetime photo op, with three New Jersey pols, donning cook's hats and white aprons, scooping mounds of cafeteria food onto the plates of young servicemen and women during a visit — in observance of Veteran's Day — to the state's largest military base.
But even as they descended arm-in-arm on Joint-Base McGuire-Dix-Lakehurst earlier today, smiling in turn for the cameras and chatting about all the work the lies ahead, PolitickerNJ couldn't help but note that each lawmaker in the trio — Senator Cory Booker, Senate President Steve Sweeney, and newly-elected U.S. Rep. Tom MacArthur — brought his own unique flavor to the event.
One recently re-elected, another the leader of the state legislature's upper house, and the other a congressman-elect not one week off the campaign trail, Booker, Sweeney and MacArthur each occupy a different niche of the political world — but also represent different variations of the modern politician.
The Lawmaker-Celebrity
If congress offered an award for "best use of 21st century tools and technology to build your personal image", Booker would undoubtedly win it. His presence on social media alone is a testament to his savvy, with a Twitter page boasting some 1.2 million followers and a well-documented inkling to snap selfies in Washington with some of his favorite colleagues — allowing him to build a celebrity-like reputation that spans far outside New Jersey's borders.
And while all of that has sometimes been used as criticism against him, it's undoubtedly helped the junior senator bolster his political standing here at home. Last week, Booker was re-elected to his first full term after handily defeating Republican Jeff Bell in a general election, in a race that was never expected to be close but that he nevertheless made quick work of. Before that, he channeled his inner charisma and star power to defeat former Bogota mayor Steve Lonegan in last year's special election, using the reputation he built as a former mayor of Newark to attract support and turn out votes.
Thus, Booker's appearance at the joint base today was not all that surprising — who wouldn't pass on a photo op with active military personnel on Veteran's Day? But there was one element of political intrigue, given that just a week ago, Booker was the political enemy of MacArthur, campaigning for his opponent, Democrat Aimee Belgard, in the final months and weeks of the election.
Asked if that posed a challenge to the couple's meeting today, Booker said he was just "honored to reach out to Tom and congratulate him on his victory. He and I are critical partners in helping not just this base but the state of New Jersey."
The Labor Leader
A lumbering character with a background as an ironworker, Sweeney is old school New Jersey politics. He's got labor support with some of the state's most powerful unions — the Cartpenters and Building Trades come to mind — and also is tied up tight with South Jersey's political establishment, seemingly orchestrated by Democratic powerbroker George Norcross III. Those carefully cultivated relationship help put him in the position he is now — but also will help propel him forward, say political observers.
Lately, Sweeney seems to be everywhere. As Senate President, he's got his hands in the state's most pressing issues, from Atlantic City to the Transportation Trust Fund, but also was financially involved in races over the just-passed election cycle, helping to fund candidates like Jim Tedesco in Bergen County and Donald Norcross in the second congressional district. Ostensibly it's all with an eye towards the future — Sweeney is said to be laying the groundwork for a gubernatorial run in 2017.
The Self-Funder
When the county committees in the third congressional district went looking for a replacement for outgoing U.S. Rep. Jon Runyan, they quickly settled, according to Ocean County Republican Committee Chairman George Gilmore, on MacArthur. The reason, insiders say, was simple: a former insurance executive and CEO, MacArthur had already amassed great personal wealth by the time he was elected mayor of Randolph in North Jersey. Cash-strapped Republicans wanted someone who could self-fund, and MacArthur's finances allowed him to do that.
With his races against Democratic opponent and Burlington County freeholder Aimee Belgard now behind him, MacArthur's name again is being quietly mulled by some Republicans who would like to see his wealth — and earnest, bi-partisan attitude toward politics — put to good use for higher callings. Sources say some Republicans might urge MacArthur to run for governor in 2017, though Bill Layton, speaking to PolitickerNJ earlier this week, argued against the proposition. The problem is not just that such a move would force MacArthur to follow Runyan in vacating the seat after just four short years — it also has to do with the way self-funders are perceived by voters (though, for MacArthur, that was no obstacle toward clinching a win in the CD3 race).
For his part, when asked whether there was any hesitation in joining forces with Booker this morning (or Sweeney, for that matter, although Sweeney was demonstrably less involved with Belgard's campaign than Booker was), MacArthur struck his familiar tone of bi-partisanship.
"The campaign is over now. It's time to govern and time to serve the people that have sent us to Washington to get things done," he said, Booker standing by. "To be here on veteran's day together I think is evidence of what needs to happen in this country — people working together to solve problems"