With even the diviest of Hell's Kitchen bars stocking the ingredients and recipes to serve each customer a different drink, a copious number of options has become the standard.
But due to the seemingly endless vault of drinks up the sleeves of today's bartenders, not everyone realizes that there wasn't always such an array of spirits for their choosing. In fact, it took many years to build the liquor cabinet of today's bars, and it wasn't a smooth ride.
"Spirits have all had their ups and downs," bar aficionado and consultant Jesse Anholt, told the Observer over coffee (If he hadn't needed to nix the booze due to a flu antibiotic regimen, he would've talked my ear off in the bar next door).
Mr. Anholt, who is a mixologist at the East Village's Bar Virage as well as an instructor at The New York Bartending School, explained that it took years of concocting drinks around foul tasting liquors to get to this point. Step by step, changes in economics, pop culture and other societal aspects brought us the drinks we know and love today. Along the way, there have been a number of iconic cocktails, each decade with it's own shining star.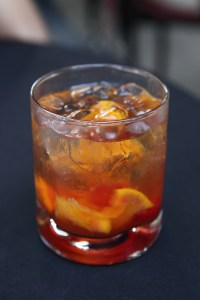 Early 1900's — Old Fashioned
-2 oz bourbon
-1 splash club soda
-4 dashes bitters
-1 tsp sugar
-Ice
The liquor was terrible and people were scrounging to make whatever they could, but the people of the early 1900's were fed up. They began throwing sugar and bitters in with their whiskey to improve the taste. Little did they know this act of desperation would actually give birth to one of the first popularized cocktails and an entirely new era of drinking.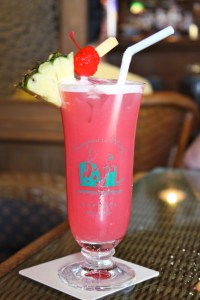 1920's — Singapore Sling
-2 oz gin
-1 tsp grenadine
-1/2 oz fresh lime juice
-Club soda or water
-Ice
-Garnish with a lemon wedge and maraschino cherry
It was another attempt for something tasty. This cocktail has an infinite number of recipes because "sling" simply refers to the mix of alcohol, flavor and water — even the original mixture is unknown. It was simple so it could be inexpensive during a time when people didn't have much to spend on alcohol, if they could afford to drink at all.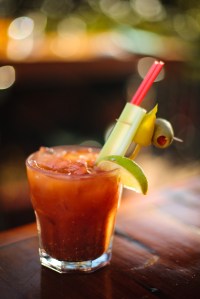 1930's — Bloody Mary
-2 oz tomato juice
-1 1/2 oz vodka
-1 tsp Worcestershire sauce
-3/4 teaspoon freshly grated horseradish
-3 dashes Tabasco sauce
-1 pinch salt
-1 dash freshly ground black pepper
-1/4 teaspoon fresh lemon juice
-1 stalk celery
-Ice
–Garnish with lemon wedge

There's more than one theory, but the drink — originally just half vodka, half tomato juice — is believed to have been born out of New York's 21 club. Pre-pre Starbucks, it was the morning pick me up that people needed. Today, this classic has evolved into something more intricate, but it remains a brunch must.
1940's — Daiquiri
1 1/2 oz light rum
3/4 oz lime juice
1/4 oz simple syrup
While wartime rations made most spirits hard to come by in the 1940's, rum was still plentiful. President Roosevelt's Good Neighbor policy encouraged trade with Latin America, Cuba and the Caribbean, which allowed the rum to keep flowing. What is frozen and strawberry-flavored today, was a simple, lime delight during WWII.
1950's — Martini
3 oz vodka
1 oz dry vermouth
3 olives
The ease of gin manufacturing led to the popularity of the drink during prohibition, but it took on both a new class and a new spirit during the 1950's. During this time, the U.S. began importing vodka from Russia which led to a new, popular martini and opened the door for an assortment of future vodka-based cocktails.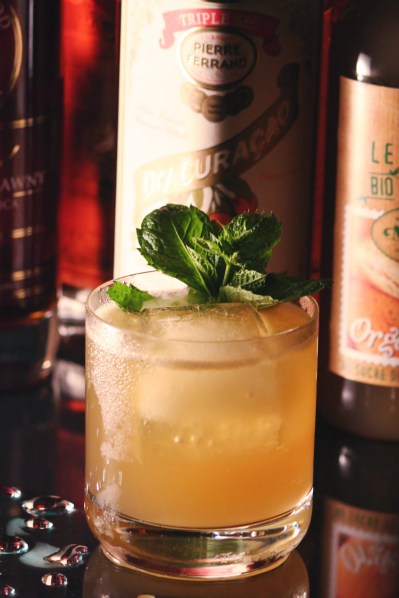 1960's — Mai Thai
1 1/2 oz spiced rum
1 1/2 oz coconut rum
1 tsp grenadine
3 oz pineapple juice
2 oz orange juice
Ice
The late 1960's brought about a change that carried into the next decade as well. Drinkers started to care as much about taste as they did about function and began adding extras to spirits to make them taste good instead of just not horrible. To combat more bad liquor, Americans in Vietnam would take whatever they could get their hands on and add a variety of juices — a practice that to broke us into our world of fruity drinks.
1970's — Harvey Wallbanger
1 1/2 oz vodka
4 oz orange juice
1/2 oz Galliano
Garnish with orange wedge
Prior to this, it was just gin, rum, vodka or tequila with some juice. But this cocktail became a delicious manifestation of our search for more delicious and exotic flavors. As this drink grew in popularity and Galliano, an Italian liquer, became more known, people began branching out and looking into more liquers and flavors from other countries.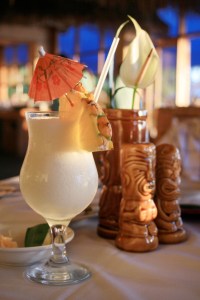 1980's — Piña Colada
1 oz aged rum
1 oz coconut rum
1 1/2 oz coconut cream
1 1/2 oz pineapple juice
Garnish with pineapple wedge
As cocktail culture grew, it inevitably became more mainstream, and in the 1980's, pop culture began to shape opinions and popularize drinks. It started with the Piña Colada which skyrocketed to fame with Miami Vice only shortly after making its musical debut in Escape's "Do You Like Piña Coladas?"

1990's — Long Island Iced Tea
1/2 oz light rum
1/2 oz gin
1/2 oz vodka
1/2 oz tequila
1/2 triple sec
1 oz sour mix
Top off with Cola
Garnish with lemon wedge
It was created in — you guessed it — Long Island years earlier, but took off in the 1990's for those who wanted a fun and tasty drink that packed a punch. By this time, we had the flavors and variety we desired and the mission to disguise bad tastes was over. With those issues in order, it became possible to prioritize the amount of alcohol a cocktail contained.
2000's – Cosmopolitan
2 oz vodka
1/2 oz triple sec
3/4 oz cranberry juice
1/2 oz fresh lime juice
Garnish with orange twist
The fact that the popularity of this drink can be attributed to one of the sexiest TV shows set in Manhattan is no secret. In fact, the Sex and the City induced Cosmo craze is perhaps the greatest example of pop culture's influence on cocktails to date. A few Cosmos for Carrie Bradshaw, a decade of them for the rest of us.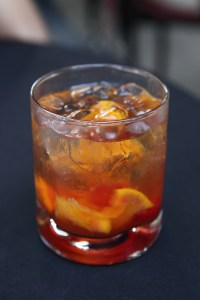 Today – Old Fashioned, revisited
With a new, fruity twist:
2 1/2 oz bourbon
1/2 oz simple syrup
5 dashes bitters
Splash sparkling water
1 peach slice
2 black berries
A little more than a century later, the cardinal cocktail has made a comeback. Thankfully, we have Mad Men — not awful spirits — to thank for its resurgence. We're sure those looking to channel their inner Don Draper prefer classically prepared Old Fashioneds, but a ample number of variations have enlivened this cocktail for many.
We couldn't forget…
The Manhattan
2 oz rye whiskey
1/2 oz sweet red vermouth
2-3 dash bitters
Garnish with maraschino cherry
Named for the borough and bar where it was created, this classic is believed to have been concocted by Dr. Iain Marshall for a banquet held at the Manhattan Club to honor the city's 25th mayor, Samuel J. Tilden, who was running for president at the time. It will always be iconic. at least in Manhattan.