The French government has, of late, been all vendre, vendre vendre when it comes to New York real estate, cashing in on the country's sprawling co-op at the superlative 740 Park ($71 million to the coffers back home) and listing 1143 Fifth Avenue, a handsome brick and limestone building at E. 95th Street that has for years provided housing for diplomatic staffers (currently asking $32.5 million).
But naturally, even if not in the pre-war splendor of Park and Fifth, the republic's diplomats must still live somewhere. And why not Downtown? Mais oui! At least one fairly high-ranking official will soon be ensconced in the still very comfortable environs of Greenwich Village, taking up residence at the eminently pleasant walls of 835 Broadway, where city records show the French government has just purchased a fourth-floor condo for $4.3 million.
As Jed Garfield, who is the listing broker for 1143 Fifth, told The Times earlier this year, "It's hard to make the argument that you are cutting back on social welfare for your people, but yet you have this asset worth $48 million. It just is not a very good story."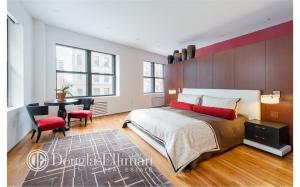 The unit, which was listed with Douglas Elliman's Harriet Norris for $4.39 million, is, compared to France's past and present holdings, an apartment for more fiscally austere times. Though at 2,575 square feet, it is still quite spacious, if not expansive, with three bedrooms, 2.5 baths and a somewhat inelegantly arranged open kitchen/dining room, with the Subzero refrigerator opening almost directly onto the dining room table. But the French, style savants that they are, should be able to come up with a more felicitous arrangement. There are, moreover, a number of high-end touches to make up for the slight discomfort: large "double quiet' windows, 10-foot ceilings and a master bath with a Zuma whirlpool tub, Italian (c'est dommage) glass tile steam shower and Toto toilet. The towel bars are, of course, heated.
The unit, which private equity executive Stephen J. Toy—now the chairman of W.L. Ross & Company's investment committee—paid $1.9 million for in 2005, is probably too modest for the French ambassador, for whom something in the $7.8 million range would seem to be more suitable. A unit of this size, one observer speculated, might be more on the level of the cultural attache. Moreover, the ambassador may have need of more substantial building security than 835 Broadway's virtual doorman and attending super, though they do keep the common charges down: "a rare find in Greenwich Village with low carrying costs," the listing boasts.
Correction: a previous version of this story stated that the seller's agent was Harriet Morris. The agent's name is Harriet Norris. The Observer regrets the error.