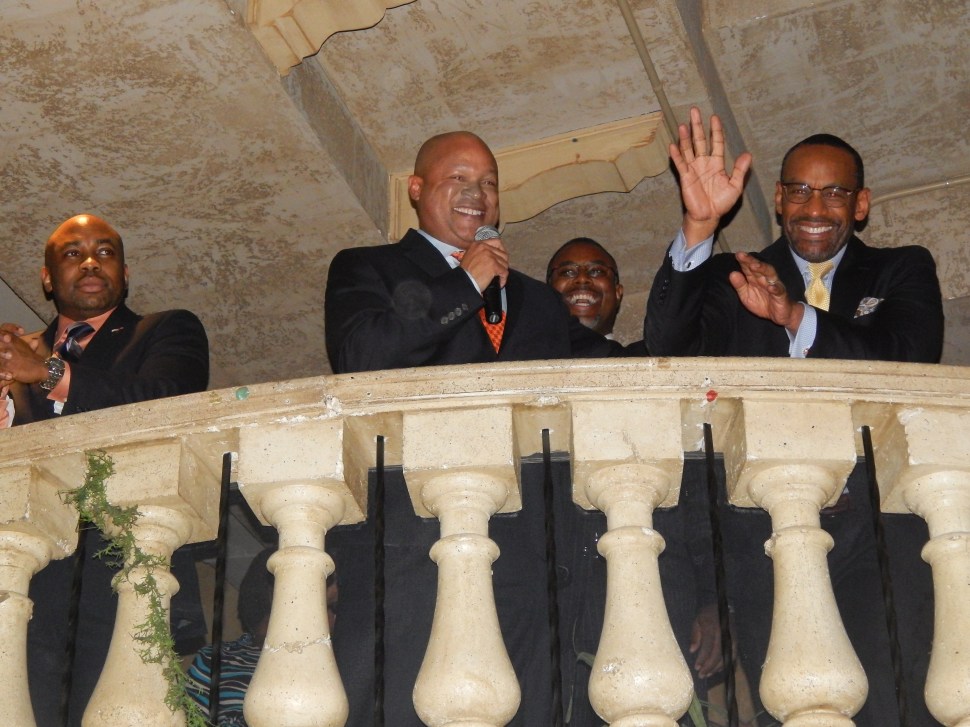 ATLANTIC CITY – The parking garage looks like an aircraft carrier pile driven into the moon, another one of the absurd architectural mysteries of this embattled gaming city, where stairs through paranoia-inducing circuitries suggest The Parallax View.
And yet inside the Tropicana Casino, down a long hallway of palm fronds and under a vaulted Gulf of Mexico fresco sky, stands a cul-de-sac of store fronts and stucco imaginings dead-ending in a club called Cuba Libre.
It was there that a packed grab-bag of political personalities mostly affiliated with the Democratic Party gathered to pay homage to a threesome of African-American leaders: East Orange Mayor Lester Taylor, Assemblyman Benjie Wimberly (D-35) of Paterson, and Hudson County Freeholder-elect Gerard Balmir of Jersey City.
As the League of Municipalities Conference wound down, it seemed fitting that those personages, accompanied by powerful Essex County Democratic Committee Chairman Leroy Jones, also of East Orange, should overlook the crowd from high atop a balustrade, each doing a friendly, suitable impression of Fulgencio Batista as conference-groggy insiders plunged into their drinks.
The room included Jersey City Mayor Steven Fulop, Speaker Vincent Prieto (D-32), state Senator M. Teresa Ruiz (D-29), state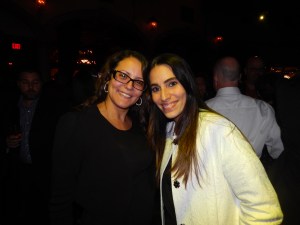 Senator Nellie Pou (D-35), Assemblyman Gary Schaer (D-36), Assemblywoman L. Grace Spencer (D-29), Assemblywoman Eliana Pintor Marin (D-29), Assemblyman Gordon Johnson (D-37), Assemblyman Whip Wilson (D-5), Weehawken Mayor Richard Turner, Hillside Mayor Angela Garretson, Paterson Councilman William "Bill" McCoy, Paterson Councilman Ken Morris Jr., Paterson Councilman Andre Sayegh, Edison Councilwoman Sapana Shah, Roselle Mayor Jamel Holley, African American Chamber of Commerce President John Harmon, Democratic State Party Vice Chair Lizette Delgado Polanco, Hunterdon County Democratic Chair Arlene Quinones Perez, Cory Booker Chief of Staff Mo Butler, Senate President Steve Sweeney (D-3) confidant Kevin Hagan, Passaic County political operative Idida Rodriguez, Prieto minder Joey Muniz, Princeton Public Affairs (PPA) Principal Dale Florio, PPA lobbyist Bill Pascrell III, attorney David Pascrell, veteran Democratic Party operative Charles Williams, former Obama State Director Geoffrey Borshof, veteran Hudson County operative Craig Guy, veteran operative Pablo Fonseca, Bergen operative Karen Mastriano, attorney Al Alvarez, operative Andre Richardson, party insider Gregory Good, SEIU's Safanya Searcy and many more.
The speaking portion of the event almost got underway without the presence of Wimberly, who raced up the stairs like the last leg of an Olympic torch run and grabbed the microphone to make his brief remarks to the crowd.
All of them northern urbanites, the formidable Wimberly is close to Democratic State Party Chairman John Currie, Balmir close to Fulop; but the presence of both Jones and Taylor in this foursome reasserted East Orange as a dominant political puzzle piece for Democrats.
They paid tribute to Fulop, who stood below the balustrade.
Right before the conclusion of the event, in the company of operative Julie Roginsky, Phil Murphy, the former ambassador to Germany and Fulop's and Sweeney's rival as a possible 2017 gubernatorial candidate, dashed through the room.