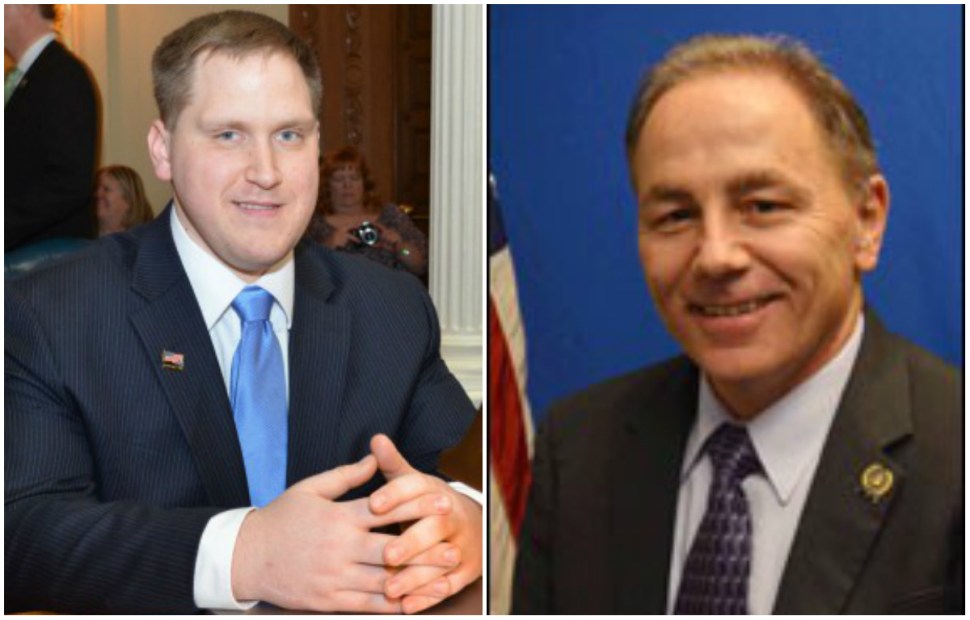 The power divide between the north and south in New Jersey often makes for exceptionally interesting politics. In the north, a sometimes fractured Democratic party alliance ultimately finds its strength in a regional population advantage; in the south, a united faction of power dispatches its clout with a well-heeled majority voting bloc in Trenton.
But caught in the middle right now are two of the most endangered lawmakers of South Jersey's Democratic caucus.
Assemblyman Vince Mazzeo (D-2) and Bob Andrzejczak (D-1) are two names that seem to turn up on more legislation and press releases than any other lawmaker in Trenton these days — from the latter's bills to aid veteran's in the first legislative district, encompassing parts of Cape May, Atlantic and Cumberland counties, to the former's focus on a beleaguered Atlantic City in the second legislative district. Emails blasts from the Assembly Democrats office, where bills sponsored by the two outnumber most others, attest to their productivity.
But the outpouring of legislation is said to be a sign of an underlying uncertainty about their political futures. Given the makeup of their districts, both Mazzeo and Andrzejczak will likely find themselves in dogfight elections next year.
How hard will Speaker Vincent Prieto (D-32) fight for them?
That remains to be seen.
It's like this: as the leader of South Jersey's majority, George Norcross III retains arguably the most political power in the Assembly, able to drive legislation of his choosing with a united front of loyal lawmakers. And that sometimes puts the South at odds with North Jersey's political interests.
For example, Norcross didn't fundraise for Jim Tedesco in this month's Bergen County Executive's race, a race that sat atop Prieto's and other North Jersey pols' priority lists, to avoid North Jersey amassing greater political strength.
With those power dynamics at play, the question then becomes whether or not Prieto and all his allies, which include the likes of other North Jersey power players like state Sen Nick Sacco (D-32), will raise money for the two most threatened stable mates of South Jersey's alliance to ensure Norcross keeps his hand on the majority.
Though he's has been "very supportive" of their work, neither Mazzeo nor Andrzejczak says Prieto has expressed any sort of definite commitment to assisting the two in their fundraising efforts toward re-election next year.
"We're just here doing the work, and when it closer to next November we'll have to look at the fundraising process as well," Andrzejczak told PolitickerNJ during an Assembly session last week.
A U.S. military veteran who served in the Iraq War before being  appointed to fill the vacancy of former Assemblyman Matthew W. Milam, Andrzejczak has sponsored a host of bill's aimed at improving care and quality of life for military veterans in South Jersey. His latest, A3499, passed by the Assembly last week 75-0, seeks to ensure returning veterans receive information on benefits and resources coordinated by the NJDMVA or its federal counterpart.
Mazzeo, for his part, says he's focused on sponsoring legislation aimed at softening some of the blows currently afflicting Atlantic City, which continues to suffer from a declining gaming industry. Last week he announced he'd introduce legislation to establish an Urban Enterprise Zone for Atlantic City, which he hopes will create jobs, spark economic development and provide vital property tax relief.
Still, they said it "remains to be seen" whether and how much support they'll receive from Prieto & Co. — which they'll likely need for a successful re-election. Republicans think they see possible pick-ups in the South Jersey districts, both of which are feeling the effects of Atlantic City's calamitous economic crisis.
"We work as one in caucus," Mazzeo said.  "Right now we're doing the work of the people, but during election time it's a different ball game."
It should be noted that Assembly Majority Leader Lou Greenwald (D-6) – who plays a leading fundraising role for the Assembly Majority team – is a staunch South Jersey ally of the two men in question.