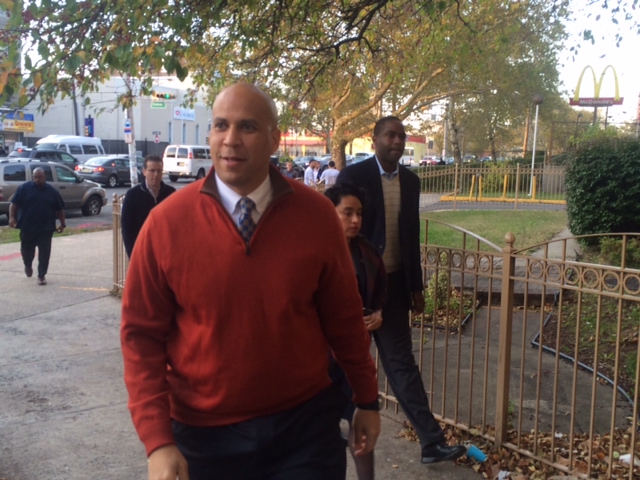 NEWARK – U.S. Sen. Cory Booker (D-NJ) expressed confidence in his own chances and those of all of New Jersey's Democrats moments after voting in Newark on Tuesday.
"We're hoping to have a big win up and down the ballot," Booker said when asked by PolitickerNJ if he expected a gold-standard day against Republican challenger Jeff Bell, who has prominently featured an economic return to the gold standard in his platform. "There's a lot of important races, from local city council and school board races, to Congressional races across the state."
Booker specifically mentioned Democratic candidates Aimee Belgard, Roy Cho and Bonnie Watson Coleman in New Jersey's 3rd, 5th and 12th Congressional districts respectively as part of the new blood he feels that Washington needs.
Booker is seeking a full six-year U.S. Senate term after winning a special election last year to complete the term of the late Democrat Frank Lautenberg. Before he left to criss-cross the state in a final campaign surge, Booker said he hoped his candidacy would help end what he termed "partisan gridlock" in the nation's capital.
"We have to create unity in our country," Booker said. "I look forward to not being the extremist that my opponent is, but being someone who is not just the Democratic senator, but New Jersey's senator and work with people on both sides on the aisle to make change. We have to show the country that New Jersey votes, not just in presidential elections, but in midterm elections."