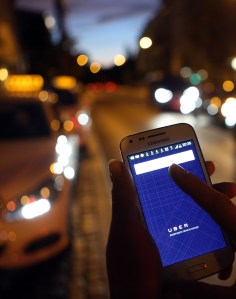 Uber executive Emil Michael suggested that the taxi-app company hire a team to do opposition research on journalists who have said mean things about it, especially Pando Daily editor Sarah Lacy, who has called the company sexist and misogynist.
Mr. Michael "outlined the notion of spending 'a million dollars' to hire four top opposition researchers and four journalists. That team could, he said, help Uber fight back against the press—they'd look into 'your personal lives, your families,' and give the media a taste of its own medicine," BuzzFeed reported.
Wait, how did a media outlet hear about Uber's plan to dig up dirt and use it against journalists? Oh, because Mr. Michael told a bunch of journalists over dinner at The Waverly Inn. BuzzFeed, who was there as a guest of Michael Wolff, didn't get the memo that the event was off the record.
Mr. Michael apologized, through a spokesperson: "The remarks attributed to me at a private dinner—borne out of frustration during an informal debate over what I feel is sensationalistic media coverage of the company I am proud to work for—do not reflect my actual views and have no relation to the company's views or approach. They were wrong no matter the circumstance and I regret them."
Uber never actually said they were doing opposition research on journalists. It was just proposed as "something that would make sense, that the company would be justified in doing," according to BuzzFeed. Which looks better, but not much better.
Ironically, Mr. Michael's remarks come at a time when Uber is trying to shed its "asshole" image. Great job, guys.