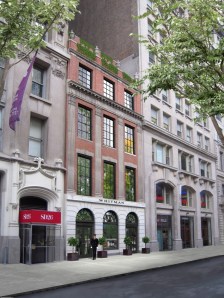 A buyer with a significant chunk of change—$10 million, $15 million, maybe even $20 million—can enjoy a full array of luxury properties, from townhouses and traditional co-ops to a selection of relatively modest penthouses. But alas, resplendent as the current offerings are, buyers have, of late, expressed some dissatisfaction with them, those tasteless soaring glass condo towers, those lonely vertiginous townhouses.
Thank goodness developers have taken heed of such residential ennui! Intuiting that buyers want something that feels homey yet formal, friendly yet not too friendly, small but with really big apartments, developers are catering to such Goldilocks proclivities with boutique condos, The Wall Street Journal reports. 
Large condo buildings are, after all, a little nouveau riche when you get right down to it.
"People don't want to feel they are changing the character of a chic neighborhood, like people who landed from another planet," as marketing consultant Nancy Packes told The Journal.
Spurred on by the spectacular performance of properties like the Whitman, on Madison Square Park, where three floor-throughs and a duplex penthouse sold at ask to none other than Chelsea Clinton, hedge funder John Silvetz, NASCAR luminary Jeff Gordon and Jennifer Lopez, developers are now scrambling to give the people (well, the rich people) what they want: bigger apartments in smaller buildings.
To wit: developer Edward Minskoff, who was just lately defending the (non-residential) reflective glass cube he built in Astor Place against neighborhood NIMBYs, is now converting a 37-foot wide brick and cast iron building on East 12th into six apartments priced from $9 million to $32 million.
Apartments, we assume, that may occasion the use of phrases, such as jewel box, unique, tasteful, and perhaps most importantly, exclusive. There is, after all, little fun in being in a club of one, as many a rueful townhouse buyers have come to realize.
And when it comes to condos in a building like One57, 432 Park or 15 CPW, what's the point of spending tens of millions on an apartment that's just like every other millionaire's?
As Tim Crowley, a principal at Flank, which is building bespoke condo 224 Mulberry put it to The Journal: "We are trying to take this idea of bespoke and unique and create layouts that are unrepeatable in tower buildings."
And of course, for those buyers counting Benjamins, while a butler might be beyond the budget of the townhouse dweller, bespoke condo dwellers splitting a doorman and concierge four ways is really quite doable.