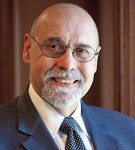 The law firm of Genova Burns Giantomasi Webster is undergoing some significant changes, according to partner Angelo Genova (pictured).
Frank Giantomasi and Elnardo Webster are leaving to create their own firm.
"Genova Burns is a 25 year firm with a long tradition of attracting top talent," Genova told PolitickerNJ. "At times, like the entire legal industry, some partners leave and others join. We wish Frank and Elnardo well in their next chapter.
"My leadership role at the firm remains the same, and I look forward to working with the over 100 plus team members of our firm who have contributed immensely to our continuing success."