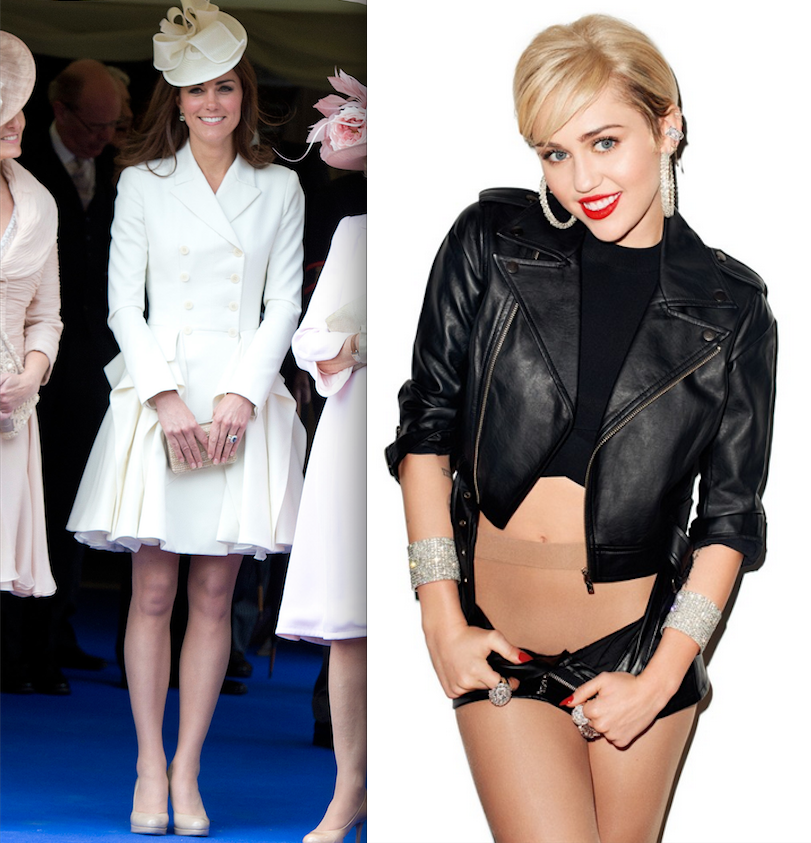 Golden Lady, a European hosiery company, released a series of ads starring Miley Cyrus yesterday. In one photo — shot by Terry Richardson and styled by Vogue vet Carlyne Cerf de Dudzeele — Ms. Cyrus is wearing nude tights. And she looks great in them.
This got us thinking: why is it that some über-famous women, such as Ms. Cyrus and Kate Middleton, can pull off nude tights while the rest of us can't?
After the Duchess of Cambridge married into the royal family, her wardrobe became more conservative. She began to wear nude tights, shocking the fashion press. The Daily Mail reported incredulously that the former Ms. Middleton's new proclivity for nude tights had boosted sales in England. The Hollywood Reporter declared prematurely that she had "singlehandedly resurrected the 1980s nude-tights craze." Yeah, we're not seeing that craze — at least, not in New York City.
At least one commentator didn't buy in to this short-lived spike in sales: "They make me think of my great aunt on her way to the bank," Cosmopolitan's Charles Manning wrote.
On the other end of the spectrum, as Ms. Cyrus has brought to our attention, we have pop stars, who also look great in nude tights. Consider Beyoncé, who looks amazing in a leotard and flesh-toned hose. Broadway actresses routinely wear tights onstage. Ariana Grande pulls them off. Whitney Houston does nude tights justice.
It's not uniformly a showbiz thing, though. The magic of nude hose does not extend to actresses on the red carpet. Take a look at Jennifer Love Hewitt and Zooey Deschanel: not so cute. The actress Amy Sedaris uses nude hosiery to comic effect in her book, I Like You: Hospitality Under the Influence, throughout which she channels her inner deranged '60s housewife. Nude tights — and especially suntan tights — are great for that.
It takes a cult of personality to pull off nude hosiery. Perhaps that is why actresses, who slip in and out of so many identities, can't quite pull them off on the red carpet. Women who capitalize on their own identities, singers and personalities such as Michelle Obama and Madonna, have no problem with the look.
It turns out that the ability to pull off this particular garment falls on a U-shaped statistical distribution. Basically, there are two types of women who can pull off nude hosiery, and they exist at opposite ends of the spectrum. If you, like Kate Middleton, Carla Bruni and Hillary Clinton are a geopolitical or business figurehead, go for it. If you are a stage performer, rock those flesh-toned tights.
If not, though, wade in these stretchy waters at your own risk. Sometimes the call of the suntan stockings is just too hard to resist. Here is a handy chart:
You're welcome.