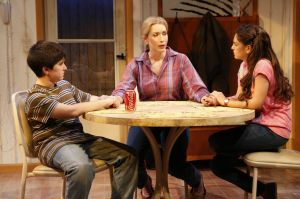 "Oh, that's my life!" joked an audience member in the lobby of 59E59 Theater, something of an Upper East Side gem, about the title of Robert Callely's new play, On a Stool at the End of the Bar. But the subject matter of this play is actually not drunkeness, but rather the upturning of a middle class suburban family's what's-for-dinner-tonight-hon? life when a big lovable galoot named Tony DeMarco (Timothy John Smith) finds out that his wife of ten years, Chris (Antoinette Thorne), is transgender.
"What have you done to me..? A guy, you're a fuckin' guy!" Stereotype Tony moans. And that, basically, is that. Set in late-eighties Jersey, no one can seem to get a grip on the upsetting revelation. Nor can anyone seem to distinguish between someone being a trans woman and a gay man. Oy vey. Part of the point here is how ignorant people have been about gender identity and how far we still have to go. Even Chris' therapist hammers home the idea that she lied and deceived her family instead of attending to her immediate safety needs in a violently hostile world and after Tony has hit her.
The three children that stepmom Chris has raised with Tony, (Zachary Brod, Sara Kapner and Luke Slattery, all terrific, natural and funny), are freaked out and caught in a confusion of loyalties between their parents. In the play's most satirically funny scene, Tony goes to a Catholic priest, (veteran actor Robert Hogan in an aridly dry comic turn), for advice, but he just peppers Tony with questions about his sexual orientation.
While well intended, On a Stool at the End of the Bar is weighed down through repetitive writing and a sadly wooden performance by Ms. Thorne, whose is the lead singer of a rock band. Flipping idly through the script before the play began, my eye caught a random stage direction: "Another awkward pause." Unfortunately, that proved prophetic.