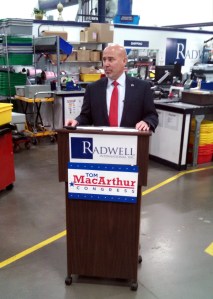 In words of the great philosopher-poet (and supermodel) Heidi Klum, "One day you're in and the next, you're out." She was talking fashion, of course, but the same mantra surely applies to politics as well, especially in the days after an election. Some are in, most are out.
Here's an off-beat look at who's UP! (and who's NOT!) as the dust settles on a most memorable election day.
↑ TOM MACARTHUR. Never mind the inescapable fact he moved nearly 100 miles to run for Congress in another district. Or that he spent $5,000,000 from his own fortune to finance his campaign. He's UP, because Tom MacArthur ran a tight, disciplined, message-oriented race while making very few mistakes. With his opponent Aimee Belgard struggling to find a coherent campaign theme, MacArthur's seasoned campaign won by playing good defense and offense.
For Belgard to score the upset, two things needed to break her way: TMac had to make some missteps and Aimee would have to execute perfectly. Neither happened.
↓TOM MACARTHUR'S FAVORITE CHARITY. Shortly after winning in a landslide, Congressman-elect Tom MacArthur expressed an eagerness to serve the people of NJ and this nation. If that was the main goal, why not donate $5,000,000 to charity instead? Surely TMac could "serve" a heckuva lot more people by giving the money to the Wounded Warrior Project or American Cancer Society than he ever could as a rookie Congressman. Amiright?
↓ DEMOCRATIC PERSONALITIES. As you know, the GOP seized control of the Senate while expanding their majority in the House. Call it a shellacking, a whooping or a romp, however you slice it: Democrats got spanked. Spare a thought for the unfavorable climate – Democrats were defending much more turf in (mostly) red states in this year's off-year election. But the truth is, the Democratic party didn't do itself any favors by choosing forgettable candidates like What's-His-Name who lost in Iowa or A. Boring Lady, who crashed out in Massachusetts. Know what I mean?
↑DEMOCRATIC PRINCIPLES. A statewide ballot measure to reform New Jersey's bail system (thus reduce the amount of folks in jail for low-level drug law violations) passed overwhelmingly. Locally, Trenton and Montclair voters ratified measures to enact paid sick leave. So there's that.
Nation-wide, five (mostly) red states voted for minimum wage hikes. Zealous personhood amendments — an assault on reproductive liberty — were beat back in Colorado and North Dakota. In a rare rebuke to the NRA, voters expanded background checks for gun purchasers in Washington State. And most notably, voters legalized adult use of marijuana in Oregon, Alaska, and Washington DC. I'm hesitant to say drug reform is a democratic principle, but it's an inescapable fact that, at this point, most democratic pols vote YES and their GOP colleagues mostly vote no on marijuana reform.
DC's vote to legalize marijuana has a caveat: because DC is not a state and is subject to Congressional oversight, the newly emboldened GOP majority in Washington could block or overturn the results of the legalization referendum. There's precedent: in 1998 medical marijuana was on the ballot in DC. Polls showed overwhelming support among District residents. Unfortunately a GOP-led Congress blocked the results of that vote. Not only was the law never implemented, the final vote was never even certified. This, from the Republican Party that claims to wanna get the Government out of our lives.
↓ 
DICK CODEY
. He wins the prize for dumbest joke of the election cycle, as posted on Facebook:
Last night Washington DC approved the legalization of Marijuana. It's probably safe to say that Former Mayor Marion Barry was the campaign manager for the cause.

While we're used to sophomoric humor associated with the drug debate, Dick Codey's attempts to be clever by conflating a crooked, crack-smoking former DC Mayor with a successful effort to reform our nation's drug laws missed the mark. It's just not funny.
Senator Dick Codey used to be relevant and witty. Now he's like a grumpy old man yelling "get off my lawn!" at passersby.
↑ 
FLAPJACKS A. LOBSTER.
 People
write-in
the craziest stuff on their ballot sometimes. "Flapjacks A. Lobster" was more than one Camden County Voter's choice for US Senator. God himself got 13 votes. Jesus only got 12. Forty-six more chose "Walt Whitman" for US Senate. Me? I just voted for Cory Booker.
↓
GARDEN STATE EQUALITY. 
For the past decade, NJ's biggest gay rights organization has figured prominently each and every campaign season, mobilizing hundreds of volunteers to populate the phone-banks/canvasses/rallies/fundraisers of candidates who support LGBT liberty. This year? Crickets. Actually, their crickets didn't even show up which is sad. In the
post-marriage equality world
forcing GSE to reinvent itself, this election was a perfect opportunity to remind our politicians about the lobbying clout of NJ's LGBT community. Why Garden State Equality boycotted this years election is a mystery but when a former member of GSE's executive board comes within 1 percentage point of winning county-wide office, it's hard not to wonder "what if."
To say GSE "struck out" during this year's electing would imply they actually stepped to the plate which they did not do.  And political clout of NJ's LGBT community was diminished because of it. The fight for equality doesn't take weekends off. And it certainly doesn't sit out elections.
↑
 LINDA STENDER.
 Assemblywoman Linda Stender (D-Fanville) wasn't on the ballot this year, so what the heck is she
doing on this list, you ask? Well, I'll tell you: back in 2006, at the height of the George W. Bush regime, Stender lost an uphill race for Congress by a whisker. It was a shocking near-win propelled by an unpopular war in Iraq, good ol' grassroots campaigning and the newly emerging "Netroots" online community of activists, fundraiser, and bloggers. Online organizing was rather novel still and Linda Stender's campaign made brilliant use of it.
Of course, the big DC organizations like the Democratic Congressional Campaign Committee took note and pledged full support should she run in 2008. Seizing on the hard work done by local activists, the DCCC immediately swooped in with millions of dollars (YAY!) and their out-of-state consultants (not so YAY) ostensibly highjacking Stender's 2008 campaign (and driving it into a ditch.) The National Committees thought they had a winner in Linda Stender and they were gonna win
their
way. The DCCC way. Complete with tone-deaf messaging and a campaign staff comprised of clueless outsiders. In what was seen as
the worst-run campaign in New Jersey history
, Linda Stender lost by 9 points in a year Democrats won EVERYTHING.
Judging from this years results, Linda Stender can mercifully surrender the crown. Her 2008 tilt is no longer the worst-run Congressional campaign in New Jersey political history. Do I even need to say who took the title?
↑ South Jersey Democrats. Donald Norcross' resounding win in NJ's 1st Congressional District was a dress rehearsal for something much bigger. Stay tuned for that.
↓JAY LASSITER. In September I was feeling ballsy and decided to make 10 bold (stupid?) political political predictions for the upcoming year. Election day was the first test of my prescience and I failed. My number 3 prediction: NJ would send two women to Congress, Bonnie Watson Coleman (who made it!) and Aimee Belgard (who didn't). Thankfully I've 9 chances left to redeem myself, but so far I'm batting a big .000%.
Which can only fuel the argument that I don't know what I'm talking about.
—
Jay Lassiter is a New Jersey civil liberties activist who wants to get the government out of your bong. And your womb. And your love life. And your medicine cabinet. He's on Twitter @Jay_Lass.