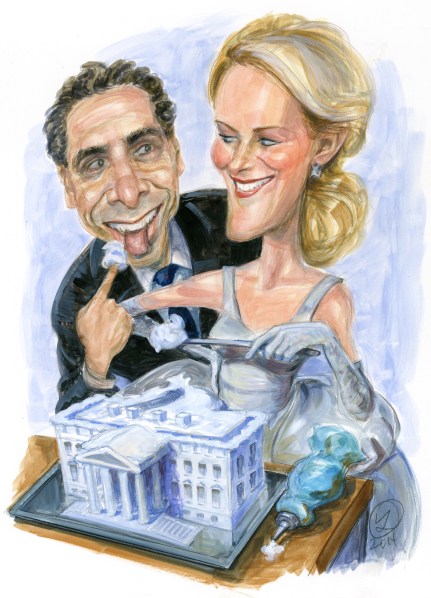 "That's semi-homemade," says the Food Network personality Sandra Lee, holding up a figure-hugging, black Alexander McQueen dress from a rack in her office.
"I made it with my wallet! I worked very hard—I created it out of my purse."
Then she laughs like a sailor, and moves along to a hot pink Thierry Mugler gown that she wore to an Elton John party.
Ms. Lee is a plainspoken, self-made star. Her "Semi-Homemade Cooking" empire is based on budget-friendly recipes beloved by working America, but disparaged by the culinary establishment. (Anthony Bourdain once called her food a "war crime.")
With her formidable wardrobe and powerful partner (the governor, Andrew Cuomo), Ms. Lee has also been cutting a path in New York high-fashion circles—with mixed results. Her successes (cordial terms with Anna Wintour; a cover line in Vogue) have been offset by a snobbery that still keeps some doors firmly closed.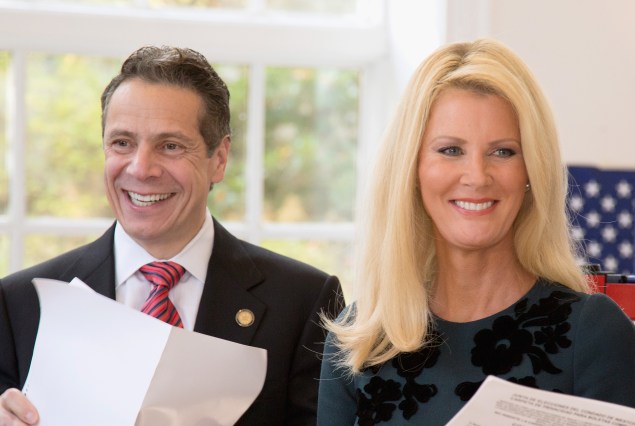 Not that she needs New York. With four TV shows currently on the air and three more in development, plus an eponymous magazine and a homeware range, Ms. Lee, 48, is a millionaire entrepreneur with national fame. This success in her own right has, according to political pundits, played well with female voters in New York State, who see her as an asset to Gov. Cuomo in a way that is different to the usual politician's wife or partner. Her stamp of approval makes him more appealing, but she has been relatively low-key in her role as gubernatorial girlfriend until this past fall. Ms. Lee's appearance in a campaign ad during the recent election cycle was unusual enough to draw comment, so absent has she been from her notional position as the state's first lady.
"I don't really have any official responsibilities," she told the Observer during a recent visit to her Rockefeller Center offices. "He's very good with me. He says, 'you know, honey, you can do anything you want, or nothing at all.' He's very good about giving me the flexibility and letting me be comfortable in whatever role. And I need a lot of space. I need someone who understands who I am."
Clues to the couple's domestic life can be gleaned from the pages of Ms. Lee's own magazine. Much of it is shot at her Westchester home.
"My house, Lily Pond, is a beautiful, three-acre property with everything I need," she says, gesturing to a picture of a pair of her own iron garden chairs, stuck to the wall in a layout of an upcoming issue. "God bless Andrew for letting me shoot all this stuff at the house!"
The couple shares the home with Mr. Cuomo's three daughters, Cara, Michaela and Mariah, from his previous marriage, to Kerry Kennedy. The role of unmarried "stepmother" to teenage girls would be tricky enough in any household—let alone bringing up a gaggle of Kennedys with a sitting governor—but the family has forged a remarkable bond in the nine years Ms. Lee and Mr. Cuomo have been together.
"The girls love it, they want to be on the cover of the magazine," Ms. Lee says. "But it's kind of hard to have a minor on the cover with cocktails."
Thanksgiving is an especially busy day for the family. This year, the fifth in a row, Ms. Lee will be riding on the lead float of the Macy's Thanksgiving Day Parade.
The appearance is remarkable, not only because individual celebrities are not normally invited in consecutive years, but also because her business relationships are with the competitors of Macy's. Ms. Lee's homewares are sold through Kmart and Sears, while the lifeblood of her magazine distribution is checkout racks at Wal-Mart. (As one celebrity wrangler remarked to me: "I guess Macy's really likes her taste—in boyfriends.")
Ms. Lee plans to wear a cream cashmere sweater, decorated with Swarovski crystals, bought especially for the parade during a trip to Paris. And "AC," as she refers to the governor, will be seated in the viewing stands.
"And when we get home, we watch it again!" she says. "He loves Thanksgiving. He loves all the holidays. He's good about doing the gifts and he loves being in the kitchen with us. Surrounded by a bunch of women!"
To the millions who see her ride that float on Thursday, Ms. Lee may seem to have it all. But she is a fighter, and none of it was handed to her.
In her 2011 autobiography, Made From Scratch, she wrote of her humble origins, raising younger siblings with little money and absent parents.
As a businesswoman, she created a string of successes, starting with a DIY home décor line launched in 1993. Developing her media skills as a QVC personality, she brought her "Semi-Homemade" brand to the Food Network and spun off lucrative sidelines in magazines, cookbooks and kitchen accessories.
She has achieved this while battling both many different prejudices. To some—especially inside New York—she will always be too brassy and blonde, her fan base too low-class.
At one publication where I used to work, the fashion editor and a writer would have a competition to find the worst-sounding recipe in each new issue of her magazine. (I recall one winner was a burrito made with hot dog franks.)
And a leading fashion publicist, who declined to be quoted by name, told me that Ms. Lee was specifically excluded from her events, which are some of the most glittering in the city. "Her image is not right at all," said the publicist, as if it were obvious.
But the woman who greeted me at Rockefeller Center on a mild fall day was the image of Manhattan chic. Ms. Lee's head-to-toe black outfit consisted of a James Perse cowl-neck sweater, D-ID denim and faux leather skinny jeans, and Michael Kors suede pumps.
The jeans had come back with her the day before from a trip to Nashville, where she also bought the gray, raw diamonds bracelet that snaked around her wrist. (Her reputation for wearing all-white, she says, dates from owning a beloved but now-departed American Eskimo dog named Aspen, who shed her snowy hair over everything.)
"My grandmother was a seamstress," Ms. Lee recalls of her childhood in Santa Monica, Calif. "She had a dress shop on Montana Blvd. called Dicey's, and she used to make all the clothes for Dean Martin's wife and Esther Williams. She made beautiful things."
There is plenty of vintage on the rack in Ms. Lee's office, much of it sourced from William Vintage, the London store that is a favorite among fashion insiders.
"I kind of go between beautiful, special vintage pieces to what's new and what's hot," she says, noting that the McQueen is her current favorite. "I love the '50s and the '60s clothes, the empire waist. I like pretty things. I just feel comfortable in everything."
In public, there have been hits and misses. The subdued Dolce & Gabbana dress she wore to accompany the governor to this year's 9/11 ceremony was perfect. With a hemline just below the knee and a muted floral pattern against black, it was stylish and flattering without being inappropriate.
But at this year's Met Costume Institute Gala, Ms. Lee wore a custom Dara Lamb gown that lit up the worst-dressed lists like a new Taylor Swift single on the Billboard charts.
A plump meringue of satin and tulle, the design was intended as an homage to golden age Hollywood glamour, the evening's theme. But on the red carpet, it turned Ms. Lee into Marie Antoinette Barbie.
"The dress didn't photograph like it really looked, which was a shame," Ms. Lee admits now.
"The back of the Met Gala dress was so big I couldn't even sit in it. I had to cut it off.
"My girlfriend did it for me—she got a pair of scissors from the Met and we went in the bathroom and we literally took it off."
Although she was mocked by critics, the image of Ms. Lee in the bathroom has an appealing, semi-homemade realness: hacking away with shears to make the dress work.
Stylist Alx Galasinao has been doing Ms. Lee's hair and makeup for 10 years, since the pair met at a job in Waukesha, Wisc. She describes a constant schedule of state fairs, speaking engagements, show tapings and red carpet events, everywhere with fans wanting to hug Ms. Lee.
"She basically styles herself," says Ms. Galasinao of Ms. Lee's fashion choices. "She has some people send her stuff, but she's the one who picks it out."
Things Ms. Galasinao has learned working with a personality who has to look good while standing over a steaming pot include: the value of Estee Lauder Double Wear makeup, add-in hairpieces, and "unless Sandra puts it in her mouth, don't eat it. You don't know how long it's been out."
As for the future, whenever the circuit of state fairs loses its appeal, Ms. Lee says she does see herself as Mrs. Andrew Cuomo.
"We'll get married some day. It's been nine years," she says. "We talk about it. It's not like we don't know we're going to do it."
And what about the prospect of creating semi-homemade state dinners, complete with themed tablescapes and cocktails, for the White House? With her boyfriend in the field of possible Democratic presidential contenders, surely it must have crossed her mind.
"Oh God," she says, her steel-blue eyes suddenly fixing on the middle distance, in a way that makes her look remarkably like she's running for office herself. "We're not even thinking about that, honey. I have no aspirations. Absolutely not one."
So … that sounds like a "yes."