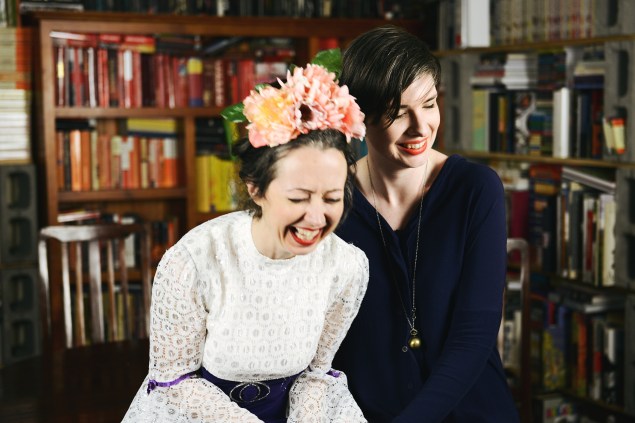 When Frida Kahlo penned her love to Diego Rivera, the tension and angst that would define their relationship for years was palpable. Abraham Lincoln wrote to Horace Greeley to incite a one-way discourse, a document for the Union and not for the editor of the New York Tribune. In a reactionary bent, bell hooks' response to Arlene Croce's New Yorker article on victim art was more of a tirade on identity politics than a conversation between her and the established dance critic. All three had a peculiar immediacy absent in everyday life.
Letters have long been a medium for deep, transparent communication; they allow the writer to eschew political correctness for raw feeling, dashing a daring truth onto the page. Perhaps that's why Aussies Michaela McGuire and Marieke Hardy pursued this more intimate means of expression for their now-international organization, Women of Letters.
"The original idea was just that it would be something with women, probably in a pub, but we knew we'd need a little bit more structure than that. I think the idea of a more romantic sort of communication was in the back of our minds, and it's just a really nice device," Ms. McGuire said.
She and her co-curator, Ms. Hardy, met at a writers' event in 2009, and after exchanging emails for a year, they launched Women of Letters in March 2010. The premise? The pair invite a handful of female guests to compose letters that speak to an assigned theme and read them to a 400-person public. Other than that, the guidelines are open to interpretation.
"Someone could very easily start their letter to 'Dear September 15, 1983,' and then go on to tell the story," Ms. Hardy said.
Those involved are volunteers and the proceeds go to charity. But if the project is relatively straightforward, the prose itself can prove more complicated. The content will sometimes inspire laughter, other times tears, and often times both over the span of a few minutes.
"Just sitting down and writing 'dear someone'—it tricks you into being perhaps more personal and revealing than you would otherwise, and it makes for a really nice show," Ms. McGuire said.
Meanwhile, the listeners are encouraged to engage with the nostalgic mood. Stamped postcards and aerograms sit around the scene, waiting for an audience member to find inspiration in her environment, delve into memory, and write to someone she can't get off her mind.
Conceived as a Melbourne staple, Women of Letters has now seen many a bar and stage. With tours around the United States, Indonesia, and the United Kingdom, the show has played host to everyone from police chiefs to comedians to singer-songwriters. After a successful visit to NYC last March at the Bell House, where notables like New Yorker senior editor Amelia Lester and "Orange Is The New Black" actor Yael Stone shared their work, Ms. McGuire and Ms. Hardy decided to create a second permanent home for their brainchild in the city. On Nov. 6, Joe's Pub will transform into a newer, chicer post office as the likes of Saturday Night Live player Sasheer Zamata and film producer Lorri Davis explore their "letter to my wake up call" and celebrate the first of a monthly series that will cater to the five boroughs.
"If we're going to commute anywhere in the world, it may as well be New York," Ms. McGuire said. "There are just so many incredible women here that we can't feasibly see ourselves running out of them any time soon, so it's exciting to think how many wonderful lineups we can put together."