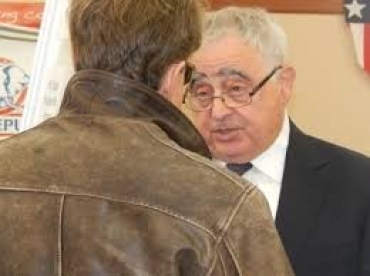 Despite The Bergen Record endorsing the Democrat in tomorrow's closely watched Bergen County Executive's race, the leader of the GOP in New Jersey's most complex political county remains confident in the lead-up to tomorrow's election.
Gov. Chris Christie did a robocall for incumbent Executive Kathe Donovan over the weekend, and a second robocall for the Republican freeholder candidates, Yudin said.
"The governor has been fantastically helpful," said the chairman of the Bergen County Republican Organization (BCRO). "He helped us raise money, he did the robocalls, and he did mailings, one in the 5th Congressional District, endorsing the county line plus [U.S. Rep. Scott] Garrett, and one in the 9th District, backing the county line plus Deirdre Paul.
"Kathe does have tremendous name recognition," Yudin said of his chief charge. "That Bergen Record editorial – they said some very nice things about her then supported the other guy."
Republican sources say a poll they took a week ago in Bergen showed her up by seven, but Democrats' own internals show the race much tighter.
One impact point on the county executive's race is the CD5 race, where Democrat Roy Cho of Hackensack is taking on Garrett of Wantage.
"I believe Garrett will win," Yudin said. "Roy Cho will do better than the Democrats did two years ago because there are a number of Democratic towns now in that district, two thirds of Teaneck, Lodi, Hackensack and Fair Lawn. That changes the dynamics, but I believe Garrett will carry Bergen and overwhelm Cho in Warren and Sussex."
He acknowledged the trouble Republicans have in the U.S. Senate contest, but offered a counter-punch.
"It's a steep hill for our candidate [GOP nominee Jeff Bell], but the negativity relative to our President [Barack Obama, job approval 43%, according to Stockton College] only helps Republican candidates," Yudin said. "There is very negative thinking in Bergen about Obama."
PolitickerNJ asked the GOP chairman about the perception that Democratic executive candidate James Tedesco is campaigning more visibly than Donovan.
He said it's not true.
"She is campaigning just as hard as Tedesco," Yudin said. "The difference is that huge sums of money are being wheeled into Bergen, by the likes of the senate president, who wants the Begren line in the next gubernatorial election; also by the mayor of Jersey City, who wants the line. He's wheeling huge sums of money in and so are assembly people connected to [Senator Paul] Sarlo. All of that money has given Tedesco a 3-1 advantage, and all it does is show you what a joke they [Democrats] are when they talk about pay-to-play reform."