2014 has been a sad year for New York city landmarks. As rents rise and landlords make room for big businesses, once more the city's hidden gems have been kicked out onto the streets. Here's some of the places we at the Observer will miss the most in 2015:
Subway Inn
Subway Inn, a New York staple since 1937, closed its doors on December 2 after being evicted by its landlord, World Wide Group. The grungy bar, complete with $5 shots, classic city characters, and an iconic Marilyn poster, has appeared in several television programs, including "The Layover" and "Person of Interest." However, it may be more famous for its owner, Charlie, chasing unwanted guests out with a broom. While the bar may have to leave its former location on E. 60th , it's found a new venue just down the street on Second Avenue.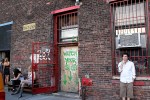 Glasslands
Though Glasslands still has shows scheduled through the end of the year, New Year's Eve will be its last night on the town. Like 285 Kent and Death by Audio earlier in 2014, it's rumoured the music venue is probably being pushed out to make room for the ongoing expansion of Vice. Though Glasslands only opened in 2006, it's hosted concerts for the likes of Bon Iver and MGMT, and its DIY attitude suited the Williamsburg scene at the turn of the century. In an announcement of closure, a Glasslands representative wrote, "goodbye for now, but not forever."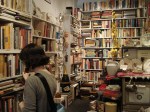 Bonnie Slotnick Cookbooks
Bonnie Slotnick Cookbooks, the one-stop shop for all of New York's dinner party needs, lost its lease for its W. 10th Street property. In 2006, NPR reporter Debbie Elliott explained that Ms. Slotnick "helps reunite people with long-lost recipes… and memories." Over 15 years, her store has hosted specialists in casseroles and vesiga. Both cooks and foodies have drifted through the aisles to flip through The Bread Also Rises and The Country Kitchen. Speaking to Vanishing New York, the devastated owner said that she couldn't believe it happened to her, too. Slotnick is currently searching for another storefront, preferably in the East Village.
5 Pointz
New York is a mecca for graffiti, quality or otherwise, and since 1993, 5 Pointz served as the city's street art icon. However, in November 2013, the space's owners, Gerald and David Wolkoff, painted the building white under the cover of night. In the morning, art enthusiasts everywhere ogled at their ability to so ruthlessly wash out a cultural statement. The building was razed in August so that high-rises could take over the lot. Meanwhile, commuters gaze longingly over Long Island City with nostalgia, hoping to see "The institute of Higher Burnin'."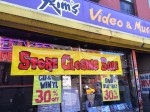 Kim's Video & Music 
Kim's Video & Music has fallen through the cracks, too, as its last of four stores shuttered at the end of July. The film shop closed its flagship in 2009, and by the end, the location on First Ave. was a mega-center combining resources from all of Kim's properties. In a 2014 article, the New York Times decried the "passing of a video store and a downtown aesthetic." The piece quoted filmmaker Alexandre Rockwell, a longtime fan of Kim's. "They had porn, B movies and highbrow art films," he said. "Kim's made film funky and accessible to people who were hanging out and getting high and bussing tables who stumbled in."
Brazenhead Books
Michael Seidenberg's illegal bookshop, Brazenhead Books shut down on Halloween. The apartment space filled with second-hand volumes played host to an appointment-only store with a devoted clientele. After closing the original location in Brooklyn in the 1990s, Mr. Seidenberg found a home on the Upper East Side in 2008. He was then featured in a 2011 Etsy documentary. In July, DNA Info reported that he was being evicted. Though Brazenhead Books may lose its chic locale, some customers are hopeful that this is not the end of the book haven. One was especially encouraging: "Brazenhead has been through so many changes. Every time it seems like the end of times, you keep going and stay open and something even better comes along."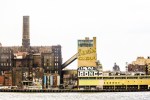 Domino Sugar Factory
Parting is sweet sorrow for Domino Sugar Factory and its iconic sign looming over the Williamsburg waterfront. The building, originally constructed in 1856 and rebuilt after a fire in 1882, is being demolished to make space for Two Trees' Domino Project. In the 1860s, employees processed 3 million pounds of sugar in a day. In May of this year, artist Kara Walker presented her first public art installation, a sugar coated sphinx, within the space. Ms. Walker was quoted on the demolition by <it>The Observer<it>, saying, "It makes me very sad."
Rizzoli Bookstore
Rizzoli Bookstore was forced to shutter its iconic 57th Street shop in April, after learning its lease would expire three years ago. Even a passionate protest couldn't inhibit the closure. But while lovers of print may have to go without Rizzoli's priceless architecture, which is getting knocked down, they will not have to let go of the texts themselves. Rizzoli will reopen in NoMad next spring, the store's website announced, "just three blocks north of the bustling cultural heart of Madison Square Park."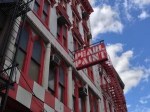 Pearl Paint
Since 1933, the red and white storefront, Pearl Paint, had sold supplies to New York's artists from its Canal Street location. However, in April, it was on its last legs, and visitors were dismayed to find its doors would close for good. After a blowout sale, the art staple locked up and threw away the key, leaving many wanting more. Brooklynite Peter Bornstein told the Tribeca Trib, "It's like you're going through your dying grandmother's house. This is heartbreaking."
Café Edison
It was Vanishing New York's Jeremiah Moss who broke the news that Jewish diner Café Edison had lost its lease, citing that the hotel next door wanted a more elite restaurant as its affiliate. While lunchtime rallies and heavy news coverage showed a glimmer of hope for the diner, it finally closed its doors on December 21. Known for its blintz and matzah ball soup, Café Edison will be missed by New Yorkers everywhere, from Broadway babes on a break to tourists trapped in Times Square.