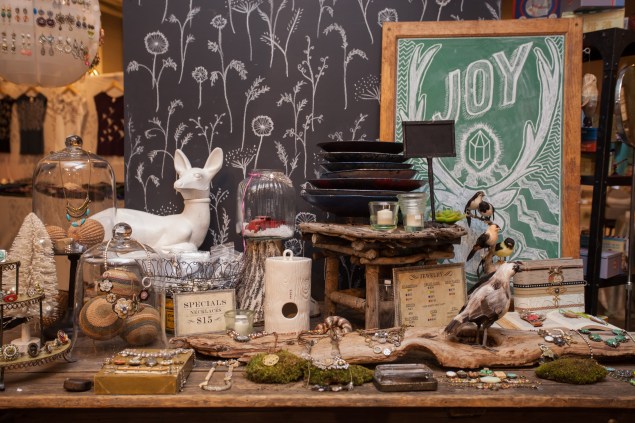 You can't walk down an avenue in Manhattan right now without hitting a holiday market. But many of these Christmas-themed bazaars carry the same old ornaments, scarves and baubles, whose price tags might not match their humble origins.
They might leave you craving high-quality artisanal gifts that you can't find at any old tourist trap. Thankfully, there are markets throughout Manhattan and Brooklyn where you'll be able to cop more unique treasures. We have assembled a list of holiday markets for you to hit up this weekend if you're the last-minute type (who isn't?).
Urban Zen Holiday Market — 705 Greenwich St., Manhattan
Designer Donna Karan curates all of the products sold in her Urban Zen boutique, and the holiday market is no different. The holiday store includes "a collection of jewelry, apparel, home decor and objects of desires curated by Donna KAran and inspired by her travels and a community of like-minded artisans and philanthropists." Urban Zen's sociall conscious partners include TOMS, Croix des Bouquets, Marithou Ceramics and many more. Open Monday through Friday 10 a.m. to 6 p.m., Saturday from 11 a.m. to 6 p.m. and Sunday from 12 p.m. to 5 p.m.
Jingle: A Holiday Pop-Up Store — Chelsea Market, 75 9th Ave., between 15th and 16th streets, Manhattan
The Chelsea Market is dreamy all year long, but they are really putting their best stocking forward for the holiday season. Until Dec. 28, the Jingle Pop-Up features not only gifts from all over the world, but also musical performances throughout the day. Offerings include Bamboula, which creates work and income for African artisans; Irish heritage brand Dubarry; industrial art from Gauge NYC and more. The market is curated by Jill Schwartz, a designer for Anthropologie. Check Facebook page for daily hours.
French Morning's Brooklyn Artisans Christmas Market — St. Paul's Church, 234 Congress St., Cobble Hill, Brookly
For the Francophile or carb hound on your list, head to St. Paul's Church in Cobble Hill. In partnership with Provence en Boîte restaurant, French Morning has selected "20 artisans, designers and craftsmen who represent the best of Brooklyn creativity. Most sellers are Brooklyn-based, others come from France, some are both: based in Brooklyn with a French heritage." There's even an interesting cultural melding taking place. As French Morning's website reports, the French are very into artisanal culture — as are Brooklynites. Atelier Cologne, La Bec Fin, Atelier Wen Ling and more will be selling fragrances, jewelry and even charcuterie. Open Saturday from 10 a.m. to 7 p.m. and Sunday from 11 a.m. to 6 p.m.
Brooklyn Flea — 1000 Dean St., between Classon and Franklin, Prospect Heights, Brooklyn
This warm-weather Williamsburg favorite has moved indoors for the winter. In a 30,000-square-foot space north of Prospect Park, 125 vendors are situated, selling everything under the sun, plus food. Check @BKFlea on Instagram for some gift inspiration and get on the next train to BK. Open Saturday and Sunday from 10 a.m. to 6 p.m.
Shwick Market — 6 Charles Place, Bushwick, Brooklyn
Wooden iPhone cases, handmade organic beauty products, screen-printed onesies and pot-leaf-printed sports bras make Shwick the perfect destination for the free spirits on your list. The mammoth Bushwick meeting ground also has Polish baked goods, phumplings (pho dumplings — I know), jewelry-making classes and movie screenings. Open 11 a.m. to 7 p.m. daily.
Brooklyn Night Bazaar — 165 Banker St., Williamsburg, Brooklyn
Cap off your day of shopping with a night of even more shopping. Vendors here include old-timey lighting company Northern Electric, handcrafted botanical perfume and skincare company Hi Wildflower Botanica, Throne watch company, and even an on-site tattoo artist. This Saturday, there are also performances from Lemuria, Slothrust, Spraynard, Young Leaves and Prince (no, not that Prince, a different one). Open from 7 p.m. to 1 a.m.