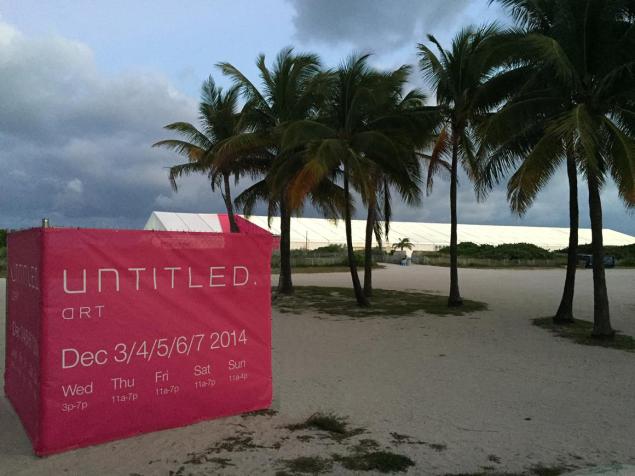 UNTITLED. The first art fair of very many of Art Basel Miami week got off to a refreshingly altruistic start Monday night. Rather than overlooking World's AIDS Day—December 1—as so much of the art world does nowadays, the fledgling three-year-old fair embraced the cause by benefitting ACRIA, a leading HIV and AIDS charity.
Another attribute setting this fair apart is, simply, sand. It is sited directly on the beach off Ocean Drive. Housed in a new and larger tent, designed by architects John Keenen and Terence Riley of K/R, the third edition of UNTITLED. features 110 international exhibitors from 18 countries. Visitors on opening night included collectors Alain Servais, Marc and Livia Straus, Joel and Zoe Dictrow, Joel and Sherri Malen, and Steve Shane.
"It's been a great collaboration this year," artistic director Omar Lopez-Chahoud told us. "We have the free posters by international artists, a limited edition catalogue produced by Onestar, special projects with artists, booths for non-profit organizations, performances, and talks. The whole program has gotten much stronger. There's a conversation between galleries showing emerging artists and historical work in solo and group shows."
Solo exhibits we found standouts include Ethan Greenbaum's manipulated photographs, made via an intricate process of printing on materials that get vacuum-formed and painted, at Kansas; Ebony G. Patterson's "Bling Funerals" series of sculptures of decorative coffins on sticks, which were previously carried in a procession, at Monique Meloche Gallery; Fernando Bryce's ink drawings of 1940s Latin American movie advertisements at Lucia de la Puente; Peter Dreher's vintage abstractions and recent monochromatic paintings of drinking glasses at Koenig & Clinton; and Mathieu Mercier's geometric paintings and found-object sculptures at Denis Gardarin Inc.
"I've traveled to fairs around the world and a lot of them are the same," UNTITLED. founder Jeff Lawson told the Observer at the opening.��"This was a unique opportunity to do something on the beach, to work with K/R, to work with curators, to do something different. Artistic director Omar Lopez-Chahoud and curators Christophe Boutin and Melanie Scarciglia (from Paris-based Onestar Press) worked together very well and put together a great group of galleries. It's a very cohesive show."