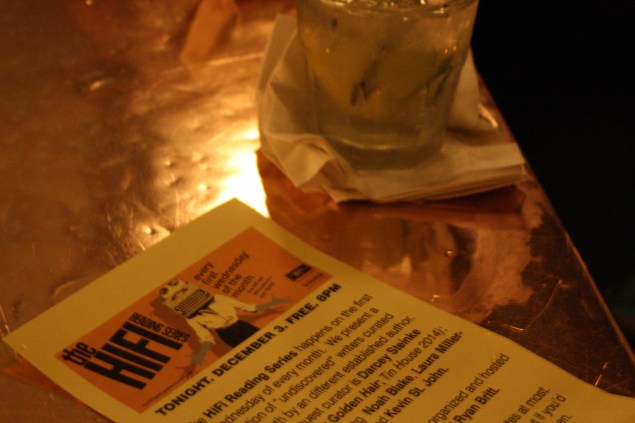 Last night in the East Village, the HiFi Bar was at capacity. The crowd sought a view of a raised platform in the back of the room, where the rock and roll bar was diverging from its musical history. Regular customers were instructed to move to the smaller back room, and told to use their library voices.
Since March of this year, the first Wednesday of every month at the bar is reserved for the HiFi Readings Series. In a tribute to the iconic bar's history of hosting musicians before they become famous, the reading series seeks to do the same, but with writers. "You're getting to see the rising stars of literature, regardless of background and age, before anyone else," host Ryan Britt said.
Mr. Britt, a pop-culture writer with a book on the way, organizes the series in partnership with Lena Valencia, the managing editor of A Public Space magazine. The pair met in 2009 while working events at the Powerhouse Arena bookstore. The friends then started talking about creating a reading series around the same time that HiFi owner Mike Stuto began asking Mr. Britt, a longtime patron, about bringing a reading series to the bar.
"Lena and I thought a lot of the times that you go to a reading, the audience is always the same, which is fine because we all love each other, but how do we get the audience to be different?" said Mr. Britt. Their solution was to host a different type of series, where they bring writers who no one has ever heard from to the forefront. This way, the focus is all on the writing. Mr. Britt said that they often don't know the writers until the night of the reading.
To do this, Ms. Valencia and Mr. Britt search within their own networks to find an established writer to curate the series and pick two or three emerging writers to read. Last night it was Darcey Steinke, a teacher of Ms. Valencia's whose latest book Sister Golden Hair came out last month.
Ms. Steinke chose three writers with distinct literary styles: Noah Blake, Laura Miller, and Kevin St. John. Mr. Blake was an MFA student of Ms. Steinke's. "I asked him to read tonight because he recently joined the world of computer programming—which is great," she said, "but I really want him to keep writing." Ms. Miller, the wife of the artist Fred Tomaselli, was an old friend and former student of Ms. Steinke. Mr. St. John was her French tutor. She haggled his price down by reading his stories.
Each writer brought his or her own circle, including many reading series newbies.
"I'm so happy to read with people who I think are really going to write good, amazing work, and bring them out to a bigger audience," said Ms. Steinke. Her pick, Mr. St. John, mentioned that it was his first reading ever, something which Mr. Britt hopes to have more of at the series.
"A reading is a place where you should discover something," said Mr. Britt. He calls himself and Ms. Valencia lucky because they get to experience that sense of discovery at their own reading series. "We get to see, just like everybody else. We get to be a fan of our own reading series." He hopes that others, specifically editors and literary scouts, will feel the same way.
And really, isn't that the goal of any literary event?
"I found in the New York Literary scene, whatever one might think of it, is that the secret handshake is a regular handshake," he said. "Even if somebody meets one person at the HiFi reading series, four years later that connection might be useful."
The next installment of the HiFi Reading Series, curated by Shelly Oria will be on January 7th at 8pm at the HiFi Bar.