A former rival to Congressman Charles Rangel will meet with the Harlem lawmaker tonight, hoping to secure his backing in 2016, sources say.
Clyde Williams, a 2012 congressional candidate who worked for the Democratic National Committee, is hosting Mr. Rangel at his home on Adam Clayton Powell Jr. Boulevard in Harlem, where Mr. Williams will pitch himself to the legendary 84-year-old legislator as the best candidate to thwart what is likely to be a third challenge from State Senator Adriano Espaillat.
"Clyde is actively organizing and mobilizing his supporters and talking about the new generation of Harlem taking over," a source familiar with the meeting told the Observer. "He's gonna push for Rangel's support, saying he's the only person capable of winning in 2016. He endorsed Rangel this year, so this meeting is about what he gets in return."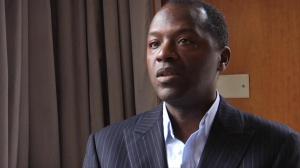 The Observer obtained an invitation for the meeting, scheduled for 6:30 this evening. Mr. Williams, who denied he was holding the meeting with his Washington future in mind, said Manhattan Borough President Gale Brewer would be attending as well.
"It's just a community meeting. I wouldn't read any more into it," Mr. Williams told the Observer. "There's no other agenda."
Mr. Rangel hinted that he would step aside after surviving a 2012 challenge from Mr. Espaillat and Mr. Williams, but decided to seek re-election this year. Much of the local political establishment fell behind Mr. Espaillat but Mr. Rangel, assembling a stronger campaign and recovered from health issues that plagued him during his 2012 run, won again. This time, Mr. Rangel has said he will be serving his last term in Congress.
Who Mr. Rangel chooses to succeed him has long been a vexing question in the Uptown political establishment. First elected in 1970, Mr. Rangel has outlasted generations of up-and-coming politicians in an area that was once the base of African-American political power in New York City.
After the latest round of redistricting, the Manhattan-based seat took on a portion of the Bronx and became majority Latino. Despite the shifting demographics–the district is less black, more white and more Latino than it used to be–Mr. Rangel knocked off Mr. Espaillat again, but may not have a favored candidate to keep Mr. Espaillat from eventually taking the seat, observers say.
Mr. Williams only won about 10 percent of the vote two years ago, but is a strong fund-raiser with deep ties to national Democratic circles. Younger than other potential black contenders like former Gov. David Paterson, Assemblyman Keith Wright and Councilwoman Inez Dickens, Mr. Williams could be formidable in an open race. Mr. Williams endorsed Mr. Rangel when he looked vulnerable in 2014 and is now hoping the congressman returns the favor, sources say.
"For Clyde, this is somewhere between courting Rangel and making a demand. He wants the seat very badly," the source familiar with tonight's meeting explained. "He sees himself as the future."
Mr. Rangel did not immediately return a request for comment.