When you're at a private lunch and both uber-gallerist Larry Gagosian and Metropolitan Museum of Art director Tom Campbell show up, the average artworlder short-circuits.  Whom to kiss up to? — the emperor of the venal or of the spiritual world? Throw in Pace Gallery founder Arne Glimcher and the neck-swiveling really begins.
Such was the dilemma at the event the Met held for its patrons group at the edge of the Atlantic ocean in Miami's so-called Faena District yesterday.
The lunch was co-hosted by art collector Alan Faena, quite possibly Argentina's most successful and certainly most well-known real estate developer. To impress everyone, he brought in giant walls of barbecuing Argentinian meat. It worked, kind of like Mark di Suvero sculptures covered in lamb chops.
The agenda behind the protein extravaganza? Faena is building a several block wide real estate development anchored by a Rem Koolhaas cultural center, an aggressive billion-dollar attempt to yank the luxury center of Miami Beach north. The cultural center will need to be filled with art and events, thus, perhaps, Mr. Campbell's presence.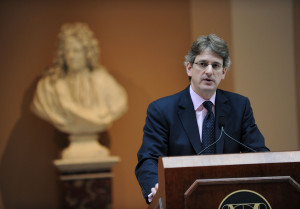 A side note on Mr. Campbell here: he is representing New Yorkers exceptionally well these days at events around the country and world, something that was not necessarily guaranteed when he first got the job a few years ago, looking a bit overwhelmed, tweedy and like a guy who had run the Met textiles department, which of course he basically had.
Now, Tom is a repeat visitor to Art Basel, usually on panels, and seems to take off one layer, or open one shirt button more, every year he shows up.
We got precious little out of him regarding rumors of a pending partnership with the so-called Faena Arts District, though he did happily discuss the local Bass museum and designer Peter Marino.
And Alan Faena similarly babbled happily about the "art community" and bragged about condo sales to date.
Campbell did say looked forward to making more visits to Miami.
One note, speaking of things that are venal: at our luncheon table, one art advisor expressed interest in buying into the Norman Foster-designed building adjacent to the event. But a rival real estate developer chimed in, speciously quickly, that these blocks are "known for flooding during the full moon" but that "he was sure that was taken care of now."
Ah, Art Basel Miami Beach. When it's not about art, it's always about real estate.