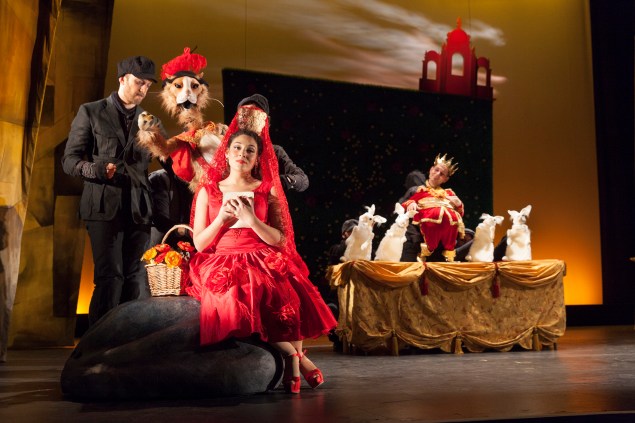 Die Meistersinger von Nürnberg is a problematic opera—or, rather, it is an opera that has, in the last century or so, become problematic. Its composer, Richard Wagner, was a profound artist who insisted in treating on profound themes: Life, Death, Love, Redemption and so forth. In this opera, though, his focus shifted to different universalities: Art and (here comes the troubling part) what you might call "German-ness."
This profundity emerges, oddly enough, from a romantic comedy plot. In 16th century Nuremberg, the down-at-heel knight Walther von Stoltzing seeks to join the guild of Master Singers, a group of tradesmen who compose vocal music avocationally. Though he's initially unable to learn their intricate rules (as enforced by the town clerk Beckmesser), he is mentored by the group's most respected poet, Hans Sachs. The knight creates a marvelously beautiful song, winning the annual singing contest and the hand of the lovely Eva Pogner.
Wagner emphasizes that the music these masters create—a specifically German art—can flourish only in a strongly supportive society, or, in the political terms of the mid-19th century, of a unified German state. The 20th century, though, served as a wake-up call that German nationalism might not be such an unalloyed blessing after all. A speech assigned to Sachs in Meistersinger's finale rings warning bells. "If the German people and kingdom should one day fall under a false, foreign rule," he advises, "what is German and true none would know." To a modern audience, this sounds eerily like the argument that started World War II. At any rate, it's a less than cuddly way to wind up a rom-com.
Now, there are several approaches for addressing this irksome theme. One is to tackle it head-on, as Katharina Wagner (the composer's great-granddaughter) did in a 2007 production at the Bayreuth Festival. During this final address, the stage plunged into darkness as Sachs, lit mysteriously from below, held forth between gigantic Fascist-style statues of Goethe and Schiller. Here, Ms. Wagner seemed to be telling us, is your next Führer: this kindly old poet is preaching genocide for the sake of German art.
That's radical, to be sure, and it made a lot of people furious. But it's more intellectually honest than simply ignoring the Meistersinger problem and hoping nobody notices, which is what Otto Schenk's 1993 production does at the Met. As with most of the director's other stagings here, the aesthetic is one of conservative "respect" to the material, a fussy attempt at realism that ends up looking as artificial as a Disney theme park.
When a music drama is robbed of its drama, the prime suspect in the theft is logically whoever is in charge of the music. In this case that's James Levine, who last Tuesday conducted his first Wagner since his return to the Met following years of recovery from illness and injuries. Unfortunately, the music he made wasn't quite good enough to make us overlook its tacky surroundings. There's something subtly off about Mr. Levine's conducting these days: erratic tempos, oddly opaque orchestra blends, and, most all, a sort of stutter in transitions of rhythm. He remains a markedly competent conductor; nothing ever goes off the rails. But when the highest praise you can give a Wagner opera is that it arrived on time and all in one piece, that's bad news.
Just as worrying was the casting. Tenor Johan Botha (Walther) sang like an angel, but mugged like a burlesque comic; meanwhile, Annette Dasch played with subtlety and intelligence while singing Eva's radiant music with a hard, chalky soprano. Debuting Johannes Martin Kränzle revealed a cool, medium-sized bass-baritone as an understated Beckmesser, but Hans-Peter König took the evening's vocal honors as Eva's father Pogner with his big velvety bass and poetic legato. If only he had been singing Sachs instead of the dry-voiced, uninvolved James Morris. The veteran bass' listless performance was further eclipsed by the young tenor Paul Appleby, who sang the role of Sachs' apprentice David with honeyed tone and spot-on German diction.
Meistersinger is a masterpiece, so it's a tragedy when you leave a revival thinking, "there goes six hours of my life I'll never get back." In contrast, Saturday night's performance of Xavier Montsalvatge's El Gato con Botas by Gotham Chamber Opera flew by so quickly that at the final curtain I wanted to hear the whole thing over again.
It helped that this 1948 retelling of the Puss in Boots legend is barely an hour long, but the show, though brief, was far from shallow. It's a musically delicious work, blending Spanish rhythms with shimmering, impressionistic harmonies. The pearl of the score is a luminous waltz song performed by Puss as he pitches his master the Miller as a possible husband to the Princess. Doing more than justice to this irresistible tune was Ginger Costa-Jackson, her mezzo as mellow as fine Rioja wine.
But she was only the very best of a superb cast. Craig Verm's easy, dark baritone warmed up the role of the shy Miller for whom Puss goes courting, an attractive match for the silvery-toned soprano of Andrea Carroll's Princess. Stefanos Koroneos didn't have much to sing, but mugged adorably as the dim-witted King, and Kevin Burdette let out some terrifying bass noises as an ogre.
The utterly charming production, done in tandem with Tectonic Theater Project, was directed by Moisés Kaufman. While Ms. Costa-Jackson and her colleagues sang, Puss and numerous other characters were "acted" by giant puppets manned by Blind Summit Theatre, the same troupe that appears in the Met's Madama Butterfly. The visuals were ceaseless and intricately fascinating, from the Ogre whose body parts constantly reconfigured to a gaggle of rabbits hippity-hopping through elaborate choreography.
Neal Goren, artistic director of Gotham Chamber Opera, conducted the piquant score with a light, confident hand, but his real triumph is in programming this obscure work in the first place. The children who dotted the audience in El Teatro of El Museo del Barrio sat in fascinated silence in between bursts of delighted applause, and, happily, the adults followed their example.