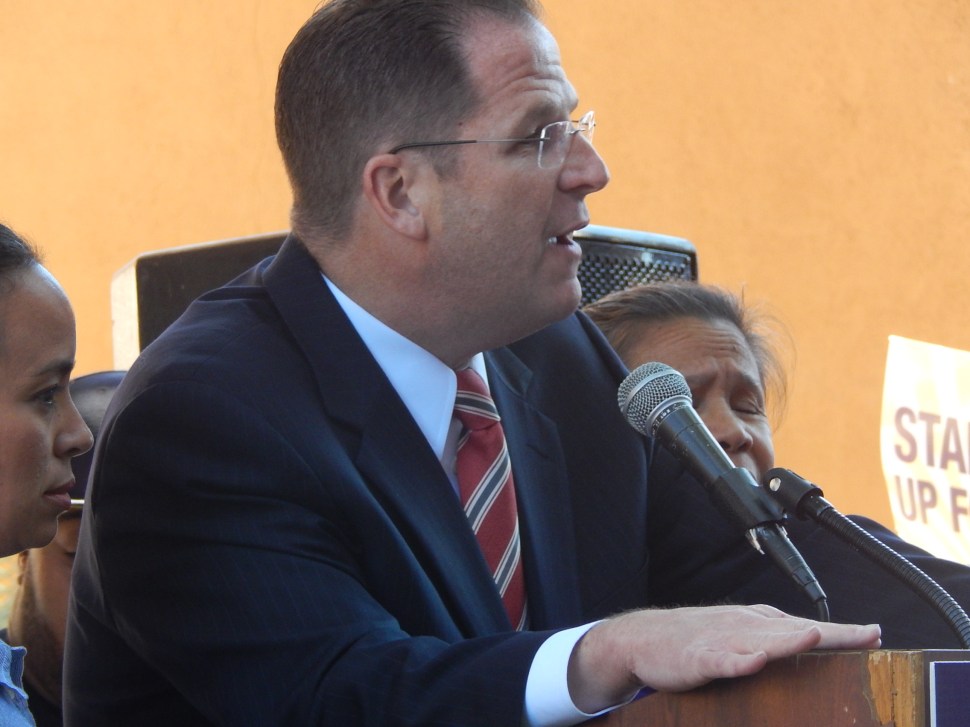 In a rare display of emphatic policy opposition, inveterate Chris Christie fan state Senator Brian P. Stack (D-33) took a flamethrower of his own to the Port Authority plan embraced by Christie and Andrew Cuomo.
Specifically, Stack – like his fellow Hudson County Mayor Steven Fulop of Jersey City – savaged a portion of the plan that proposes the privatization of PATH service.
"I am strongly opposed to the termination of overnight PATH service, as this means of transportation is the only practical way for some of my constituents to travel to and from New York City," Stack said in a statement. "As the economy is only beginning to rebound, employees do not have the freedom to select optimum work hours, depending on overnight service to put food on the table.  Accessible transportation to New York City, on a 24 hours basis, is what makes communities on this side of the Hudson so attractive to prospective residents.  This idea needs immediate reconsideration."
The statement represents the second time Stack has openly and vociferously challenged a position backed by Christie.
The other time was 2010, and it also involved the Port Authority – in that case a proposed fare hike that Stack rejected.
Stack's late father, incidentally, was a Port Authority employee.
Citing his father, Stack said it would be a huge mistake for PATH to leave New Jersey.
"My father worked for PATH. He was a conductor on the trains. He worked for the Port Authority for 37 years, and he always used to say that PATH was the give back to New Jersey. We can't let New York have everything."
Stack said he realizes that the Port Authority panel – endorsed by Christie – has simply recommended privatizing PATH.
The mayor/senator made clear that this is not an antagonistic move toward Chrsitie.
"I love the governor and I support him 1000 percent," Stack told PolitickerNJ. "He's my friend."