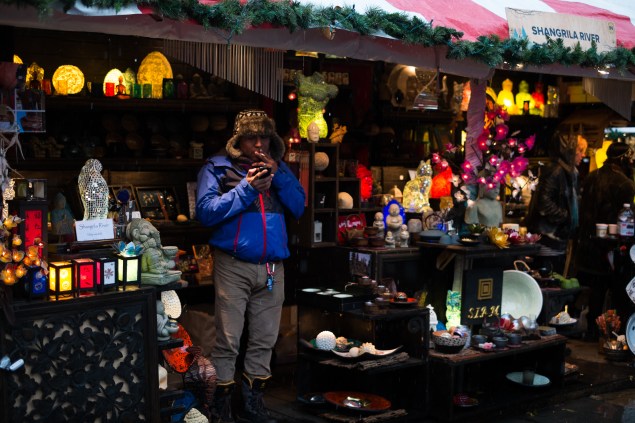 As the first gusts of winter bit red-button noses on Tuesday, Nov. 18, most New Yorkers piled into coffee fronts for a warm sip. But some would take their Chestnut Praline Lattés outside—tucked in a tent and on a table—as they braved the cold to prepare for the Union Holiday Market. A vendor popped out paint, gently glossing over his camel-colored booth. Another had already redecorated, her children's apparel overlapping like a patchwork quilt.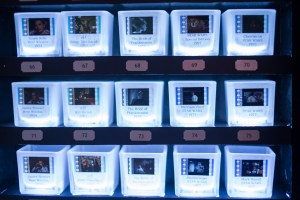 James Wolfe from Actual Film Votive lunged over a piece of wood, saw in hand. "Don't make him look up!" his brother Gregory exclaimed with a dimply grin. The younger Wolfe did indeed look up, but his cut was still straight and smooth.
Hidden in the maze of peppermint-striped awnings, Damarys Galeano fixed her clockwork necklaces on display boards as her husband dangled toy planes overhead.
Union's iconic benches and pigeons stood lonely. The south side of the park hosted all of the action.
4.9 miles and a 20-minute delay on the R train away, an earthy, steamy hot chocolate and a suspended guitar replaced gloves and jackets at Nunu's new location in Park Slope. Justine Pringle chatted with strangers who seemed the best of friends. Her baby lounged on the café's long bench, taking a siesta before venturing out into the cold. Behind the counter, baristas filled glasses with happy, heart-shaped foam. They were the sort of Brooklynites who could joke about New York's sky-high prices with a smile and a laugh. Their boss teased along with them; her lack of pretentiousness and adorable South African accent made her immediately likable.
She and her husband, Andy Laird, began their chocolate business as a sideshow to the main event: the latter's musical performances.
"We both thought at the same time, 'chocolate. Let's try to figure out chocolate. Everyone likes chocolate,'" Ms. Pringle said.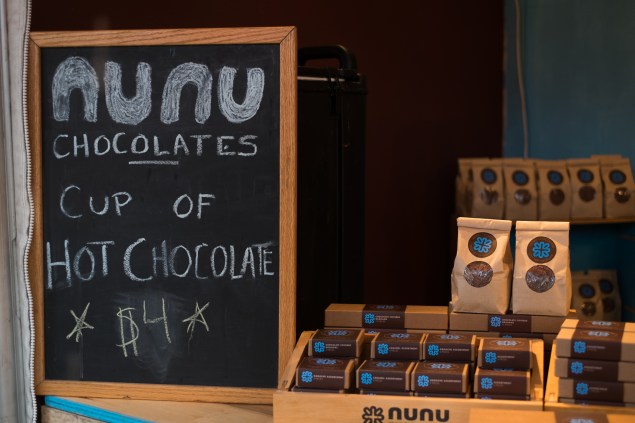 In 2007, they made their treats in Sheep Station's kitchen until the wee hours. Seven years later, they own two properties devoted exclusively to their product. But since those mornings mixing beans with sugar and vanilla until 3 a.m., every Christmastime, they've scooped hot cocoa servings out of a huge vat while customers crowd into Union Square for holiday shopping. They don't plan to leave the market anytime soon.
"I think it's something that New York people feel loyal to," Ms. Pringle said. "Even though we have an online shop and we have actual brick and mortar shops, they wait all year to come there, and you see the same people every year. It's just not worth giving that up."
In contrast, the Wolfe siblings and their business partner, Gregory Sherman, are first-timers at Union, and as veterans suffer post-polar vortex stress disorder, perhaps their ignorance is bliss.
"To be in the booth and stand there like a museum piece as the people nod and smile and walk back and nod and smile to the vendors—it's going to be a new experience," James Wolfe said.
He, his brother, and their friend are projectionists, and as digital takes over their industry, they're repurposing 35 millimeter with an aesthetic eye. At first, Actual Film Votive was a private holiday project; they stuck 35 mm slides onto candleholders and placed lights behind the images to reproduce a projective effect.
"Nothing's sacred anymore in that all of the pieces of film are already in an archive. They're already being put away some place. So the film we acquired was pieces of things—garbage—and we just didn't have the heart to throw them away," James said.
As their friends and family opened packages from under the tree on Christmas morning, they were delighted by each mini-votive and its instantly recognizable scene. Surprised and elated by their loved ones' reactions, the projectionists decided to expand their enterprise to Etsy and stores around the city.
The candles are covered in classics, from It's a Wonderful Life to The Bride of Frankenstein. Film travels at 24 frames per second, so each clip is ephemerality caught and preserved. Alongside the images are lines signifying music, and the film votive is a double feature: a glimpse into Frank Capra's era and a nicely scented center decoration.
"To have a piece of film—an image that was shown in the theaters in New York City—it's kitschy. It's kind of nice to have a piece of American history," Gregory Wolfe said.
A history that Union compliments with verve despite the relative newness of the market itself. As a historic landmark, the park has seen its fair share of action. It's been a public gathering nucleus since 1839 and has seen its fair share of riots—including protests against the Michael Brown and Eric Garner decisions over the past few weeks. Its benches are often filled with juxtaposing doe-eyed lovers and New York residents down on their luck. In 2012, a provocative drama starring Mira Sorvino got its name from the place. And back in the 19th century, it was NYC, plain and simple.
"Can you imagine at one time above Union Square was farmland? It's such a historic place, and you have all of these New York-based artists coming together in this old, historic park. There's a vibe there that's just very cool," Gregory said.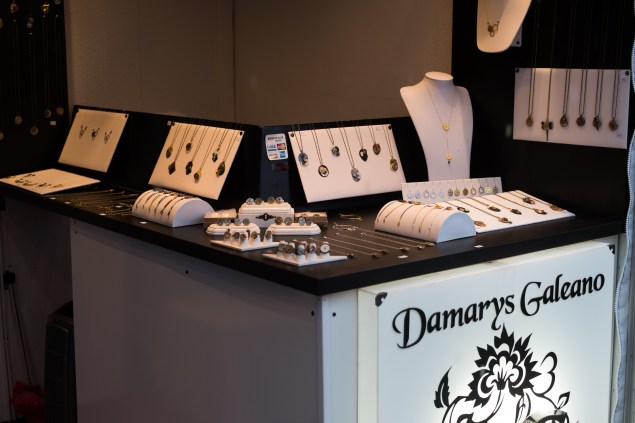 Across from a booth of skin care products, where salesmen attack your hand with warm, buttery cream, Damarys Galeano adds to the artist community with her jewelry of dials and gears. Originally from New Jersey, Ms. Galeano studied fashion design in Colombia while her husband attended F.I.T. The couple grew tired of working for employers, so they branched off and created their own line of accessories. They experimented with belts and bags before stumbling upon their niche when Ms. Galeano's friend gifted her retro watches before returning to her country. Ms. Galeano played with the springs and wheels, arranging them in a necklace design. After many a compliment, she launched her watch-inspired collection three years ago.
"I guess it just evokes something else to people. For older people, it's a memory. For younger people, it's something they haven't seen before," she said.
"New York is all about 'eclectic,'" she added. "It's between modern and vintage, and everyone loves vintage. That's why there are so many thrift stores."
Today, as the cold floods in again, Ms. Galeano and her fellow artisans sit alongside their work, their shaking limbs appeased by mittens, coats, and camaraderie.
"You're all freezing. You're all going through the long hours. It's a wonderful experience and you create some really good relationships," Ms. Pringle said, a nostalgic sympathy reverberating in her tone.