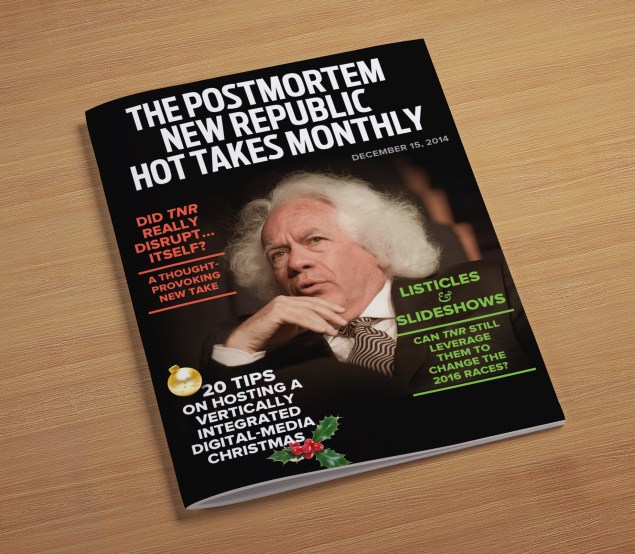 Ever since the news broke that The New Republic was re-imagining itself as "a vertically integrated digital media company" and replacing editor Franklin Foer with Gabriel Snyder, the Internet has overflowed with think pieces and hot takes about the changes at the venerable, 100-year-old magazine and what they mean for Journalism and Serious Thought.
A week ago, when it seemed that we were at peak TNR obits, The Awl ranked the top forty hot takes on The New Republic.
But we hadn't reached a peak. The post-mortems just kept on coming, one after another, sitting half-read in multiple tabs on our computers.
This past Friday, New Yorker writer and now-former TNR contributor Ryan Lizza reported on the inside story of the "collapse of The New Republic." It was good (I even recommended it as weekend reading). But I hoped it could end there. Did it? Of course not. Today brought still more analysis. It is hard to imagine a world without a constant stream of stories about what happened at The New Republic.
"There should be a magazine that just prints stories about what happened at The New Republic," I tweeted this afternoon. Well, sometimes, wishes/greatest fears come true!
In response, Jon White, a graphic designer/cartoonist, made a mock-up of what the cover of said publication would look like. Considering that enough writers and editors pulled their stories and resigned to make the January issue, which was to close last week, an impossibility, it's kind of ironic that there has now been enough content about the magazine's demise to fill multiple issues.