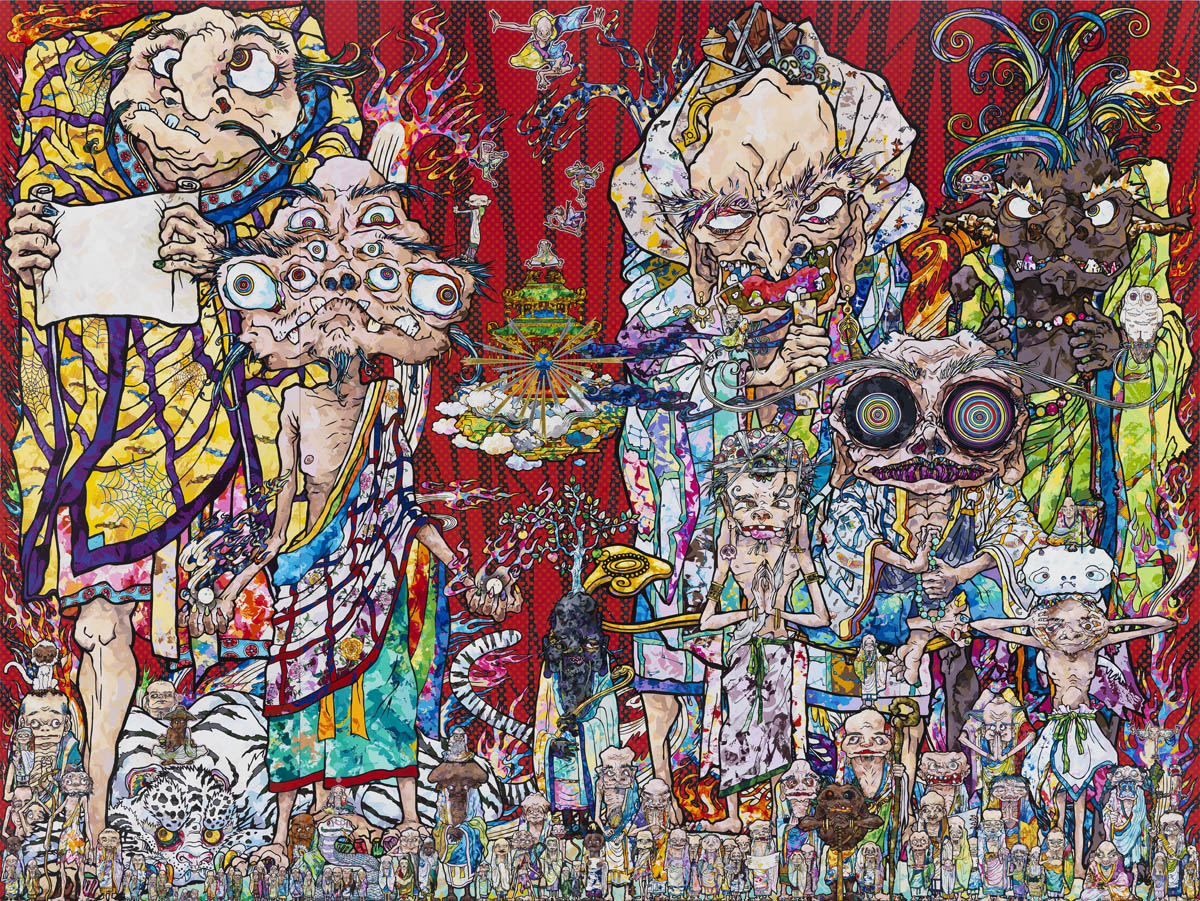 The twin 14-foot statues titled Embodiment of Um and Embodiment of A currently on view at Gagosian Gallery on 24th Street are a raucous sight to behold. Majestically grotesque and adorned in gold, they are looming and frenzied video-game characters with the exquisite rendering of ancient Chinese statuary. They punctuate Takashi Murakami's tidal wave of delirium-drenched images, "In the Land of the Dead, Stepping on the Tail of a Rainbow," on view at the gallery through January 17, 2015.
There has never quite been an artist like Mr. Murakami. He possesses a market sense that is part Jeff Koons and part Walt Disney, but he's also a gifted caricaturist and visual storyteller. His images and iconic characters enjoy international success on both million-dollar paintings and T-shirts. He also could just be the most important and powerful cultural voice to ever come out of Japan in the 20th century. Installing a Louis Vuitton pop-up shop within a museum exhibition, as Mr. Murakami has done twice before, would've ended most art careers, but in his hands, the move became a career-defining sensation.
The artist was born in Tokyo in 1962 and got sucked into art through Manga comics, a postwar form of Japanese cartooning that has gone on to achieve worldwide popularity. He went to school to learn animation but instead decided to study Nihonga, a traditional style of Japanese painting that still informs the structure of much of his work. Mr. Murakami combined the two seemingly unrelated styles to create a potent aesthetic. He dubs it "Superflat" a bold, graphic style of cartoon parodies.  
But this is not child's play: The artist's narratives are often inspired by his native country's disasters, such as Hiroshima or Japan's 2011 earthquake, and they enlist a bevy of memorable Manga-inspired creatures to enact them with maniacal ebullience. Over the years, his cast of characters has multiplied into the hundreds; cute, fanged infants, sexualized tweens, decorative and deadly mushrooms, armies of laughing flowers, aged wise men and even the artist himself as a Buddha-like figure. These are but a few of the reappearing personalities that populate Mr. Murakami's genuinely absurdist reflection of Japanese society.
His current show at Gagosian features nearly city-block-length paintings; actually more seamless conglomerates of hand painting, computer inkjet printing, gold leafing, and screen-printing. They are a marvel of modern technology and group precision (Mr. Murakami's studio, Kaikai Kiki, employees hundreds of skilled workers.) Another room of floral tondos enjoys a similar lunatic splendor but with a charming delicacy and refinement that shows the immense territory that Mr. Murakami can cover.
The entire show, rich in religious imagery and unforgettable characters, offers up this type of wow factor, including a gargantuan 56-ton replica of an ancient sacred gate that the artist created for this exhibition. (It's an impressive feat but unfortunately one that feels redundant in message while simultaneously impeding views of the paintings.)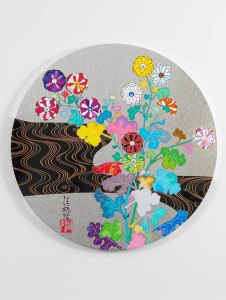 Every artwork in the exhibition is overwhelmingly pristine in its detail and craftsmanship, but one is left wondering, to what end? Will these works just be housed away in the mansions and storage spaces of a handful of magnates? Though he is clearly an impressive maker of luxury objects, one can't help but feel that Mr. Murakami's serious subject matter–which sometimes gets lost behind his kooky cartoons–can only be redeemed as a mass-produced object or public art.
The new works are gargantuan, the craftsmanship exceptional, but Mr. Murakami needs to widen his focus outward, not only upward.