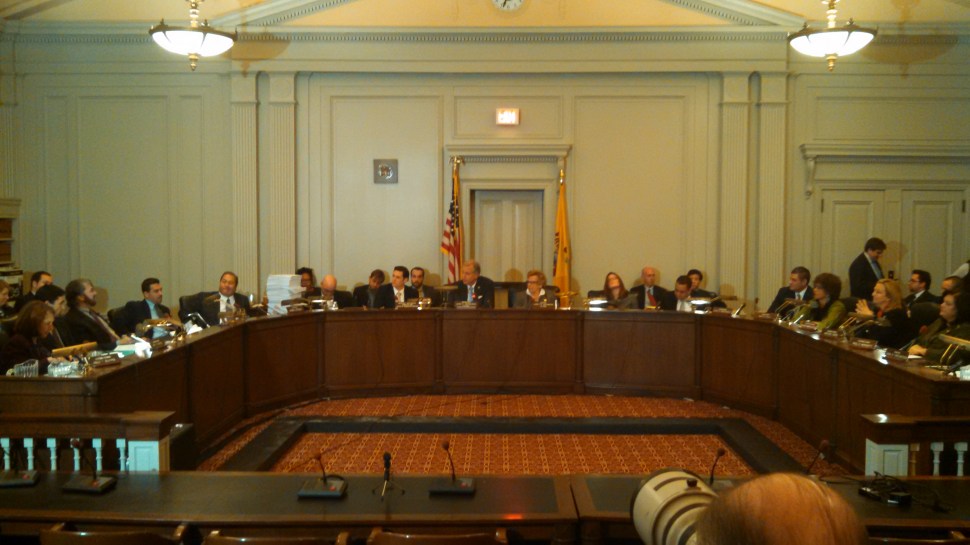 TRENTON — In their 119-page Minority Statement this morning, Republicans on the Select Legislative Committee of Investigation singled out three Democratic members on the joint legislative body who they claim "should have been banned" for alleged conflicts of interest.
Assemblyman John Wisniewski, the committee's co-chair, Assemblywoman Nia Gill, Assemblywoman Valerie Vaineri Huttle, and Senator Linda Greenstein are called out for having "concealed serious potential conflicts of interest as they advanced their political mission to try to destroy the governor and raise their political profiles," according to the document.
The report, issued just hours before the joint committee publicly released its own "interim" report and findings, argues Wisniewski, who runs the private law firm Wisniewski & Associates, should be "banned from the Select Committee because of his possible conflict of interest as a private attorney embroiled in a client's high-stakes land deal with the Port Authority," while Gill –who works as a partner at Weiner Lesniak — is said to be in a position to "potentially pressure, consciously or otherwise, Port Authority officials."
The allegations ultimately served as fodder for an attack on the committee and its work during a hearing this morning, where state Sen. Kevin O'Toole verbally bombarded Democratic co-chair John Wisniewski for leading a "partisan" campaign against the state's Republican governor and using his leadership position on the joint legislative body for personal gain.
But political observers following the hearing noted that O'Toole's criticism of the committee's work, embodied in the Minority statement and the Republican's comments today, carried its own air of hypocrisy, as O'Toole himself was the subject of scrutiny early on in the investigation into Bridgegate, the scandal surrounding last year's lane closing at the George Washington Bridge. O'Toole is perhaps the closest political ally Gov. Chris Christie keeps in the state senate, and earlier this year he found himself under sharp criticism after an email surfaced saying former Port Authority Director of Interstate Projects David Wildstein, who many believe to have orchestrated the closures, had spoken to the Republican senator just a day before he resigned over the incident.
Later, a text message between Wildstein and former Port Authority Deputy Executive Director Bill Baroni — who served in the legislature with O'Toole and was also a close ally — surfaced in which Wildstein told Baroni that a statement crafted by O'Toole was ready just moments after he finished testifying before the investigative committee.
Asked about O'Toole's conflicts, fellow Republican Assemblywoman and committee member Holly Schepisi turned the attention to Wisniewski, who she said has been bent on implicating the state's Republican governor in the scandal somehow to bolster his own gubernatorial aspirations.
"One of the issues in this entire process has been the hypocrisy of it," she said. "You know, with chairman Wisniewski in particular, there has been a lot of instances where if somebody seemed to be close to Gov. Christie in any sort of way, it was no holds barred."