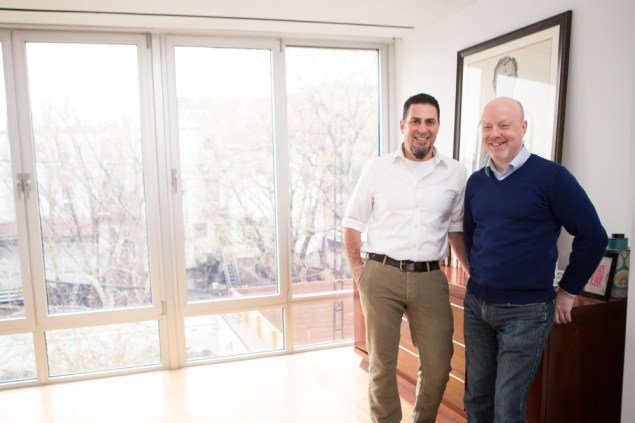 One morning about 10 years ago, Luis  Martinez and Kieran O'Leary—who have been together 16 years but have not married—opened the paper to find news of Bruce Ratner's plan for Atlantic Yards. As they studied the particulars, it seemed to them that the development would come awfully close to the loft they'd recently purchased in the former Spalding ball factory on 6th Avenue, which had been converted into condominiums. A closer inspection suggested that in fact, they were standing directly in Atlantic Yards' proposed footprint.
Sure enough, Mr. Ratner soon bought out the building, creating a small colony of refugees who shared a pioneering spirit and a fondness for communal life. They'd moved to the condo in the early 2000s, when the Prospect Heights neighborhood hadn't yet shed entirely its gritty reputation. Mr. O'Leary, who grew up in Ditmas Park, remembers the area as one he once "would never have dreamed of living in."
"It was a very special building," he recently told the Observer. "We were always in and out of each other's apartments. It was the kind of place where you'd have tea upstairs at your neighbor's before bed."
Finding nothing in the area that would replicate his former home's large, unfinished spaces or collegial atmosphere, one of the couple's neighbors, Eric Slovin, made an unorthodox proposal. What followed would become a kind of yuppie odyssey—a cautionary tale about the limits of friendship, idealism and the flexibility of construction estimates.
"Let's all get together," Mr. Slovin said, "and buy a building."
Mr. Martinez and Mr. O'Leary expressed interest, along with around eight others, and an unlikely search began. The parameters for their quarry were somewhat elastic, but the group sought a big space that could be subdivided into private residences.
They toured a 30,000-square-foot former box factory at Union Street and Third Avenue, and properties in Williamsburg and Bedford Stuyvesant. A one-time brewery close by a luggage factory in Red Hook was ultimately rejected not least because its smokestacks, which Mr. Martinez considered its most charming feature, would have had to be removed to comply with residential code.
As the search went on, the would-be kibbutzniks dwindled to six, five and finally four.
"The idea that 10 of us would be able to come together to create something similar [to the Spalding lofts] was cute," Mr. Martinez, the owner of a small real estate brokerage in Park Slope, recalled. "But it was ludicrous."
Only he and his partner, and Mr. Slovin and his wife, Sheri Lee, remained. One day they toured a former paper clip factory on Carroll Street, in Gowanus.
The entry-level had been a loading dock and bore the residue of heavy equipment and commercial transit. Upper floors of the townhouse-sized building, Mr. Martinez said, appeared to have been "built by beavers," comprising a precarious lattice of two-by-fours.
"I think we all noticed it because it was so ugly," Mr. Martinez said. "It was horrendous—vinyl siding with mismatched windows. But it was the tallest three-story building I'd seen."
And yet, the Manhattan-based listing broker seemed determined to avoid the would-be buyers. Initially listed for $1.1 million, the building sat vacant and mouldering as its price fell by several hundred thousand dollars over a period of months and Mr. Martinez's voicemails went unreturned.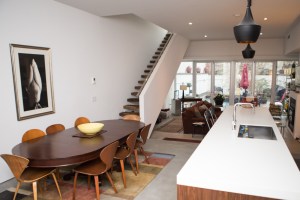 "Finally," Mr. Martinez said, "I just told her, 'Listen: All cash. Call me back.' "
As if from the ether, the realtor materialized. The cash offer even lured her to industrial, reputedly fetid Gowanus, which at the time showed only hints of the farm-to-table sensibility that has since gained a foothold.
"Part of what attracted us was that it was an old-school Brooklyn neighborhood," Mr. O'Leary reflected. "So much of Williamsburg is like a lifestyle community now. It's a manufactured environment." Mr. Martinez added, "We like living on the edge of fancy, not right in the middle of fancy."
In 2005 with Mr. Slovin and Ms. Lee, they closed on the building, from which they planned to carve two apartments, for $795,000 total.
"We didn't know what we were getting into," Mr. O'Leary said. "If we had known even a 10th of it, we never would have done it in the first place."
The party of four was in for a long, wounding series of lessons.
Mr. O'Leary, who trains employees in information security at an investment bank, had no development experience, nor did Mr. Slovin or Ms. Lee, both creative directors at Sony. (They did, however, furnish an architect in Kimberly Ackert, with whom they'd collaborated on a smaller endeavor.) Through his real estate business, Mr. Martinez, who was at the time an agent at another firm, knew a number of contractors and developers. But these offered more schadenfreude than guidance.
"They'd say, 'Which inspector did you get? Oh … you got that one…' " Mr. Martinez recalled. "Or they'd ask me, 'So, have you gotten your builder's insurance yet?' And I'd go, 'No, what's that?' They'd look at me like, 'You. Are. Crazy.' "
Because their property had been designated for light industrial use, the new owners had to apply for a zoning variance.
"Dealing with the city was painful," Mr. O'Leary said. "There are no clear instructions, nobody to tell you how the process works."
And there was, of course, the community board to contend with.
"All these old-time Brooklyn people had an opinion about it," Mr. O'Leary remembered. Though community boards do not have final say about a proposed project, their recommendations can help expedite a plan's passage through the labyrinthine approval process; a board's vehement condemnation, on the other hand, might negatively affect the city's decision. Ms. Ackert's plans, which called for abundant open space, clean lines and a modern, industrially inspired façade, initially failed to please.
"Everybody was telling us, 'It's gotta be brown. It's gotta be brownstone,' " Mr. Slovin said, exasperated at the memory. "Everyone said, 'It's gotta have a bay window—put in a bay window,'" a traditional feature of Brooklyn's brownstone neighborhoods. "There was only one younger guy who was the voice of reason. He said, 'Have you ever walked down that block? There is no architectural style.' "
Indeed the block, between Nevins Street and Third Avenue, remains a hodgepodge of mismatched residential and commercial buildings and the property got a zoning variance in 2007. Interior demolition commenced, but it would be another year before the group's plans received approval from the city.
Meanwhile, the friends hemorrhaged money.
Utilities, as it turned out, needed paying before and during the renovation—a shock to all concerned—and until a certificate of occupancy was issued, exorbitant commercial rates prevailed. Bills came in for environmental studies, legal and financial services, and taxes. Repeated, unplanned trips to the Board of Standards and Appeals required the architect, who, quite naturally, also wanted to be paid.
"This was all stuff we never thought about," Mr. Martinez said. "But once you start, it's like you're on a roller coaster. You can't get off. So you just keep throwing money at it."
In 2008, as the group prepared to begin building, the market plummeted and financing dried up. With the help of a mortgage broker with whom Mr. Martinez was friendly, the group eventually secured a construction loan, but was dismayed to learn that it worked only on a reimbursement basis. To get the ball rolling, the contractor told them, they would need to come up with $250,000, just about one-fifth of the total renovation estimate.
Mr. Martinez closed out his retirement fund.
A construction calendar set for 14 months would stretch to absorb two years, as costly delays piled up. Close friends with similar tastes, the two couples discovered that they nonetheless had very different styles of operating. Mr. Slovin and Ms. Lee were apt to consider carefully every knob and fixture, while Mr. Martinez favored speedy decision making. "I was always saying: Let's go! Let's go! Let's go!" he remembered.
There were heated discussions about plumbing implements and green energy, conversations about fireplaces that went on for hours. The number of choices became overwhelming—and time consuming. Things grew claustrophobic in the rented one-bedroom Park Slope walkup into which Mr. Martinez and Mr. O'Leary had squeezed, while Mr. Slovin and Ms. Lee found life in an amenity-rich DUMBO elevator building quite agreeable.
At some point, for reasons that remain unclear, friction between Ms. Ackert, the architect, and the contractor became such that they ceased to communicate with each other except by email.
Mr. Martinez recalled, "There were days when I wondered, 'Have we gone to the point of no return [in the friendship]?' But I always said, 'No, we're not there yet.' "
By 2011, when the building had finally become a house, both camps felt beleaguered. "We don't know what the final investment was," Mr. Martinez said. "It spiraled so badly out of control that it was chaotic." (Mr. Slovin puts the figure at about $1.2 million per apartment, all in. The property is currently classified as a two-family home; the couples plan eventually to have the units formally designated condos.)
"By the end, I couldn't even look at anyone," Mr. Martinez continued. "And I'm pretty sure they weren't madly in love with me. Everyone just needed to go to their corners and cool off a little bit. We all just needed a break."
On a recent evening when the Observer visited, Mr. Slovin, who lives with Ms. Lee in the upper duplex, stopped to visit the downstairs apartment. Mr. Martinez had poured him a glass of red wine, which Mr. Slovin gurgled with satisfaction.
The apartment was—basically—just as Messrs. Martinez and O'Leary had planned. (Some un-requested bathroom fixtures had been installed, but no matter.) The ceilings were high and the floor smooth, finished cement, a nod to the building's blue collar past. Viking appliances occupied the kitchen and a semi translucent wall turned out to push open onto a guest bedroom.
Stairs made of wood salvaged from demolition climbed to the master suite, which looked out through a wall of floor-to-ceiling glass on a garden and patio, whose blue-splotched concrete surface had once been part of the paper clip factory's floor.
All three men agreed that they wouldn't do it again—at least not like that, not exactly.
"I think of it like the Shawshank Redemption," Mr. Slovin said.
"What?" Mr. O'Leary said, laughing. "Wading all that way through shit to get to freedom? It wasn't that bad."
"O.K.," Mr. Slovin agreed. "Maybe it wasn't that bad."