Puerto Rico-based artist duo Allora & Calzadilla have built their broad-ranging, multidisciplinary practice on collaboration. Jennifer Allora and Guillermo Calzadilla—partners in both work and life—are perhaps best known for their commission for the American Pavilion at the 2011 Venice Biennale, where they enlisted Olympic Gold Medalist Dan O'Brien to run laps on a treadmill installed atop an upturned military tank. Now, the pair has organized their largest exhibition in the United States to date, and it's on view at the Philadelphia Museum of Art and the Fabric Workshop and Museum through April 15, 2015.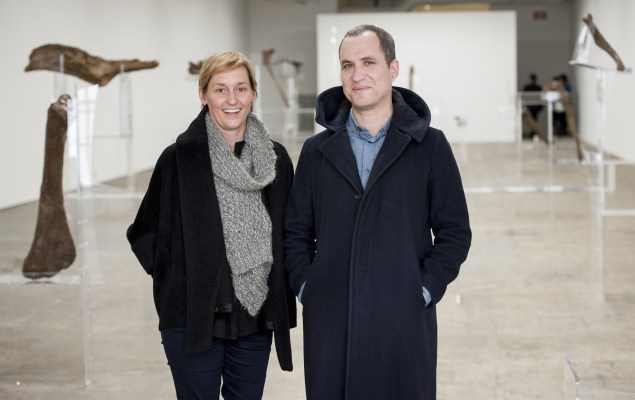 "Allora & Calzadilla: Intervals" features the 2012 film Raptor's Rapture (which debuted at Documenta (12) in Kassel, Germany), and a handful of new sculptures, videos, sound installations, and live performances that explore the sounds produced by the body through breath, voice, and song.
"The first things we as humans made were instruments," Philadelphia Museum curator Carlos Basualdo told press in the museum's Skylight Atrium last week. "So this show examines sound and art as the basis of our humanity, something that came before and will exist after."
Playing on loop in the entry galleries of both institutions—and offering a sort of opening salvo to the show—a multi-speaker installation titled Interludes broadcasts a montage of breathing sounds that have been cut from well-known vocal recordings of musicians like Gloria Gaynor, Terry Collins, and the group Double Exposure. The soundtrack is visceral and intimately human. Including hiccups and awkward swallows, it transforms the museums' foyers into living, vibrating vessels.
The atrium at the Philadelphia Museum is also the site of an ongoing performance titled In The Midst of Things, which employs 12 members from a local chamber choir to recreate 1796–98 work Joseph Haydn's The Creation. Dressed in quotidian attire, the group begins the soaring oratorio—based on the Book of Genesis and Milton's Paradise Lost—in the middle rather than the beginning, singing while they move as a unified mass. Midway through, they interrupt the incantation's epic flow, separating physically from one another, and stride toward the corners of the room. Eventually, they reform in a new arrangement and inverse the lyrics, reciting them backwards.
A trilogy of video works that present modern musicians and vocalists engaging with ancient artifacts through sound is a highlight. Apotome (2013) stars singer Tim Storms, who holds the world record for producing the lowest note every recorded—only audible to the human ear with amplification. As he wanders among taxidermied animals in subterranean storerooms of Paris's National History Museum, a deep, satanic rumble seems to usher from his very core. It is a subsonic version of a musical score played in 1798 for two elephants brought to Paris as spoils from the Napoleonic Wars, in the first recorded instance of attempted inter-species communication through music.
Complimenting the video, a second performance titled A Concert for Elephants casts 11 musicians from the Relache orchestra to play the composition originally performed for the animals. Flanking the projection, they produce classical notes that engage Storm's mind-boggling baritone in haunting dissonance.
"We had heard this amazing story about these two elephants, Hans and Parkie," Ms. Allora told the Observer, "and then we discovered those same elephants' bones were piled up in the Museum's storerooms. Totally parallel to that, we'd come across Tim—and during our research we discovered that only elephants can hear frequencies that low." The piece, therefore, performs a rather poignant irony: as Mr. Storms fondles the famous mammals' actual remains, he intones a song that they alone would have been able to hear.
"Things sit in your head for a while," she added. "There are always these ideas floating around that interest us. And at some point it's like chemistry—you get these two molecules and you put them together and it's like 'whoa, that's the right combination.' It just makes sense somehow."