I don't even really have a recap for this week's episode of American Horror Story: Freak Show as much as I have a rant about it. Which is fine: you're not going to miss much. Like what…Dot and Bette didn't have surgery and Del didn't kill himself and Eddie's got a big dong. The end. Oh, and Dandy is now just following Jimmy around and framing him for the blood baths–excuse me, blood POOLS–from his own murderous rampage.
What is so fundamentally disappointing about this season, and, I've come to realize, every story since the inaugural Murder House season, is the blatant miscasting of Evan Peters. As Tate Langdon, Peters was the backbone of the first American Horror Story. Both it's most accessible and horrifying element; Peters as the dimpled, sweater-wearing Kurt Kobain-loving Tate Langdon looked straight out of our collective fantasies about Leo DiCaprio in Romeo + Juliet.
Oh yeah, except he was a ghost. And a school shooter who had killed seven people in a murderous rampage after burning his stepfather alive in gasoline. And also wore a gimp costume and (as a ghost) raped his girlfriend's mother, impregnating her with the antichrist.
On the OTHER hand, his love for Violet was 100 percent believable and 100 percent perfect. She made him better. When he was around her, he felt normal. And he would say these amazing things that deep down, we wish every guy would ever say to us.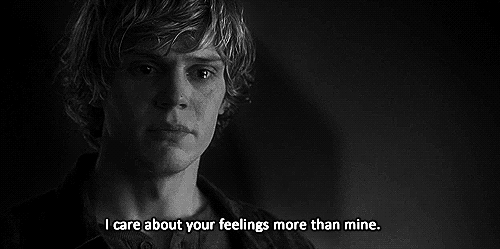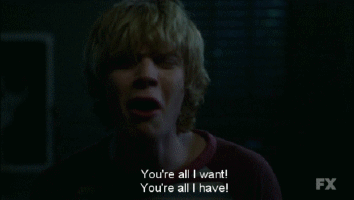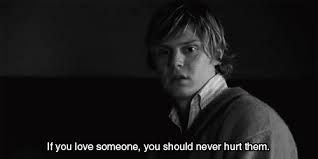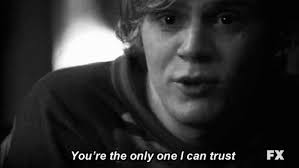 Oh, and this kid was ALWAYS crying. I don't know why it was so hot, but it was. Very, very hot. None of this "MEEEEP!" bullshit with Tate…when he cried, it was heartbreaking because it looked and felt exactly how 15-year-old, very disturbed, very in love, boys cry.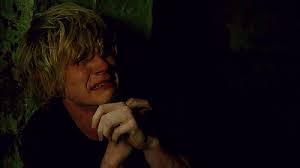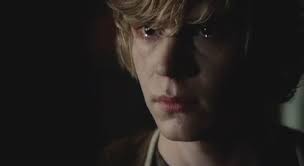 It's hard to remember back in the good old days of 2012, but when American Horror Story began, it wasn't an ensemble of award-winning actresses gnawing the scenery like it was a Golden Globe made of gooey chocolate. There was no Cathy Bates, Angela Bassett, or Precious. There wasn't even Emma Roberts. There was Kate Mara, playing a tad more overzealous version of the Zoe Barnes character she'd get famous for in House of Cards, there was Nashville and Friday Night Lights star Connie Britton, there was Frances Conroy (which…where is SHE this season??) and there was Jessica Lange. And even SHE was pretty low-key…I mean, as low-key as you're going to get a Lange character in a Ryan Murphy story.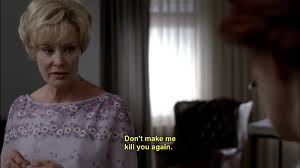 My point is, despite the various murders and ghosts and mutant babies in the attic and other, different mutant babies in the cellar, the entire season was really the Tate and Violet show. There weren't a billion plot lines for a million characters that all had to be woven together. There was just one bad guy (basically). But he was also the good guy, which made things difficult. Especially when it was revealed that (SPOILER ALERT), that he'd been unable to save Violet from her suicide attempt and was protecting her from the knowledge that she was now, also, a ghost of Murder House. GOD THAT SCENE:
God, that scene. I used to watch that scene on repeat and just cry.
So this has been a long GIF-ed way of saying that no one, not even Evan Peters, has been able to create a Tate-like character in the ensuing three seasons. Sometimes it feels like Murphy is purposefully holding Peters back so he doesn't distract from the bigger name players: in season three, he was only alive for one episode before getting killed in a Coven-causing bus crash and being reanimated as a (mostly) mute sex Frankenstein. As Kit Walker in Asylum, Peters had the same sort of "rebel without a clue" sense that we see in Jimmy Darling, although Kit was more of a true innocent than Jimmy is. But even wearing his prosthetic claws and looking like he's about to burst into a rendition of "Gee Officer Krupke!", even after watching him straight MURDER a detective in the first episode of Freak Show, there's no sense of danger to Jimmy. And there's no heart, either: even though on paper Jimmy should be more likable than Tate, he's far less compelling, and I find myself surprised by how much I'm slightly annoyed by his whining and tears this season. Aw, all the girls want to tongue kiss you but you're too sad because your mom died? GET OVER IT.
(Though there was a moment this week when Darling, drunk beyond recognition, cooingly and somewhat lecherously spoon-fed Ima Wiggles her pudding, that made me feel the flicker of interest in his role again.)
Ostensibly, Dandy should be the new Tate, but he's just too unlikable and entitled. He's a whiny little bitch, and a pretty terrible big bad, especially if now he's just hiring out local police to do his dirty work for him, as we saw in this episode. Damn, I thought I was watching "American Horror Story: Freak Show," not "American History Story: Pretty Much."