In case you didn't get the memo last awards season, Amy Adams has officially entered the Movie Star canon, and her elegant (if safe) red-carpet wardrobe choices reflect that.
It's fitting, then, that when dressing for the premiere of her new movie, Big Eyes, she opted for an ensemble that was reminiscent of one of the biggest movie stars of the 20th century: Katharine Hepburn.
Ms. Hepburn frequently played outspoken characters who had no patience for feminine convention, and this mild gender-bending extended to her personal style. She was one of the first well-known women to wear trousers more often than she wore dresses and skirts. Plus, she loved a good lapel.
Ms. Adams' olive green Max Mara dress is cut to resemble a pantsuit, and its color brings to mind Ms. Hepburn's love of military-inspired shades.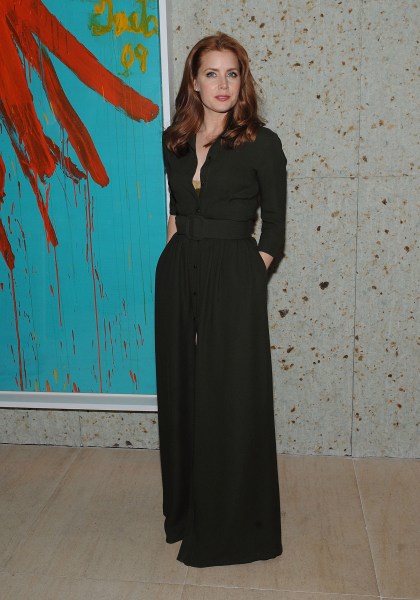 The similarity of Ms. Adams' look here to the silhouettes favored by Ms. Hepburn can't have been an accident. Awards season is starting, and Ms. Adams, although nominated for the Academy Award five times, has never won. Ms. Hepburn, by contrast, received 12 nominations over the course of her life and accepted her first of four wins at age 27.