When last we wrote about Arthur T. Williams III (tut, tut), we were busy focusing on the embattled Cabernet kingpin and art collector, Donald Bryant Jr., from whom he bought a $12.975 million duplex co-op on East 72nd Street over the summer. But rather than fritter away time worrying about Mr. Bryant's art-related difficulties, we ought to have been paying more attention to Mr. Williams' penchant for real estate collecting. He and his wife, Catherine R. Williams, are rather savvy in that area.
They have, however, just grown a bit lighter in their holdings—if not in their pockets—according to city records. The couple has just sold an 11th and 12th floor duplex co-op at 812 Park Avenue for $8.725 million. The buyer was the relatively anonymous Michelle Carlino—increasingly, the only buyers who don't use LLCs are the ones who don't need them; Caroline Guthrie, of Brown Harris Stevens, had the listing.
But don't feel too badly for the Williams, dear readers. They have another duplex in the building, on the fifth and sixth floors, according to city records. But still, the newly-sold unit is an attractive specimen to lose.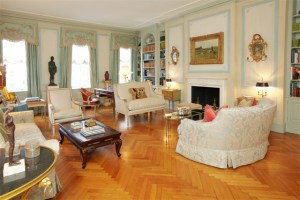 A 1927 construction of J.E.R. Carpenter design, 812 Park is a refined house of the decidedly old-school variety. "Superbly scaled" reception rooms? Check. Crown moldings? Check. "Carved over-door lintels and classical architectural detail"? Double check. Is this duplex "hugely desirable" and "meticulously and beautifully" renovated? You'd better believe it!
Preserved, though, might be a better way of putting it. For although the co-op appears to be in tip top shape, it evinces throughout that very nearly British vibe that somehow maintains its appeal on certain portions of Park and Fifth Avenues, elsewhere in Upper Manhattan and, of course, with set designers on Downton Abby. Patterned wallpaper and chandeliers are recurrent; there's a twisty—admittedly very pretty staircase—lovely  herringbone floors and a variety of ornate embellishments.
Mr. Williams, a professor at Columbia's business school and a founder of a locally-based investment partnership, might be a master of modern financial instruments—to say nothing of real estate wheelings and dealings—but his interior decorating tastes represent a decided throwback.