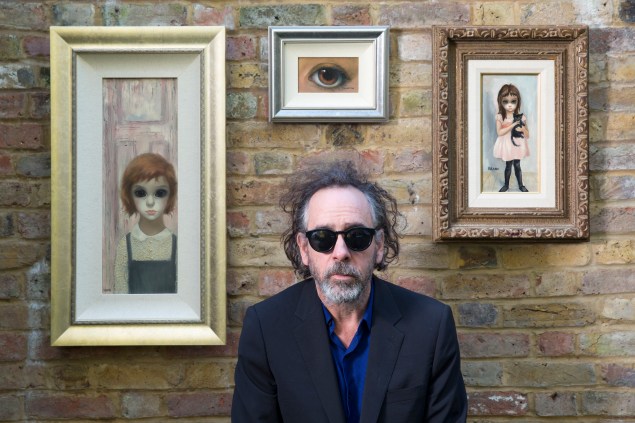 In director Tim Burton's Big Eyes, a tiny artist's studio is filled floor to ceiling with creepy, memorable paintings of tiny waifs with huge dark eyes. The imperious Walter (Christoph Waltz) locks his wife Margaret (Amy Adams) in her studio to keep the authorship of those paintings secret, hawking them to an eager buying public as his own. When she discovers the identity theft and threatens to disclose it, Walter tosses matches on her turpentine-soaked floor.
It's a true story. Those little children with the big eyes, omnipresent in the late 1950s and 1960s, were painted by Margaret Keane, now 87. But they were peddled in vast numbers by her then-husband, Walter Keane, a San Francisco charmer who claimed, when barely anyone knew the name of a woman artist, that he was the painter who created them. 
The film by Mr. Burton opens on Christmas Day, screens at the Museum of Modern Art next week and premiered last Friday at Art Basel Miami Beach, where the jaded art bunch applauded it.
 The director knows his subject well. He collects Keane paintings and he commissioned Margaret Keane to paint his former partner and his dog. Mr. Burton got his story from the screenwriters Larry Karaszewki and Scott Alexander, the team who wrote Ed Wood, Man in the Moon (about comedian Andy Kaufman), and The People vs. Larry Flynt.
"We like loudmouths who have an agenda, who are constantly selling something," said Mr. Karaszewski. "In our films, that person is the hero. He may be a quasi-unlikeable person, like Larry Flint or Andy Kaufman or Ed Wood. This the first time where that character is the villain." Villain understates it. So does salesmanship. "Walter invented the mass-marketing of art. He was the guy who, because he wasn't accepted in art circles, did that end run—this was before Peter Max and before Warhol," said Mr. Karaszewski.
"He wasn't selling that many expensive paintings, so he figured out how to make them cheap, so cheap that they were basically posters that could be sold anywhere. He arranged with banks that you could go into his gallery and, if you liked a painting, the bank would loan you money," said co-screenwriter Mr. Alexander.
In that lie, Walter found something that his wife lacked without him, a market—from Hollywood celebrities to the multitudes at Woolworths. With Walter selling, the money poured in, even though critics poured on the scorn. He bypassed dismissive art critics to tap into the taste of the heartland—a taste that he instilled and exploited. If Margaret was the painter, Walter was the art-dealing pioneer.
Had all this happened closer to our time, when plenty of artists don't touch their own work, Keane might be celebrated as a marketing guru and courted for TED talks.
"He realized that art critics didn't matter—celebrities did. You don't need the Times when you have Joan Crawford going on The Tonight Show, saying, 'I met the most fabulous painter the other day,' " said Mr. Karaszewski. Two Keane paintings were in Whatever Happened to Baby Jane? Kim Novak, herself a painter, got a Keane portrait and made one of Walter.  Jerry Lewis had the Keanes paint a group portrait of his wife, children and pets, and then had it redone to portray them as harlequins.
When a monumental scene of dozens of big-eyed children was donated to UNICEF in 1964 by a company that bought it, Walter Keane took on New York, opening a gallery at 798 Madison Avenue (now Cesare Attolini). The painting, Tomorrow Forever, was selected (by Walter Keane himself) to be exhibited at the New York World's Fair, and then denounced by John Canaday of The New York Times as "the very definition of tasteless hack work." Fair organizers, cowed, never showed the canvas.
The Keanes bombed in New York despite the publication in 1964 of Tomorrow's Masters, a book devoted to (and commissioned by) Walter Keane. The vanity volume  had an introduction by Eric Schneider, said by the Keanes (and others) to have been a pseudonym for Tom Wolfe.
An excerpt—"Keane is one of those artists who seems to spring full-blown from his inner Weltanschauung, quite without regard to 'schools' and 'influences,' after the manner of El Greco, Goya, Blake, Beardsley and, of course, Vermeer and Leonardo. Keane's paintings of the world's Lost Children—inspired by waifs he encountered in Europe after the second World War—suggest at once the most profound and sanguine roots of primitive art…" 
For Walter Keane, it was a better high than Chivas Regal. "Clearly Walter did not realize that Tom Wolfe was having fun. It's so over the top in its fawning praise," said Mr. Karaszewksi. "It might have been a dry run for Wolfe writing The Painted Word a few years later," he said. Mr. Wolfe has never admitted to writing it.
Back in California, Margaret left Walter, went public with his false authorship, and moved to Honolulu, where she painted willowy women in the style of Modigliani. By the 1980s, when the two sued each other for libel in a trial that climaxed in a paint-off—the film's crescendo—"It was buried in the back of the newspaper," said Mr. Karaszewski.
Outed by his own wife in the press and in that circus of a trial, Walter died disgraced and deluded, still telling those who would listen that he was the actual painter. When the screenwriters learned of the subject of their film (which took 11 years to make), it was from a book called The Encyclopedia of Bad Taste. 
Now Margaret Keane's art has a fresh 15 minutes. Reports of a surge in buying may be overstated, says Robert Brown, who operates her San Francisco gallery. Collecting has been strong for 25 years, he said. Posters start at $35. Paintings can go into six figures. That's good news to Matthew Sweet, a musician (Girlfriend, 1991) who advised the filmmakers and owns some 18 Keanes. "Probably a lot of them will come out of the woodwork and we'll get a better sense of what's out there," he said.
And a critical reassessment? One caustic chronicle of art history has already been kind: In Woody Allen's 1973 film Sleeper, set 200 years into the future, Keane is shown standing the test of time as a major artist.
"We're hoping that [Big Eyes] allows a re-evaluation of Margaret and her effect on Pop Art. She hasn't been taken seriously. But look at Mark Ryden and Nara, and Japanese anime—she has affected people," said Mr. Karaszewski.
The Keanes are evidence that in art, as in the movies, it's usually more profitable to be critic-proof than critic-approved. Andy Warhol could see that: "I think what Keane has done is just terrific. If it were bad, so many people wouldn't like it."