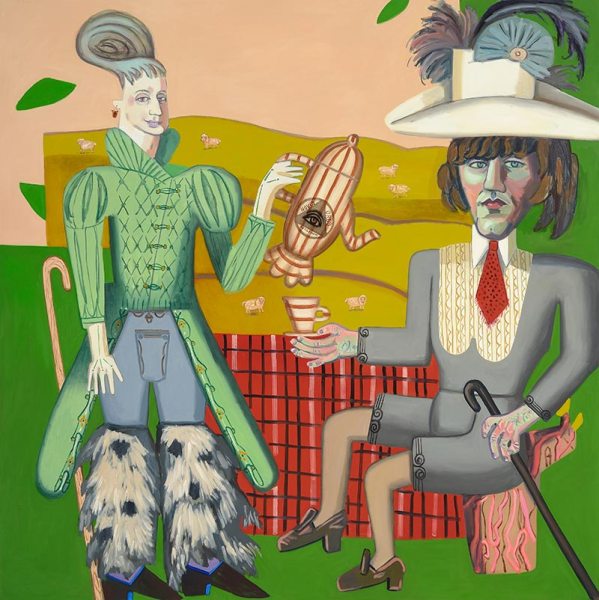 In this special edition of Art Scout, rather than highlight just one show of importance we're giving you a whole list of shows we hope you won't miss before they close—and a few that will still be open when you return from the Holidays.
"Steve Gianakos: Accessories and Other Girlie Desire" at Fredericks & Freiser, Through December 20
Done in the style of 1950s children's books, Steve Gianakos' acrylic paintings are anything but innocent lessons disguised as simple stories. Instead, a sea monster locks lips with a topless beauty in She Was In No Hurry to be Married Again (2013), an interoffice sex scandal takes place in plain sight in The Boss' Wife's Sister (2013), and the artist's perverse thoughts are translated in thought bubble format in It Was Hard to Tell What She Was Thinking (2014).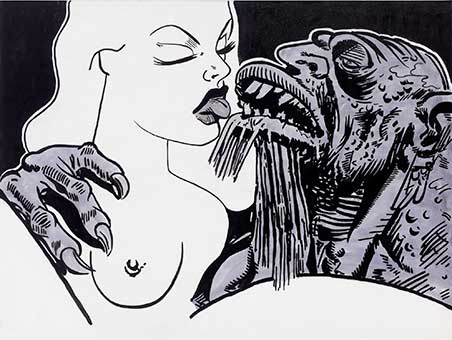 Shea Hembrey: MultiVerses at Bryce Wolkowitz Gallery, Through December 20
This solo show is presented as a faux group show starring fictional artists Artemesia Adebayo, Pawnee Calhoun, Harvey Lee, Elgin Rivers, and Phyllia Stanhope. In keeping with Mr. Hembrey's fascination with nature and science, the central theme of "Multiverses" is the cosmos.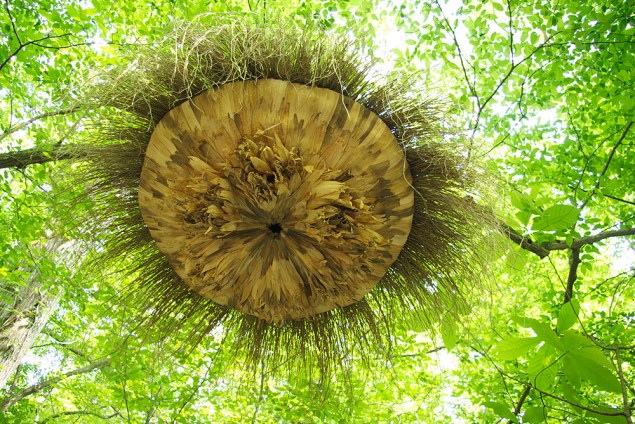 "Susan Te Kahurangi King: Drawings from Many Worlds" at Andrew Edlin Gallery, Through December 20
Independent curator Chris Byrne (co-founder of the Dallas Art Fair and author of the graphic novel The Magician) has put together the first U.S. solo show of self-taught New Zealand artist Susan Te Kahurangi. To her credit, there's no easy way to summarize her style, and the exhibition title could be misleading, because her rough representations of pop-culture cartoon characters collaged into chaotic groupings and floating in empty space on white pages could all be tableaus from a single story.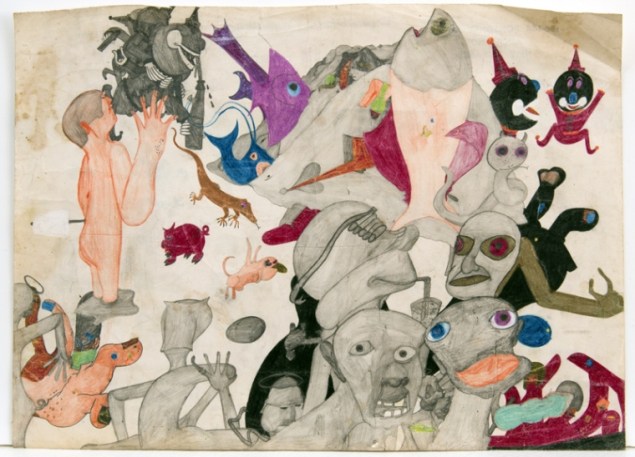 "Andy Warhol: 1950s Drawings" at Anton Kern Gallery, Through December 20
Warhol is perhaps best known for his mass production of art with The Factory, and not necessarily his draftsmanship skills. But, this exhibition of 150 never-before-seen drawings from the 1940s-60s shines a spotlight on original artwork and his careful attention to technique and line work.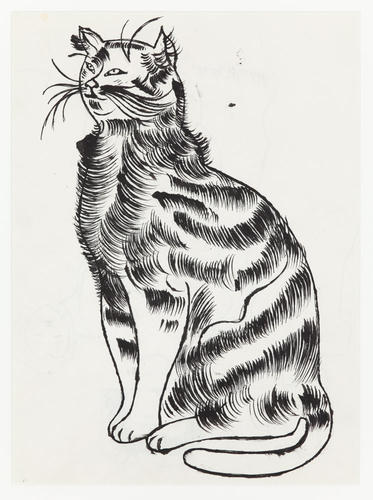 "Hannah Barrett: Rustics" at Regina Rex, Through December 21
A show of serious painting not to be missed: Hannah Barrett's four large-scale figurative paintings of androgynous characters possess an absurdist humor through opulent attire and lavish scenarios. Her flattened scenes, and even flatter colors, make for a tongue-and-cheek nod to 18th and 19th century painting—hinted at again in the show's title.
"Greer Lankton: Love Me" at Participant Inc., Through December 21
Over 100 dolls, photographs and works on paper feature in the first major exhibition of the artist's work since her death in 1996. The show revolves around photos by friends, including Nan Goldin, Eric Kroll, Zoe Leonard, and is a highly personal retrospective look at an important artist of the East Village art scene of the '80s and '90s.
"Alexander Tovborg" Eternal Feminine" at Nicelle Beauchene, Through December 21
A series of ten paintings titled Eternal Feminine—all slightly different variations on the same asymmetrical composition consisting of two rainbows, fruit, and a feather—line a single wall in the gallery. Mr. Tovborg, whose exploration of religion has dominated his subject matter in recent years, presents a substantial consideration of it through repetition here.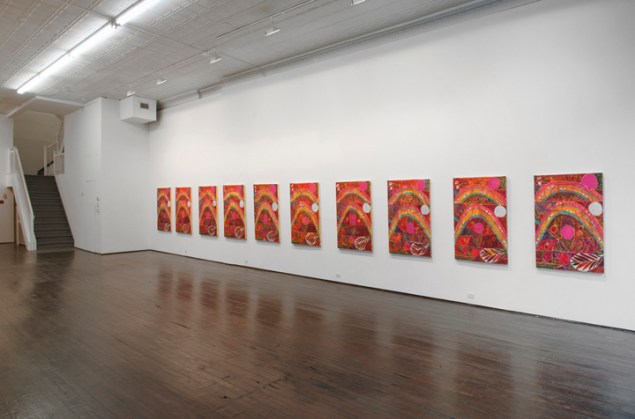 "Tai Ogawa: Edge of Life" at Kai Matsumiya, Through December 31
"Edge of Life" is the first U.S. exhibition for the Japanese artist, and marks a shift in his art making. Newer works feature cut-out painted images, or what the artist deems in the press release as "uncomfortably described as 'collage'" and are all based on a horrible motorcycle accident he survived. The release also states "Tai's specific response to the white cube will be the 'batcave'" and appropriately the gallery walls and ceiling have been painted black and accented with colored lines to offset the brash use of bright colors in his artwork.
"Classical Nudes and the Making of Queer History" at Leslie-Lohman Museum of Gay and Lesbian Art, Through January 4
Spanning 2,500 years of Western art history, this exhibition reconsiders the classical nude as a widely celebrated depiction of the human form for its subtle and sometimes obvious allusions to same-sex attraction.
"Louise Bourgeois: Suspension" at Cheim & Read, Through January 10
"Suspension" considers over 45 years' worth of work from Bourgeois' prolific career, and amazingly, just one type of series: sculpture that hangs from the ceiling. A variety of forms are present, from her organic Lair forms to hanging heads, and her fixation with dangling art is given weight through her own words, which are used in the gallery's release. She says, "Horizontality is a desire to give up, to sleep. Verticality is an attempt to escape. Hanging and floating are states of ambivalence."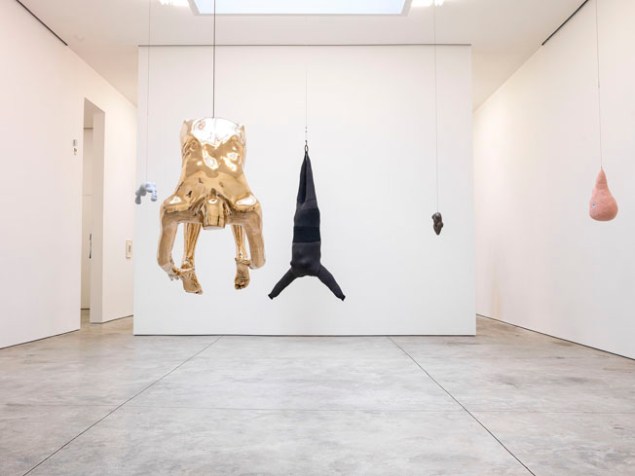 "Barbara Nessim: An Artful Life" at Bard Graduate Center Gallery, Through January 11
An influential graphic artist, Barbara Nessim's work has appeared on the covers of Time, Rolling Stone, Esquire, and the New York Times Magazine, and she was one of the first in her field to use computer illustration programs to produce work. Over 150 sketchbook drawings, works on paper, computer-generated illustrations, paintings, collages, textiles, and fashion designs comprise this career retrospective.