Assemblyman Michael Cusick—a Democrat who has eyed a Congressional run in the past but has never jumped into the fray—is emerging as a front-runner for the party's pick in a special election to replace Congressman Michael Grimm, sources told the Observer.
"It's always been Cusick," one Staten Island Democratic insider said this morning.
Mr. Grimm, a Republican, announced late last night he would step down January 6 from his post after pleading guilty to a single count of felony tax evasion. He will be replaced in a special election.
Democrats have long identified Mr. Cusick as a strong contender for the seat. He represents the borough's Mid-Island area, which something of a swing district and where he has remained very popular. He won his last re-election with nearly 60 percent of the vote in the far-flung district, which includes slivers of the South Shore and a few pockets of the North Shore.
But Mr. Cusick has never before stepped up to run, despite giving it serious consideration and being well-courted in 2008, when the seat was open. The nomination ultimately went to Michael McMahon, a Democratic councilman from the North Shore, who won the seat but held it only a term before being defeated by Mr. Grimm. But unlike in 2008—or in any election for the congressional seat since then— Mr. Cusick would not have to put his Assembly seat on the line to run for Congress in a special election.
"It's real. He wants it," another Staten Island Democratic source told the Observer about Mr. Cusick's intentions.
Still, Mr. Cusick, who did not return a request for comment, is not the only Democrat whose name has been bandied about for the seat—Mr. McMahon today told the Observer he is also considering a run for his old seat.
"Mike and I are good friends, and we will talk it through and talk about it, and I'm sure that we both want the same thing, which is that a strong Democratic candidate makes a good run and wins the seat," Mr. McMahon said in a telephone interview.
But the candidate would be chosen by the county party, not by a primary, and local Democrats said today Mr. Cusick, a moderate with Island-wide appeal and a strong record of bi-partisan achievements in Albany, was a more favorable candidate.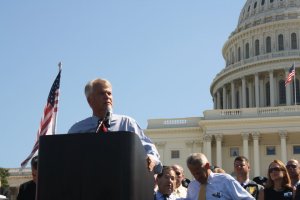 "I think he's somebody that the younger people are gonna get behind, and the older people are gonna get behind," the Staten Island Democrat source said. "And I'm not sure that Mike McMahon has that same army of people behind him that he had before."
In his first run for the seat, Mr. Grimm made hay of Mr. McMahon's record—slamming him for voting in favor of a property tax hike in 2002, dotting the borough with bright yellow signs about the tax hike. Republicans made use of the same attacks, and lawn signs, on Councilman Domenic Recchia in his disastrous run for the seat this fall. Mr. McMahon would be running on the same record, and also alienated some Democrats with his vote against the Affordable Care Act.
A third Staten Island Democratic source highlighted a strong record Mr. Cusick could run on.
"This is a guy who has passed some of the most consequential legislation in recent memory for Staten Island: Toll relief, I-stop [prescription drug monitoring], and the restoration of school buses for our seventh and eight graders. He wrote the book on bi-partisanship and getting things done for Staten Islanders. He's universally well liked on both sides of the aisle. And good luck trying to tie him to more unpopular politicians; people have been trying for years and they've failed every time because his independent brand is so strong," the source said.
Mr. Cusick has some bi-partisan appeal. Much of his legislation was passed hand-in-hand with State Senator Andrew Lanza, a South Shore Republican. Republican Borough President James Oddo crossed parties to endorse Mr. Cusick's re-election bid in November. And Mr. Cusick is relatively conservative, a pro-life Democrat. Still, he's also close to Sen. Charles Schumer, who could help Mr. Cusick raise money.
But he would face a very tough challenger in Staten Island District Attorney Daniel Donovan, who developed a national profile after the a grand jury did not indict a police officer in the death of Eric Garner but who remains popular in Staten Island, a borough home to many cops and law-and-order types. Both men are well-liked, with few political enemies, which could lead to a friendly race miles away from the grudge match held between Mr. Grimm and Mr. Recchia just months ago.
While Republicans are deeply confident Mr. Donovan would win, Democrats feel the same about Mr. Cusick, though both sides imagine the race will be close. The third source cited Mr. Cusick's Assembly District, the 63rd, as a key district for Republicans to carry in the congressional race.
"It'll be one for the history books but, yes," the third source said when asked if Mr. Cusick could prevail. "Donovan is popular but, when's the last time he had a competitive election? Cusick has had one for the past two cycles."
Ross Barkan contributed reporting.

Correction: An earlier version of this story incorrectly indicated Mr. McMahon voted to overturn term limits. He voted against the measure.