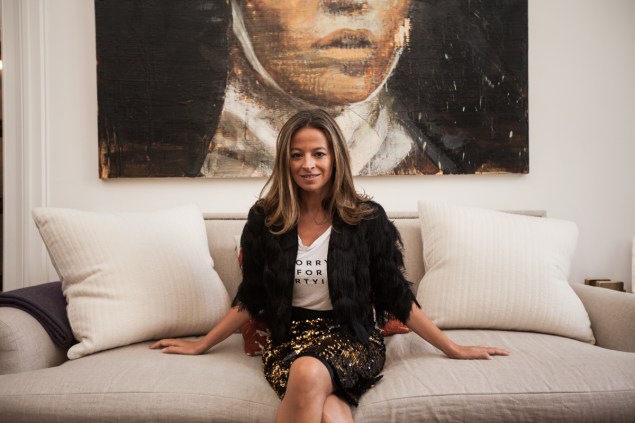 Even on a bleak, wintery day, Michelle Smith's apartment is bathed in light thanks to a windowed wall dominating her double-height living room. The effervescent talent behind the wildly popular MILLY label  scurries about getting her 5-year-old son, William, settled back in after a long day at school. But Ms. Smith is no soccer mom—she's coiffed and dressed in a gray burnout T-shirt and a magnificent sequin black and gold skirt from her own collection.
You'd be excused for thinking you're in Paris in Ms. Smith's Upper East Side apartment. Perhaps it's the original herringbone floors and fireplace, or the chic, eclectic aesthetic in the living room. Or it may have something to do with the fact that Ms. Smith lived in France for three years whilst working at couture houses Hermès and Dior.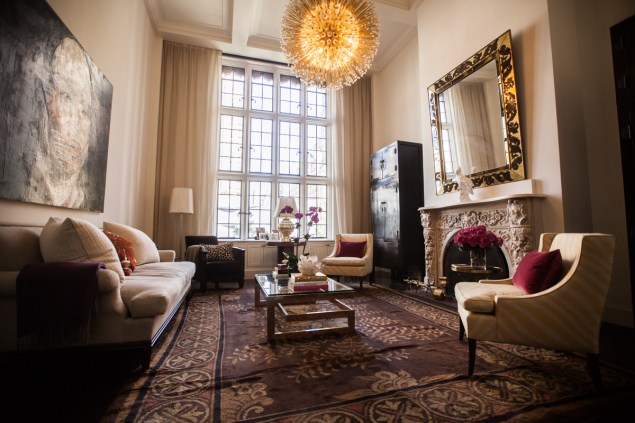 Tell us about the search for your apartment.
I probably saw 30 apartments when we were looking and I loved this one right away. It has a  narrow entryway that opens up into this gorgeous living room with a double-height ceiling and tall windows, and it's so unusual to find that. I wanted a prewar apartment because I love that old New York feel, but to be able to find a prewar with these really high ceilings and lofty studio feel was really unique. It probably wasn't a practical purchase because the apartment has only two bedrooms but we just fell in love with it. We have been living here seven years!
What was your design plan for the living room?
The living room is really the heart of the home. I love mixing decades in my design, so the coffee table is probably 1970s. I think it was found downtown. The armoires are 18th century Chinese. The light fixture is American from the 1950s, which was ironically found in a store selling Tibetan antiques! The space is all tied together with this antique Turkish carpet.   
The dining room feels exotic?
With a small space like my dining room, it's really fun to go over the top and make it like a jewel box. The light fixture is Venetian glass from the 1920s and I used Osborne and Little gilded wallpaper and did a really dark lacquered wood trim to really have fun with it. Go bold or go home, right?
What about these great art pieces you have?
The photo in my entryway is by Rico Puhlmann a fashion photographer in the '70s and '80s. This picture is taken in Times Square and you can see the smallest details of what the city was like back then. The most dramatic piece is the nun by Tony Scherman in my living room. I find her gaze provocative and sexy, yet somehow calming. Then there is the John Baldessari lithograph in my kitchen. I have always been a fan of his work and this piece actually inspired my Spring 2015 collection!
What do you love most about your neighborhood?
I love this little pocket of the Upper East Side (the East 70s). It has a very European feel and reminds me a lot of Paris. I spent three years living in Paris so it reminds me of the Beaux Arts townhouses and the hotel particuliers that I would see. I'm a few blocks from the Met, so I really use all that's around me. I never know when inspiration is going to strike but I find it a lot in art. I love going to the museums and of course I love Central Park.
What are some of your favorite spots to shop and dine in the neighborhood, or in NYC in general?
I love Sant Ambroeus on Madison. It's a little posh and draws an artsy crowd. It's always exciting to go there, you always see somebody on the New York scene! I also love Via Quadronno, which is two blocks to the south and is more intimate, cozy and rustic. I also love independent bookstores for collecting vintage and art books. I love shopping at the Dover Street Market, Love Adorned on Elizabeth Street and Spiritual America on Rivington.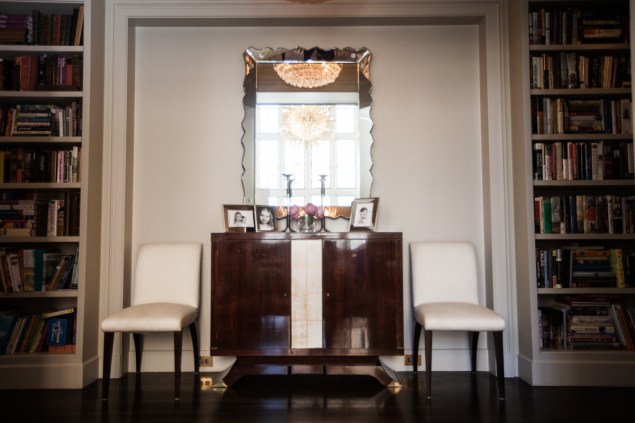 How would you define your personal style?
I like to dress in a way that is smart, sexy and forward thinking, but always feminine. When I first launched MILLY more than 10 years ago, it was all about fun, vintage irony but every artist changes and evolves. I've really evolved into looking forward for inspiration; I'm not nostalgic about the past. I think rehashing the 1960s and '70s is boring, not creative. When I start each season and collection it's all about the fabrics for me. Creating different jacquards and tweeds and textures, almost everything in my collections is custom made. I work with some of the best artisanal mills in the world. Most of them are in Italy and France.
What is your most driving, creative goal?
I'm always looking for something I haven't seen before.