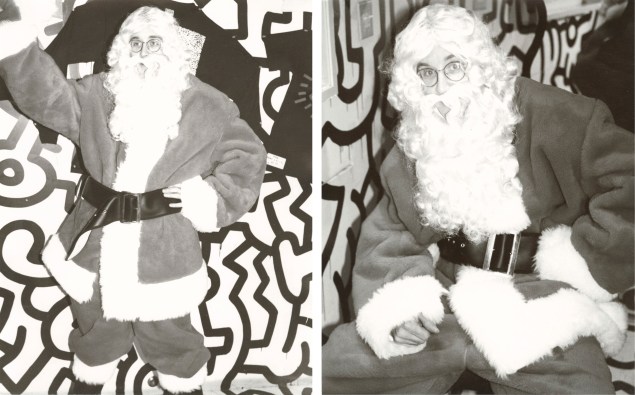 While Andy Warhol kept his devout Catholicism close to chest, his love of Christmas he did not. And so it is perhaps of little surprise that Christie's auction house has managed to haul out a host of Warholian Christmas classics for its online sale, aptly named "Warhol-iday."
One might not expect the artist who once lamented tipping the doorman to have been an enthusiastic gift-giver. Yet, according to Christies, the works on sale are mostly made up of just that; Christmas presents. Chock full of festive polaroids and seasonal illustrations, "the work is very personal," Amelia Manderscheid, head of eCommerce for Post-War and Contemporary Art at Christie's told the Observer. "[It was] pretty much all made for his own desire."
One recipient of Warhol's festive talents was Truman Capote. Before his career was realized as a popular artist, Warhol paid his way as a commercial illustrator infatuated with women's shoes and famous people. In one particular instance, a single gold painted shoe landed on Capote's doorstep as a Christmas gift from Warhol.
Fast-forward to December 2014 and Christie's sale, ending today, includes Lot 50, a Polaroid of the pair, who later became friends, clad in festive garb. It was taken, according to the auction house, around 1980. Look closer though, and you might be able to get more specific: the image of a navy peaked cap on Capote's head bares an identical likeness to one he wore in the December 1978 cover shoot the two men did for High Times magazine. Online, the photo has a current bid of $6,500, and pre-sale high estimate of $12,000.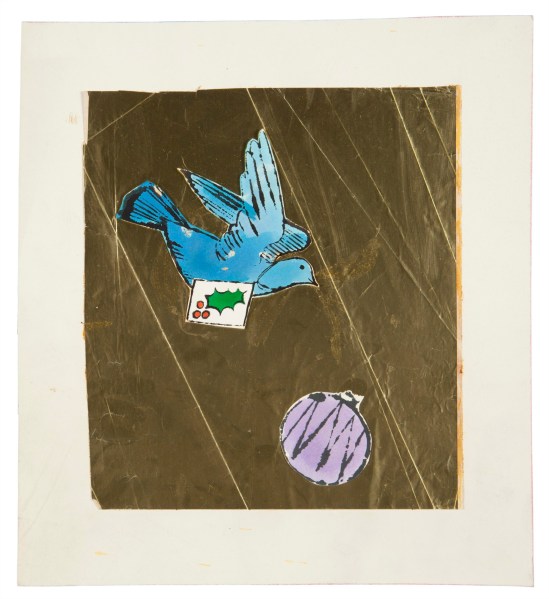 Many of Warhol's illustrated Christmas cards crop up throughout the sale. Incredibly kitsch and filled with images of candy canes, trees and food, the cards—it's unclear whether they were for commercial or personal use—are most likely from his days illustrating for Tiffany & Co. Matt Wrbican, chief archivist at the Andy Warhol museum says, regardless of whether it was for a friend or a corporation, Warhol always "aimed to please." Other notable items in the auction include Lot 91, a concrete-filled cookie tin decorated with poinsettias, and a black and white photograph of Keith Haring posing in a Santa suit (a running theme?), both of which Mr. Wrbican describes to the Observer as "having never seen before."
According to Christies, works seeing very competitive bidding are Lot 105, a retro looking cafe scene, Lot 2, a drawing of a bird trimmed in exquisite gold leaf and lot 59, a drawing of Madonna and child being held in the palm of a hand which holds a current bidding of $4,500 and is referred to as a glimpse of "Catholic Andy" by Ms. Manderscheid.
And while it is perhaps inarguable that Warhol revelled in Christmas because of Tiffany window displays and parties—after all, "Warhol always loved party," Mr. Wrbican reminds us—he was also a church goer.
In an excerpt from his diaries, reproduced by Vanity Fair in 2004, Warhol wrote in 1986, "I got up early and walked to Paige's and she and Stephen Sprouse and I went to the Church of the Heavenly Rest to pass out Interviews and feed the poor. It wasn't as crowded as it was at Thanksgiving. Afterwards Stephen and I walked down the street, and I had told John Reinhold we'd come by and he could take us to tea and he did, at the Carlyle…Got a lot of calls to got to Christmas parties but I just decided to stay in and I loved it."