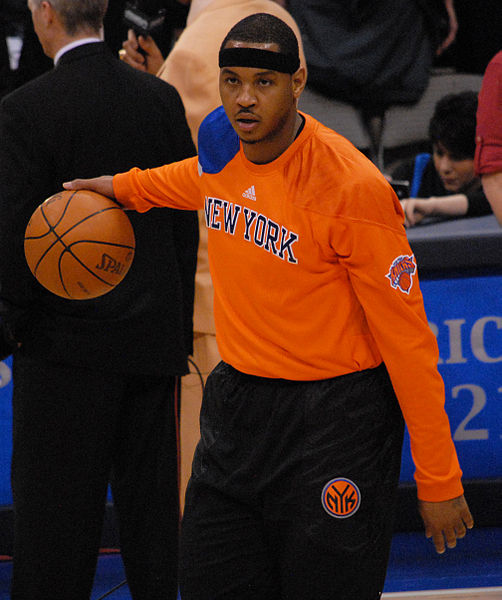 The Jets blew another game, as fans ready their "Fire Idzik" towels to wave at the next home game. The Giants are marginally better. The Mets are perennial losers and the Yankees hovered around .500 this season. Triangle offense or not, the Knicks remain dreadful. The Nets routinely stink up Brooklyn. The area's only competitive teams play hockey. Hockey. Been to a Devils' game lately?
Given the sad state of sports in the city, we offer our list of highest-paid—and arguably overpaid— professional athletes. Boo accordingly.
1. Carmelo Anthony, New York Knicks, five-year, $124.06 million guaranteed contract
Estimated annual endorsements: $5 -$10 million
The good news, Knicks fans, is that the city's highest-paid athlete, Carmelo Anthony, is doing what he is supposed to do. Averaging 23.2 points a game as of Thanksgiving, he leads the team in scoring. But the bad news is that there are six lesser-paid NBA players scoring more than Melo. And the worse news: even with him, the Knicks still suck.
2. Masahiro Tanaka, New York Yankees, seven-year, $155 million contract
Estimated endorsements: $5 million
With a 13-5 record, 9.3 strikeouts and less than two walks per nine innings, Tanaka proved to be a Yankee rarity—a worthy investment worth watching. Sailing along on a gilded path toward a Cy Young, Tanaka suffered a partially torn ligament in his elbow, shelving him until late September. Nevertheless, Mr. Tanaka still finished first in Rookie of the Year voting. The Yankees opted to avoid surgery and Tanaka should resume pitching in the spring. But given the prospects of the DL should he need Tommy John surgery, you can't blame Yankee fans if they watch Tanaka's outings with hands over face.
3. Joe Johnson, Brooklyn Nets, six-year, $123.66 million contract
Estimated endorsements: $500,000
Only one shooting guard, Kobe Bryant, earns more than Cool Joe. So what do the Nets get for the money? Johnson is tied for the 10th best in points per game at 16.9. What he lacks on the court he may make up for as a clairvoyant. A few weeks back, Johnson chided his teammates for selfish play, warning they would be in trouble if they kept it up. They were 4 and 2 at the time. As of December 1 they were under .500.
4. Amar'e Stoudemire, New York Knicks, five-year, $99.74 million contract
Estimated endorsements: less than $1 million
Though Amar'e scores big off the court as a philanthropist, he's become an overpaid role-player on the hardwood, averaging just 23.6 minutes per game. The Knicks will cut ties with Stoudemire at year's end or ship him to another team by the February 20 trading deadline.
5. Eli Manning, New York Giants six-year, $97.5 million contract
Estimated endorsements: $7.5 million
With two Super Bowl victories under his belt, Manning wins the title as the city's most successful athlete. This year, however, the Giants are slumping. And Manning, the league's second-highest paid quarterback (earning even more than his older brother Peyton) is far behind the leaders in quarterback rankings this season. The Giants are paying for what was, not is, and certainly not what will be.
6. C.C. Sabathia,
New York Yankees, eight-year, $186 million contract
Estimated endorsements: $2 million
You could always count on Sabathia to win far more games than he loses and chew up innings. But maybe all those innings (2821.1 in 14 seasons) have chewed up Sabathia, 34, who only managed to pitch 46 innings last season before injuring his knee. The Yankees paid Sabathia more than a half-million dollars per inning last year, and the innings they got were meh (3-4, 5.28 ERA). Perhaps most troublesome, he surrendered two homers per nine innings—nearly twice what he averaged the two previous years. Given his disappointing season, and with him nearly pushing 300 pounds on a wobbly knee, fans have to wonder how much big lefty has left.
7. Mark Teixeira, New York Yankees, eight-year, $180 million contract with the Yankees.
Estimated endorsements: less than $1 million.
For Teixeira, 2014 (.216, 22 home runs) represented an improvement from the previous injury-riddled season, when he had an anemic .151 average and hit just three homers. For Yankee fans, there is a silver lining. After the 2016 season, Teixeira becomes a free agent.
8. Jacoby Ellsbury, New York Yankees, seven-year, $153 million contract
Estimated endorsements: $1 million
Since signing as a free agent before last season, the speedy centerfielder saw his power production increase (16 homers last year as a Yankee compared with nine the previous season with the Red Sox). A very good defender, Ellsbury is, arguably, the best bargain among the 10.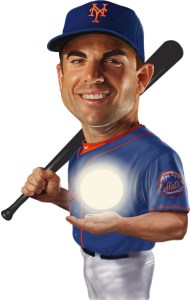 9. David Wright, New York Mets, eight-year, $138 million contract
Estimated endorsements: $2.5 million
For the Mets to return to the playoffs for the first time since 2006, the team needs Wright to play like the face of the franchise. Hitting a mere eight homers and batting .269, as he did this season, just won't do. It is possible that Wright's power dropped because of a shoulder injury, which is reportedly healing. If he returns to his 2013 level, when he hit 18 home runs to go with a .307 batting average, expect the Mets to play into October.
10. Deron Williams, Brooklyn Nets, five-year, $98.77 million guaranteed contract
Estimated endorsements: less than $1 million
Williams, an outstanding free throw shooter, scores more than 18 points per game. Yet Williams has taken heat, perhaps unfairly, for not taking charge of games as the Nets continue to show that bringing a championship to Brooklyn is a delusion.
Methodology: Salary information from spotrac.com. Endorsement estimates provided by Evan Morgenstein, president and CEO of CelebExperts LLC.