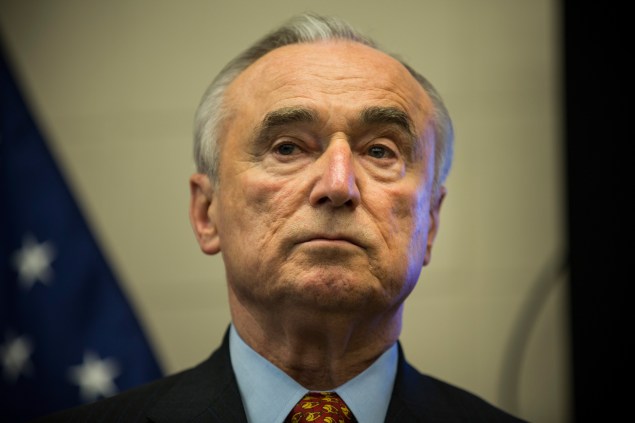 Police Commissioner Bill Bratton said today that people should not excoriate a Staten Island grand jury for voting to not indict a police officer in the death of Eric Garner, arguing that critics should have proper respect for the justice system.
Mr. Bratton, in a move that may irk civil rights activists like Rev. Al Sharpton, also appeared dismissive of the idea that justice could only come from a federal investigation, and not local law authorities like the Staten Island District Attorney's office
"I'm sure everybody has their own opinion of what they saw in that video but under our system, this idea that somehow or another the only place that you can go to have a fair decision is the federal government–what's going to happen in a few months if the federal government conducts their civil rights violation investigation and that secret grand jury comes back with a similar finding?" Mr. Bratton asked host John Gambling on AM 970 The Answer.
Mr. Bratton said he understood the "rage" and "frustration" of those who thought a white police officer, Daniel Pantaleo, should face criminal charges for placing Garner, a black Staten Island man, in an apparent chokehold that led to his death in July, but insisted the grand jury should not be attacked for carrying out their legal duties.
"As it relates to the grand jury finding, we must remember that under our system of law, that's the entity that has seen more of the evidence, heard all of the witnesses and based on that totality, that all of that information which none of the rest of us have at this point in time–they arrived at a decision … so we really shouldn't be criticizing the system or the jurors," Mr. Bratton said.
He later added, "In terms of going after the grand jury–that we ask those 23 citizens to go into that room and over a course of four or five months, hear all the evidence and to the best of their ability come back with a finding, which they did, whether we agree it or we don't agree with it."
After a grand jury decided yesterday not to indict Mr. Pantaleo, who was videotaped holding Garner down, the U.S. Department of Justice announced they would be opening an investigation into the case, raising some hope among civil rights activists that criminal charges could still be brought against the police officer. Many local elected officials and members of Congress lined up to criticize the grand jury, but Mayor Bill de Blasio and Mr. Bratton took a different tact, expressing sympathy for protesters while expressing faith in the criminal justice system.
Mr. Bratton's own relationship with minority communities is not as strong as Mr. de Blasio's, despite working for a mayor who commands the overwhelming support of black and Latino New Yorkers. Mr. Bratton served under Republican Mayor Rudolph Giuliani in the 1990s, overseeing tough policing policies that angered communities of color.