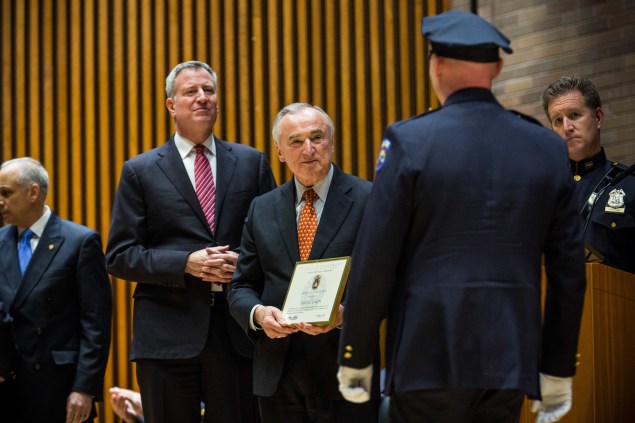 In a speech at the Police Athletic League today, Mayor Bill de Blasio said New Yorkers should put aside political debates and protests out of respect for the families of the two NYPD officers murdered on Saturday.
"I think that it's important that regardless of people's viewpoints, that everyone recognizes it's a time to step back and just focus on these families," Mr. de Blasio said. "I think it's a time for everyone to put aside political debates, put aside protests, put aside all of the things we will talk about in due time."
"But in the coming days, two families prepare for funerals," Mr. de Blasio continued. "Two families try to think about how to piece their lives back together. That should be our only concern–how do we support them."
Mr. de Blasio, a liberal Democrat who has sympathized with the many anti-police brutality protests, declared that "any organizations that were planning events or gatherings that are about politics and protest, that can be for another day."
Several weeks after a Staten Island grand jury voted not to indict a white police officer in the death of Eric Garner, a black man, 28-year-old Ismaaiyl Brinsley ambushed two police officers in Brooklyn on Saturday, killing them both. Brinsley claimed on social media he had taken revenge for the deaths of Eric Garner and Michael Brown, a black man police in Missouri shot to death.
Patrick Lynch, the president of the Patrolmen's Benevolent Association, blamed Mr. de Blasio for the murders, claiming he had stoked the anti-police sentiment that led Brinsley to kill the police officers, Weijian Liu and Rafael Ramos. Mr. de Blasio condemned Mr. Lynch's statement.
Police unions have seethed since Mr. de Blasio allowed thousands of protesters, reacting to the Garner decision, to block bridges and highways. Mr. de Blasio met with one leading group, Justice League NYC, on Friday to hear their grievances.
It's not clear yet if protest groups will heed Mr. de Blasio's call. A peaceful march and vigil took place on Sunday, where activists commemorated the lives lost to police and the two officers who died.
"Let's accompany these families on their difficult journey, let's see them through the funerals," Mr. de Blasio said. "Then, debate can begin again, but until that time it is our obligation to respect them."