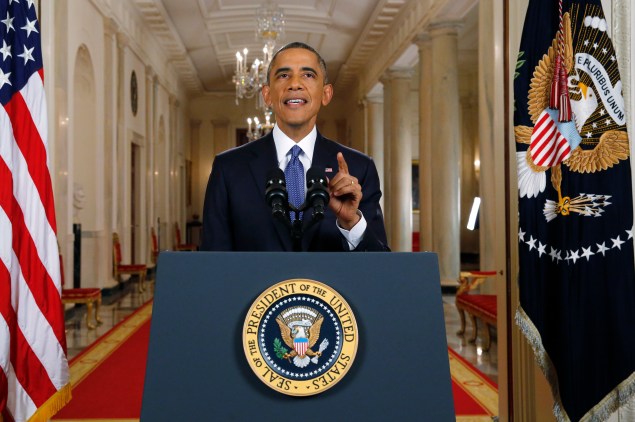 Mayor Bill de Blasio said today that New York City would eventually seek some of the $263 million President Barack Obama wants to provide for up to 50,000 body cameras for police nationwide, though the mayor would not put a dollar figure on how much it would cost the city to outfit all 35,000 NYPD officers.
"We are very hopeful that money will become available and New York City will get it rightful share of it," Mr. de Blasio told the Observer at a police-related press conference in Queens. "We're obviously going to be one of the national innovators in this area, one of the best places to test the capacity of these cameras so hopefully we will get substantial federal funding."
Mr. de Blasio said Mr. Obama's program is still "nascent" and he is not sure what New York will seek. As he stated today, the NYPD is launching this week a $50,000 pilot program of body cameras in six police precincts, a plan Mr. de Blasio and Police Commissioner Bill Bratton hope will bring more accountability to the department, ease tension between police and communities, and resolve disputed situations between civilians and officers.
Mr. Obama's announcement several days ago came in the wake of a grand jury's decision not to indict a white police officer for shooting and killing a black teenager in Ferguson, Mo. The decision, which set off waves of protests in Ferguson and elsewhere, came at least partially because conflicting witness accounts never painted a completely clear picture of what happened between the officer, Darren Wilson, and the teen, Michael Brown.
In the case of Eric Garner, a black Staten Island man who died in police custody this summer, video happened to be recorded from a witness' cell phone camera. Mr. de Blasio insisted the Garner incident have no impact on his decision to pursue body cameras, a technology he has favored since a federal judge ordered in 2013 a pilot program as part of the Floyd vs. City of New York case on stop and frisk.
Reporters at the soon-to-be-opened NYPD academy in College Point, Queens watched police demonstrate one type of lightweight body camera worn on the uniforms of the officers. Officers themselves slide open the lens to activate the camera and there's a 3.8 second delay until recording begins.
Police unions, Mr. Bratton said, are receptive to wearing body cameras and the NYPD will be collaborating with Los Angeles and London, two cities already in the process of rolling out body camera programs, to figure out what can work in a police force as large as New York's and what won't. What the mayor and police commissioner made clear is that giving all 35,000 officers body cameras to wear will be very expensive, but an effort they believe is worthwhile.
"Where we go from there will be dependent on the pilot," Mr. de Blasio said. "We predict roughly three months for the first phase of the pilot–that's going to tell us a lot in time for the upcoming budget process."
One major issue will be data retention. The officials stressed that the cost of storing all the data that police officers record–the NYPD will likely use cloud technology to store the video–and how much video the public can request under the Freedom of Information Law can add up, much more than the simple cost of buying the technology and outfitting cops. Mr. Bratton hinted that FOIL laws may need to be reexamined if body cameras become a reality in the whole department.
"The commissioner emphasized that this is a huge endeavor, never before attempted on the scale of New York City, to say the least," he continued. "It's going to be something we do step-by-step. We have to make sure we're doing it right."