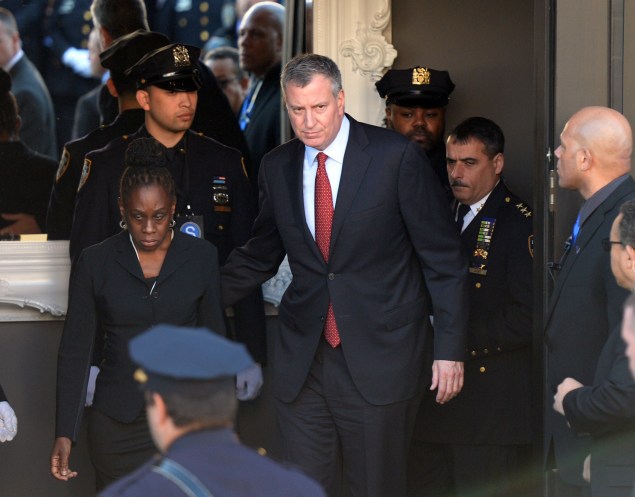 A couple of days after police officers literally turned their backs on Mayor Bill de Blasio for a second time, his administration announced this morning that the Mayor's Fund to Advance New York City has raised $120,000 for the families of two murdered NYPD officers.
The fund, led by Mr. de Blasio's wife, is also urging more New Yorkers to support initiatives that, in the words of the de Blasio administration, "help strengthen police-community relations."
"Our hearts ache as the hearts of people all across this city are aching, in these days after the horrific deaths of two of New York City's Finest—the fatal, tragic shootings that shook us to our core," said Mr. de Blasio said in a statement. "But our shock and sorrow cannot compare to the heart-wrenching grief and adversity the families of Detectives Liu and Ramos face right now."
The announcement of the windfall for the families of Rafael Ramos and Wenjian Liu, the two officers shot and killed in their patrol cars on December 20, comes at a time when the relationship between City Hall and the NYPD is unraveling. Police unions resent Mr. de Blasio's efforts to reform the department, his tolerance for anti-police brutality protesters and his willingness to speak about the effort he underwent with his biracial son to prepare him for interaction with police.
On the night Mr. de Blasio visited the families of Liu and Ramos, NYPD officers turned their backs on Mr. de Blasio as he made his way down a Brooklyn hospital hallway. At the Ramos funeral on Saturday, some officers again faced away from Mr. de Blasio as he spoke.
To many of Mr. de Blasio's detractors, he is a mayor blatantly opposed to just about everything the department stands for, fostering an environment where cops are no longer safe. Mr. de Blasio, straining in recent days to show how supportive of the NYPD he actually is, has rejected that characterization.
He announced the Mayor's Fund received pledges from JPMorgan Chase & Co., Verizon, Association for a Better New York and the Rudin Family, AT&T, the Wilpon Family and the New York Mets Foundation, and The Hispanic Federation. The de Blasio administration said the fund will push forward to expand the so-called Fallen Heroes Relief Effort as well as collect and direct donations to local charities working with the families of the officers.
The de Blasio administration also said the fund is working in conjunction with the NYPD to grant financial support to organizations including the Daily News' charity fund, the Police and Fire Widows' and Children's Benefit Fund, the Heroes Fund of the New York City Police Foundation and the NYC PBA Widows' and Children's Fund.
To heal divisions between police and civilians in the wake of the Eric Garner death and cop murders, the Mayor's Fund is looking to expand the Police Athletic League and NYPD Youth Leadership Councils.
"The Mayor's Fund is prepared to use every tool at its disposal to support these families and help nurture positive police-community relations borough-wide," Chirlane McCray, Mr. de Blasio's wife, said. "With the generous support of our donors and the magnanimous spirit the people of New York City always show in a crisis, we can emerge from this tragedy as a stronger city."