I was on an Amtrak in 1997, returning to New York after four days at New Orleans Jazz Fest, sunburned, hoarse from screaming, sore from dancing, when I sat in the lounge car and started talking to a cute, young girl about George Clinton.
I had discovered the early albums of Funkadelic and seen Mr.Clinton perform with the P-Funk All Stars three times in the previous month, once at Roseland Ballroom in NYC and twice at Jazz Fest. The music lived up to its promise to "blow my funky mind"—those performances remain among the most memorable I've ever seen.
My new acquaintance had seen them perform a year prior at Central Park's Summerstage, from which she recalled a line Mr. Clinton uttered on stage, "Fuck the dumb shit, we got a motherfuckin' spaceship." That still resonates as a prime example of his talent for wordplay: succinct, slightly goofy, strangely thought-provoking and just funny.
She then shared a story from an experience off the stage, hanging out with Mr. Clinton socially among a group of people. "The way it goes," she explained, "is there will be a joint being passed around the circle, and the next thing you realize George is off to the side, hitting his stem."
There's a temptation to frame Mr. Clinton's story with alluring anecdotes like these, but thankfully Mr. Clinton doesn't lean on the outlandish tidbits too hard in his new memoir Brothas Be, Yo Like George, Ain't That Funkin' Kinda Hard on You, co-written with Ben Greenman, a contributing writer to The New Yorker.
To be sure, the funky life stuff is in there—a constant flow of LSD in the late '60s that ushered in a shift in style and sound for his group, which transformed from Parliament to Funkadelic and then morphed into an all encompassing musical dynasty, recording under both monikers and extending to include a variety of side acts and solo projects. He smoked crack unapologetically beginning in the early '80s, when a limo driver turned him onto his first hit, until 2010, when an unsavory dose resulted in a hospital visit.
---

"Fuck the dumb shit, we got a motherfuckin' spaceship."


---
Then there's a motherfuckin' spaceship, the Mothership, Mr. Clinton's dream stage prop that traveled with the band in the '70s and again in the '90s, the more recent version of which belongs to the Smithsonian. There's the (unconfirmed) legend that Mr. Clinton was born in an outhouse, and the often told origin story of the barber shop in Plainfield, N.J. where he worked in the '50s and '60s, learned street smarts, and formed the earliest version of his band, The Parliaments.
What emerges as the more subtle yet clear undercurrent of Yo George is his consummate dedication to craft. Every inch in the evolution of P-Funk feels grounded in a studious love for songwriting and performing and an almost innocent fascination with the world around him. Every inch in the evolution of P-Funk feels like a natural extension of Mr. Clinton's yen to experiment and expand.
His stories include details about seemingly everyone he ever collaborated or performed with as well as every musical and cultural influence that shaped the direction of his art since the 1950s. It becomes clear how the Grateful Dead shaped the song structure of Funkadelic as much as Smokey Robinson and Sly Stone. Mr. Clinton didn't love Bob Dylan's singing voice, but gleaned from his work the ability to bend words and create characters, concepts that became cornerstones of his own compositions. He admits to only discovering Robert Johnson after Eric Clapton emphasized the bluesman's importance and was still "fucked up" by the brilliance of Sgt. Pepper more than 10 years after its release.
Throughout the book, Mr.Clinton assesses the demise of several musicians—Sam Cooke, John Lennon and Jimi Hendrix for starters—to be the consequence of the potency of their messages, that they presented a threat to a larger establishment that was destined to destroy them. He recalls seeing Bob Marley "fairly often in the mid-'70s" and considers Marley's cancer and home invasion to somehow be a "consequence of how big he got." About Lennon he says, "Peace and love was a dangerous platform … when you talked about it often, you messed shit up for all the businesspeople in the world who made money off of chaos. If you come with peace and love, they will get rid of you." About Marley he concludes, "There were forces trying to take him down, and they weren't going to stop until they had."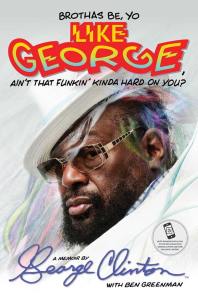 Meanwhile, he attributes his own ability to get away with expressing ideas of self-empowerment and mental freedom to a songwriting process that often cloaked serious ideas beneath humor and nonsensical sounding banter. He deliberately eschews politics throughout his career and recalls the only thing he felt comfortable preaching was "thinking for yourself."
Members of the Nation of Islam started to show up in numbers at P-Funk shows after the release of Mothership Connection, attracted to the idea that George's "Mothership Connection"—a concept he developed after reading Chariots of the Gods—corresponded to one of Elijah Muhammad's prophecies about a "MotherPlane." When they bowed and plead for Mr. Clinton to "preach the knowledge," he balked and responded with a classic George Clinton line, "ain't nothing but a party" followed by lewd jokes. He wanted everyone in the audience to feel equally included and "wasn't interested in promoting an eternal truth of any kind" or pandering to any dogma.
***
Throughout the promotional tour for his book, Mr. Clinton makes it clear that he doesn't even care if you read any of the stories he diligently reproduced and would actually prefer the reader skip to page 379, which contains an affidavit filled with details about how Mr. Clinton's copyrights and royalties were fraudulently misappropriated by Bridgeport Music. Throughout Yo George, he attempts to explain aspects of the labyrinthine web of shady maneuvers that allowed for the misappropriation of publishing rights over the course of many decades, sometimes a result of his own neglect but more often a result of the scheming of label bosses, manipulative hangers-on, ignorant judges and corrupt lawyers.
There's no sense that Mr. Clinton is taking a victory lap with the memoir or basking in the satisfaction that someone could derive from documenting a brilliant career from the perspective of a story that keeps on going, told by an indefatigable storyteller.
He is proud of his awareness that the next big music trend will invariably be whatever parents currently hate, that YouTube is the new 7-inch single, and the older you get the less you know. Now in his early 70's, he's a trim, sharply dressed clone of the same George Clinton that's been experimenting and creating music for six decades without ever pausing. He seems proud and relieved to not be using crack and reinvigorated by his current mission to secure the song rights for his offspring. He expresses no desire to stop touring and, after reading the book, another 50 years of touring and recording hardly seems like the most far-out possibility.