It's easy to go through the holiday season, hitting party after party in your usual uniform of black, black and more black. But by mid-December, most of us can get sick of the basic dresses we've been trotting out.
It doesn't have to be this way — even though nine out of 10 party pics prominently feature seasonally appropriate versions of the LBD. Why not add some color to your life, and venture away from the typical goes-with-everything black dress? Why not close out the year with a bang, by throwing some truly unpredictable accessory combos together? l Let's take a look at some NYC night-time revelers for inspiration.
Colorful Fur
Marina Larroude looked smashing on Dec. 16 when she cohosted the 10th anniversary party for Brazilian luxury swimwear label Jo De Mer. Her look is a perfect example of how to beat party-wear ennui by mashing up unexpected items such as fun fur, novelty tights and open-toed platforms. To copy the look, pop this Marni shrug over your favorite LBD.
Something Springy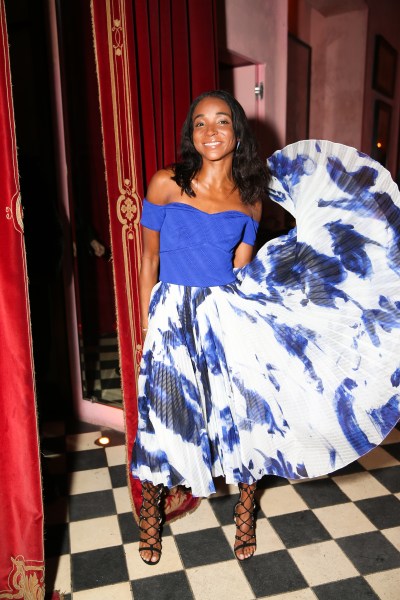 Either designer Genevieve Jones didn't get the memo that it's wintry outside, or she just didn't care. Either way, it's working. Steal her vibe with this Etro maxi.
 A Colorful Fascinator
'Tis the season for outlandish looks. Katalina Sharkey de Solis wore a pink pillbox hat with a whimsical dress, taking the look further over the top with a pair of opera-length gloves. Copy her style with this Benoît Missolin green silk and black rabbit-felt topper.