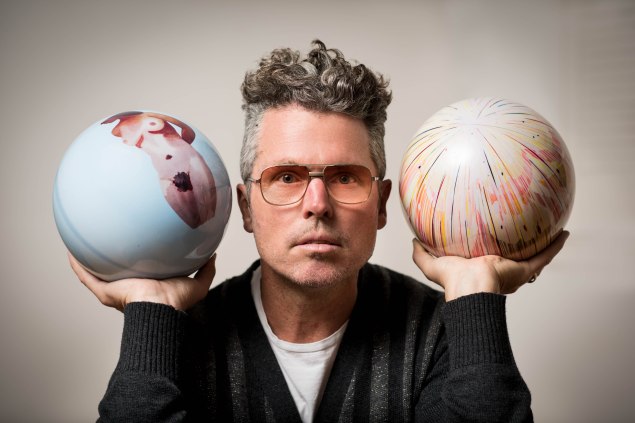 "We talked about setting up a paintball course in the ballroom, but the insurance would have been prohibitive on that one," said Bill Powers, the art dealer behind Half Gallery. "For a minute there was going to be a submersible pool art show, but that didn't pan out."
Such were the dashed dreams for the Miami Beach Edition, a new Collins Avenue luxury hotel complex and residential community. Other schemes went by the wayside, too. The brass declined to let artist Peter Coffin recreate a giant smoke-spewing volcano in the nightclub. Another squandered opportunity: there could have been a tricked-out Zamboni for the ice rink—Franz West hood ornament? Tom Sachs chassis?—but no dice.
He had a better idea: why not recreate a few downtown New York galleries as pop-ups in bungalow cabanas poolside? And then, for good measure, add a bowling alley complete with bowling balls designed by artists.
Ian Schrager, the New York-born Studio 54 mastermind who's now the very successful hotelier behind Edition, tapped the Half Gallery director to oversee the art programming for perhaps the new jewel in his crown, which opens its block-sized compound this week, and why not take that chance? He's pulled it off before, with his last South Beach hotspot, The Delano—which basically created the day-glo amusement park that is South Beach—even if this time, it's a partnership with Marriott.
One hitch: it's opening during Art Basel Miami Beach, the orgiastic spree of spending billions on portraits on a palm-dotted Art Deco island by day, and approaching oblivion amid celeb-heavy bacchanalia by night. And when some new mega-hotel opens during this miasma of revelry, it's usually just more of the same. It's hard to stand out in the midst of a million galas, late night bashes, pop music spectacles, and even—gasp!—art fairs.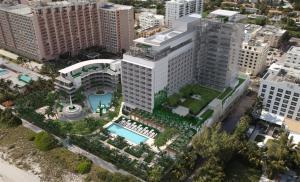 So Mr. Powers had to pique the interest of even a hardcore Baselphobe. He's got swoop-coiffed art hunk Nate Lowman and Leo Fitzpatrick, the Kids-star-turned-downtown-darling, doing a pop-up of their Home Alone 2 gallery. It's usually in a 10-by-10-foot  space on Forsyth Street with views of trash piled on a sidewalk, and now it's in a cabana with views of a cerulean ocean. And he's got Marilyn Minter signing copies of her new book, Plush, that focuses on, um, the netherland ("women's bushes—what's not to like!" Mr. Powers exclaimed at one point) at the pop-up for Fulton Ryder, the rare bookstore run by Richard Prince. Jordan Wolfson is doing a signing there, too. Half Gallery has a pop-up of its own, showing new work by Genieve Figgis, and there's another for Harper's Books, the hippest hardback slinger in the Hamptons.
"People always want a bit a novelty in their week at Art Basel Miami," Mr. Powers said. "Like, can you go to Mr. Chow's every night? How many Vito champagne parties do you need to hit? I'm just saying, people enjoy mixing it up a little bit."
Mr. Powers was sitting in Half Gallery, which is now in a 78th Street townhouse above one of his wife Cynthia Rowley's boutiques. He was flanked by a Rene Ricard painting above his left shoulder and a Richard Prince Instagram painting—featuring Mr. Powers on his Vespa—above his right. He had the trademark rose-colored glasses, the spiral-curled sculpted hair, and megawatt smile. He was leaving for Miami in just a few days.
"And don't you think there's an inherent thirst for the new at Art Basel?" he went on.
It's not hard to at least rethink this whole Art Basel mess while Bill Powers, The Charmer—you must recall his turn on Bravo's Work of Art—talks up Edition as the advent of The New. There is something different going on: the dealer who works out of a modest floor on the Upper East Side has as his playground a compound that includes 300 rooms, 70,000 feet of beachfront, the bowling alley, the ice skating rink, a phalanx of super snazzy bars studding the property, a marketplace by Jean-George Vongerichten, two pools, gardens of ficus and sea grapes, and a Studio 54-caliber nightclub called Basement with James Murphy DJing.
Mr. Powers became involved with the property after Ben Pundole—a longtime right hand man to Mr. Schrager, who worked with him at Morgans and came back on board once the deal was inked with Marriott International to fund Edition hotels worldwide—asked if he wanted to shake things up down in Miami this year.
He did. And in case it wasn't clear that Mr. Powers really got a kick out of playing with the toys provided by a hotel conglomerate worth $16 billion, check out the prototypes for the bowling alley: a Blair Thurman ball (red, white and blue) a Will Cotton ball (Spiral Jetty by way of a lollipop), a Jules de Balincourt ball (starbursts on starbursts) and a Daniel Heidkamp ball (a nude, with both sides revealed).
"With the bowling balls, that's just fun and dumb and in the spirit of what that week should be, without trying to make it some monumental art historic moment for the ages," Mr. Powers said. "Were trying to do something that's appropriate for that environment."
When reached on the phone from Miami, Mr. Pundole—who, in addition to his day job as vice president of brand experience at Edition, is the editor in chief of A Hotel Life, an online travel magazine that he created—spouted some lovely hospitality mantra tweaked for this particular hotel, how it's special, how it's exciting, how it's got the best service south of The Plaza, all of that. But when he brought up The Bill Powers Experiment, he seemed happily baffled at how it all came together.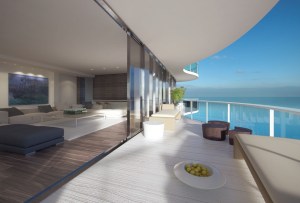 "Bill's such a great host," he said. "The fact that he brought in Leo and Nate is pretty daring—really, we have a really great stable of young colts and legitimate things in the galleries. I think I've got my finger on the pulse, but really it's just about working with people who you want to collaborate with, and Bill's one of them."
Something you don't associate with "finger on the pulse" is Marriott International. It's earth's biggest hotel chain, the Marriott family are devout Mormons, and Mitt Romney sits on the company's board of directors. It's fair to say Marriott isn't the coolest cat in hospitality.
Did Mr. Powers sense that there was any push back from up on high over, say, the, um, downstairs nature of Ms. Minter's book?
"Any of the meetings that I've been in have been in Ben's office or Ian Schrager's office," he said, before telling a potentially parabolic story about Mr. Schrager's late partner Steve Rubell letting loose a sea of white mice into Studio 54.
(After multiple attempts to schedule an interview with Mr. Schrager, he issued one comment through a publicist: "There will be constant art programming, art installations, performance art pieces and rotating cultural events year round at the Miami Beach Edition. It's part of the ethos of the brand.")
But, Romneys and Mormons aside, the Edition line of pricy crash pads has accrued a hefty amount of scenester cache (the next one opens in New York in 2015, so get ready) and the launch of Miami one is no different. They've really dotted all the Basel I's and crossed all the Basel T's: there will be parties thrown by W magazine (performance by Blood Orange? Check.), the fashion brand ACRIA (Ryan McGinley collaboration? Check.), the swaggering installation duo Jonah Freeman and Justin Lowe (a performance/fashion show/lecture with Royal Trux singer and former Calvin Klein model Jennifer Herrema? Check.), Gavin Brown's Enterprise (a performance by Miami's hometown heroes 2 Live Crew? Check.), and fashion-y art tome Visionaire (another shindig in honor of unlikely style icon John Baldessari? Check.).
All that sounds sort of exhausting, but Mr. Powers, Basel Fatigue or no Basel Fatigue, insisted he's looking forward to the madness. And if it ever gets to be too much, he can always go bowling.
"I've been practicing," he said. "I bowled a 128 a few weeks ago. I think anything over 100 is respectable."