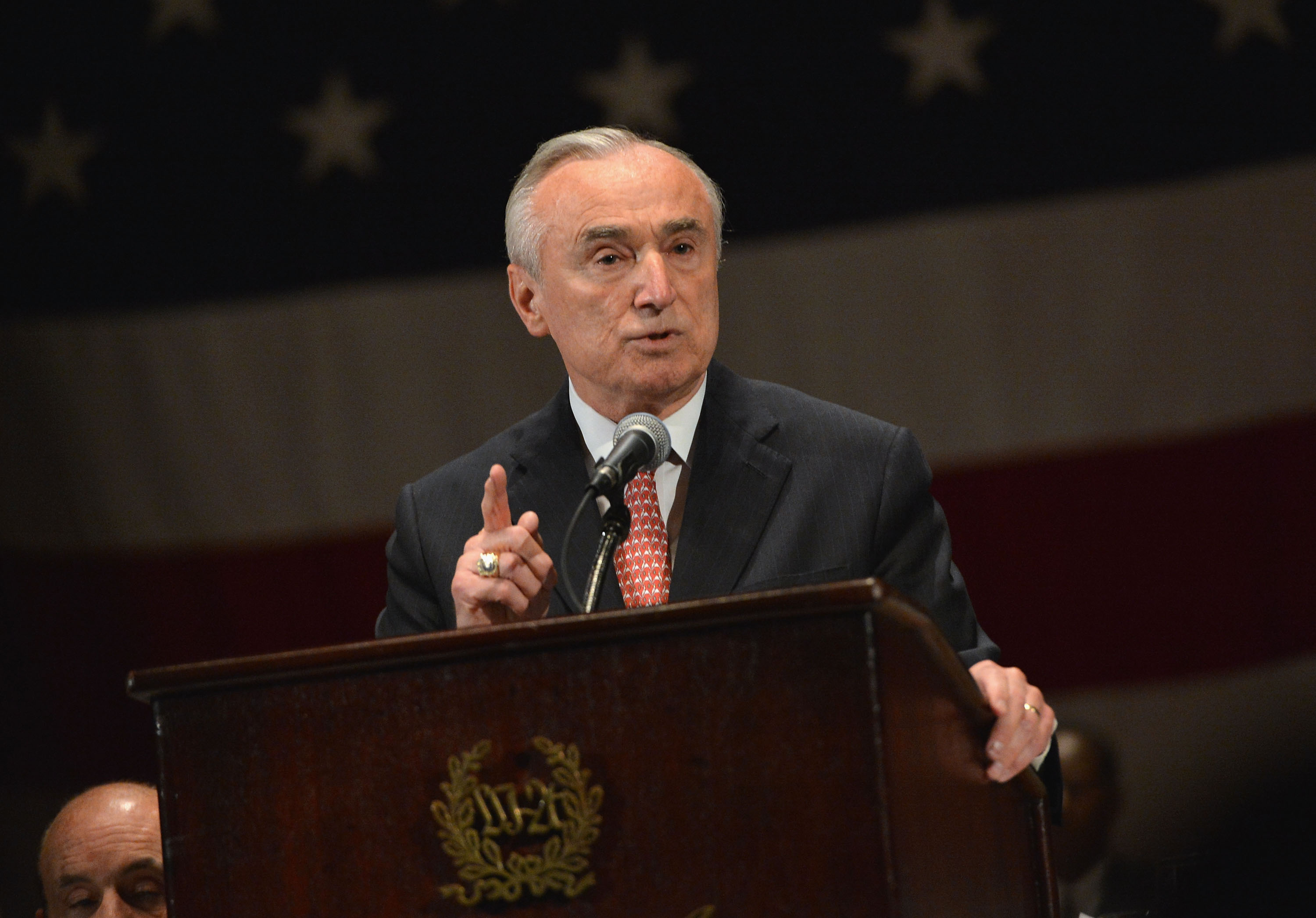 Police Commissioner Bill Bratton acknowledged this morning that Mayor Bill de Blasio may have lost the trust and confidence of "some officers" in the police department—but said the tension surrounding the mayor's role in the murder of two cops is falling along partisan lines.
Mr. Bratton, speaking to Matt Lauer in an interview on NBC's Today Show, was asked whether Mayor Bill de Blasio ought to take the advice of former Mayor Rudolph Giuliani and give a speech in which he perhaps apologizes to police for what unions and some elected officials have characterized as rhetoric hostile to the department. Mr. Bratton said he didn't think an apology was needed.
"This issue is really starting to go down partisan lines, Republican-Democrat. You had Gov. [George] Pataki yesterday, former Mayor Giuliani going after the president, Pataki going after the mayor, and it's starting to shape up around partisan lines—which is unfortunate," Mr. Bratton said. "This should be something bringing us all together, not taking us apart."
But the murder of the two police officers, Wenjian Liu and Rafael Ramos, by 28-year-old Ismaaiyl Brinsley, has ignited long-smoldering tensions between the mayor and the city's two largest police unions. Brinsley posted on social media he was seeking revenge for the deaths of unarmed black men Eric Garner and Michael Brown. Patrolmen's Benevolent Association President Patrick Lynch has blamed the mayor—who has been sympathetic to people protesting against police—for the officers' deaths.
Mr. Bratton said the police were trying to learn more about Brinsley's motives, but he, too, said there was a connection between Brinsley's actions and the movement that has gripped the city's streets.
"But it's quite apparent, quite obvious that targeting these two police officers was a direct spinoff of this issue and these demonstrations," Mr. Bratton said.
Saturday night, as the mayor walked down a hospital hallway to deliver a press conference about the death of the two police officers, dozens of cops turned their backs to him. Mr. Lauer asked: had the mayor lost the trust and confidence of the department?
"I think he has lost it with some officers. I was at the hospital when that occurred," Mr. Bratton said. "I don't support that particular activity. I don't think it was appropriate, particularly in that setting. But it's reflective of the anger of some of them. There's a lot going on in the NYPD at the moment, labor negotiations, some 10,000 of our officers are under a new pension system that limits signficantly the amount—this occurred about four years ago when Gov. [David] Patterson signed a bill at midnight. There's a lot of anger about that since we've had so many attacks on young police officers this last year. There's a lot of moving currents that have created this current tension and atmosphere."
Mr. Bratton noted the mood in the city is not unprecedented. He pointed back to difficult times in the 1970s, when three pairs of officers were brutally killed, and said today social media exacerbates the issue.
Mr. Lynch, even before the murders, had called on officers to sign petitions barring the mayor from line-of-duty funerals, saying his refusal to back cops would make his presence an "insult to that officer's memory and sacrifice." But Mr. Bratton, who criticized that petition, said he did not believe the mayor had done anything to put police officers in danger.
"I do not. I do not believe that at all," Mr. Bratton said.