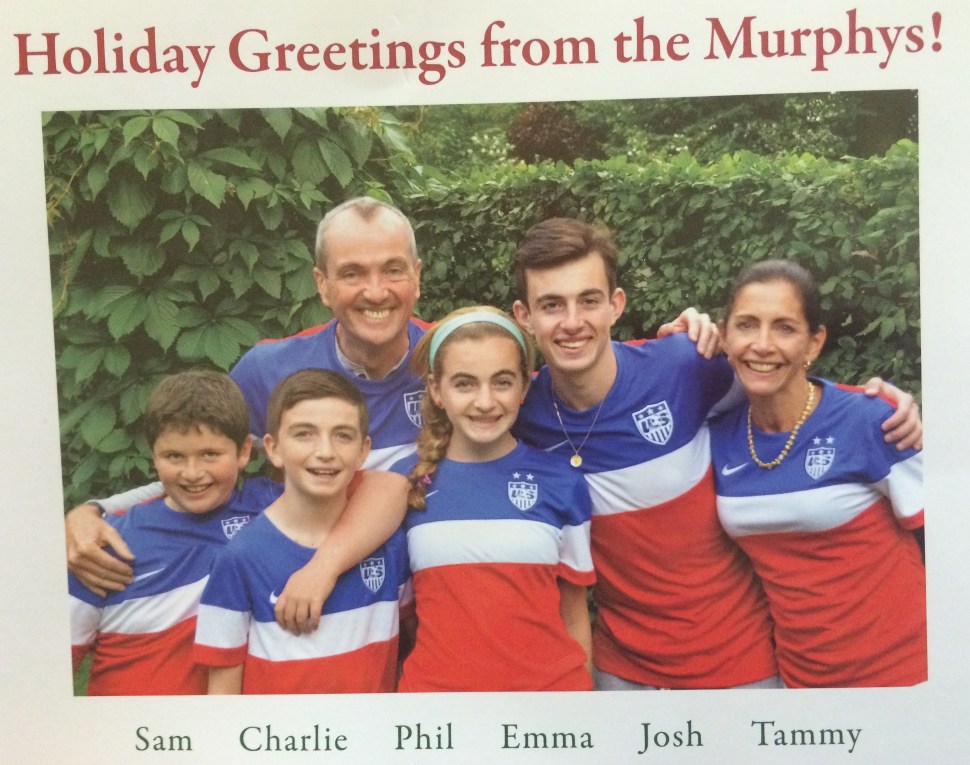 It's dangerous to be in an Agustin Torres column before he's had his morning coffee. The Jersey Journal's political editor absoulutely unloaded on presumed Democratic gubernatorial candidate Philip Murphy in Saturday's Journal, accusing Murphy of an unrelenting string of synonyms for "out of touch rich guy."
It's clear that Murphy annoys the often-cranky Torres even more than the usual politician. He says of Murphy, who headed the Frankfurt office of Goldman Sachs from 1993-1997 and later served as national finance chair for the DNC, "His place of residency is on another planet" who aspires to Huey Long populism but cannot "relate to the masses" because he is not "one of them."
Then there's this brutal chunk:
"Perhaps it all went smoothly because they could have stayed at Murphy's chateau in Italy, or whatever they call that large a residence, and the ambassador is always fond of flying his Gulfstream, instead of taking the mini-van."
But none of this is as unkind as the one-word insult Torres hurls over and over at Murphy: "Corzine." From the very first sentence, Torres makes it clear that he sees them as not just cut from the same Goldman cloth, but virtually identical twins: "the noblesse oblige DNA appears strong in both men."
Much of Torres' juiciest shots derive from a shockingly tin-eared holiday card the Murphy family sent out to friends and relatives, images of which are shared for the first time here on PolitickerNJ.
Murphy, who is reported to have hired at least a couple political black belts, is apparently not yet listening to Julie Roginsky and Message and Media because there's no way they'd have okayed a card that boasts of family trips to "Berlin, Italy, England, Lisbon, the Caribbean, Utah, Florida, and to Virginia and Massachusetts."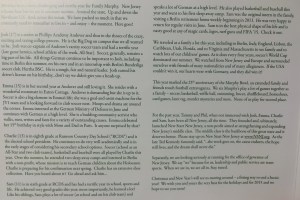 And then there's the usual family activities: "soccer, basketball, wiffle ball, swimming, bocce, shuffleboard, horseshoe, card games, laser tag, murder mysteries and more." What, no polo or baccarat? Nothing says "democratic primary voter" quite like bocce and shuffleboard.
Indeed, the Murphy family does love its games. We learned that "as it does every four years, soccer's World Cup dominated our summer." Like a lot of Garden Staters, the Murphys "watched from New Jersey and Europe." We also discover that "This year marked the 25th anniversary of the Murphy Bowl, an extended family and friends touch football extravaganza." In case you missed the Kennedy wannabe-ism, there's a helpful quotation from Ted Kennedy. And in case you still missed the nod toward a New Jersey version of America's favorite political dynasty, the next line makes it clear that it's not just Phil Murphy but the entire Murphy clan that's fit to rule:
"Separately, we are looking seriously at running for the office of governor of New Jersey. We say 'we' because for us, leadership and public service are team sports. When we are in, we are all in, stay tuned."
There are two key takeaways here. One, you don't want to get on Agustin Torres' bad side (to be fair to Mr. Murphy, one of Torres' shots was mistaken—he busts Murphy for that litany of fancy game mentions and wrote sarcastically, "It sounds like video games are verboten." But if he read carefully, he'd have noticed that first-son-in-waiting Sam Murphy "is nasty good … at FIFA '15"). Two, as that guy in the sweater vest discovered the hard way, it's easier to run Goldman Sachs than a bare-knuckled campaign in New Jersey. And three, it's not even 2015 yet, but 2017 is clearly going to be a fun year.