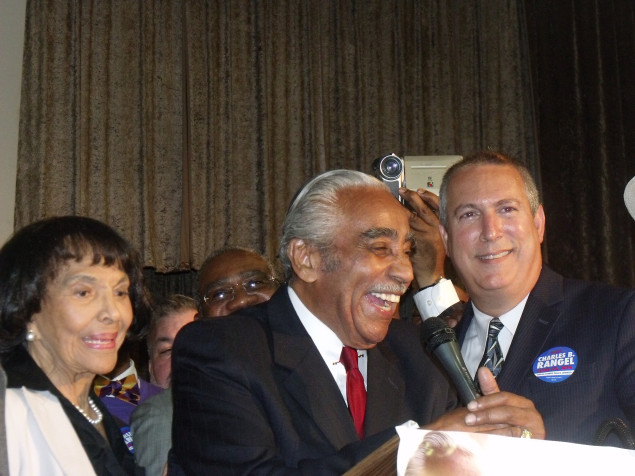 Reacting to a Staten Island grand jury's decision not to indict a white police officer in the death Eric Garner, who was black, Congressman Charles Rangel claimed today that white Americans are "born on third base."
Mr. Rangel, a Harlem lawmaker, maintained that there was a racial element to the death of Garner through the officer's use of an apparent chokehold while trying to arrest him for selling untaxed cigarettes in July. Mr. Rangel previously told the Observer there was "no question" for him that Garner's skin color was a factor in his death, which a medical examiner ruled a homicide.
"I think there's a racial issue there, Joe. The fact is people feel awkward talking about race, and it's not just some police thing," Mr. Rangel told radio host Joe Piscopo on AM 970 The Answer. "White people, because they are white, are born on third base. They have obstacles to overcome, but color is not one of them."
He also argued that blacks continue to face discrimination in hiring.
"When two people go in for a job, does the white person wish he was black so he could get the job? Has any white person lost his mind enough that he wishes he had a black person's skin so he could have an advantage in this country? No!" said Mr. Rangel.
The congressman qualified his remarks somewhat by acknowledging that Jewish and Irish immigrants historically faced discrimination, and asserting that Italian-Americans continue to deal with "gangster" stereotypes due to television programs like The Sopranos. But he went on to praise Mayor Bill de Blasio and President Barack Obama's comments about discussing dealing with law enforcement with their black children—comments that, in the mayor's case, have drawn fire from police advocates like Patrolmen's Benevolent Association President Patrick Lynch.
"Nobody said it better than my mayor, who became Italian when he ran for office, but no one said it better than my mayor and my president when they started talking about their kids. You've got to think in terms of your kids," said Mr. Rangel, alluding to Mr. de Blasio's decision to drop the name he was given at birth, Warren Wilhelm Jr., and assume his mother's maiden name when running for the City Council.
Mr. Rangel, a Korean War veteran, went on to say that he felt he had enjoyed "all the breaks in the world," and maintained that the United States is a great nation, though with some faults.
"My country has been good to me, it's been good. Everybody that bitches—everybody that complains, rather, there's nobody wanting to leave, everybody wants to come in and I can't blame them. But saying you can't improve it? Heck, if we weren't concerned about improving it, we wouldn't be where we are today. There's a struggle every decade about something," he said.