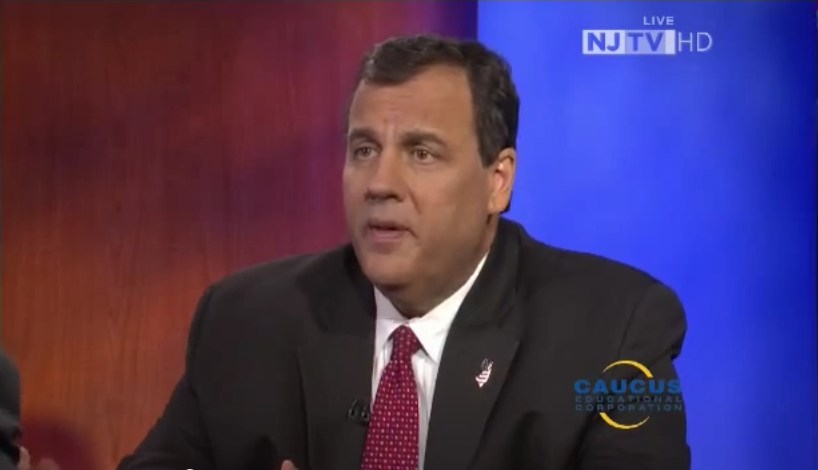 New Jersey's Gov. Chris Christie laid into President Barack Obama on a live TV broadcast tonight, continuing his criticism of the administration's recent decision to ease relations with Cuba by calling the move an "awful deal" — then slamming the top Democrat for not being "assertive" enough in the wake of last week's computer hacks into Sony Pictures.
In an live interview with NJTV's Steve Adubato in New York, Christie suggested Obama had botched the deal with Cuba, and focused specifically on the case of Joanne Chesimard, an American fugitive who escaped from prison after she was convicted of killing a New Jersey state trooper in the 1970s.
The Republican sent a letter to Obama last weekend urging him to demand Cuba hand over Chesimard, and criticized him for not having included the request in the list of conditions sent to Cuban President Raul Castro as part of the deal to open up communication and commerce between the two nations.
"In my mind it's unacceptable to have a reopening of diplomatic relations with Cuba, and unacceptable to even take them off the terrorist watch list, if they are harboring a convicted cop killer," Christie said tonight. "And let's remember, that's what Joanne Chesimard is."
Christie, who is said to be strongly considering a presidential bid, cited in his letter to Obama last week his "profound disagreement" with the Cuba deal, calling Chesimard's release an "essential first step" in restoring diplomatic relations between the two country's after 50 years of hostility. He more broadly condemned the move today, arguing Obama was "wrong" to not ask the country to hand over Chesimard or demand from it other important political reforms.
Hours before Christie took to the airwaves, the Associated Press reported that Cuba had suggested that it probably won't turn over Chesimard, with the country arguing that it has a right to grant asylum to U.S. fugitives.
"Now, were normalize relations with Cuba without getting anything in return? A hostage exchange? And that's what we get in return?," Christie asked. "We for 50 years have demanded that they have free elections, that they open the internet, that they allow political prisoners to be released. None of those things happened — we're just going to take that on the come I guess."
"It was an awful deal, and it was typical of this president, unfortunately, in negotiations," Christie said, adding deliberations with Iran over its nuclear power as another example of Obama failing to mediate on a national stage.
Christie called Obama's move "unacceptable" and said he would "continue to speak out," though he stopped short of further threatening the president when asked by Adubato if Christie planned on putting other pressures on him.
"Listen, what I'm going to do is do what I need to do as governor of New Jersey, which is one of our state troopers was murders in cold blood, his killer was convicted, and now those thugs in Cuba have given her political asylum in Cuba for 30 years," Christie said.
Later, Christie sounded off on the recent cyber-terrorism attack on Sony Pictures, calling Obama's response to the hacks a "mistake" and saying he would have "approached the problem differently."
In his latest address in Washington, Obama likewise said Sony made a mistake when it decided to pull from theaters The Interview — the film that is widely considered to have helped spur the attack — and said the U.S. will respond "proportionally" to the attackers, who some think may be from North Korea.
"Look, it's another one of the evolving threats that we face in the world unfortunately, we have to know the nature of our adversary, and I thought it was interesting that the president said Sony never called me," Christie said when asked his opinion on the issue. "I don't know, maybe it's different ways of approaching a problem, but certainly we're briefed, and certainly he was briefed about the attack. Seems to me that's it's the obligation of the president of the United States to call [Sony] and say, OK everybody in the white house, lets get together, lets see how we're going to react to this."
"Sony made a mistake by backing off, and Obama made a mistake by not being assertive," Christie added.
Christie's comments come on the heels of a recent visit by Obama to the Garden State, when he visited South Jersey's Joint Base McGuire-Dix-Lakehurst to address U.S. troops and military personnel as the country's involvement in Afghanistan comes to a close.